Previously, we have reviewed the Raldey MT-V3, and concluded that it is the best option for someone who is looking to buy an affordable Eskate for commutes (you can read it here).
This time, we are reviewing the Raldey Bamboo V3S-AT, a board that was designed to be the most affordable AT option.
At $899, the Raldey Bamboo V3S-AT has all the assets to be a great AT board…. Or does it?
Raldey AT-V3s Review
Deck Size: 40-inch x 13-inch (96.5cm x 23cm)
Top Speed: 28.5mph (46kmh)
Range: 19miles (30km)
Battery Pack: 504Wh (Sanyo GA in a 10s4p, 14Ah)
Weight: 23.6lbs/ 10.7kg
Motor: 2 x 1500W belt motors.
Wheels: 165mm/ 195mm airless
Price: 899 USD
Features:

Remote with Telemetry,
Push to power-on,
IP 55 weatherproof.
Let's look at the parts.
Deck – Bamboo???
Raldey Bamboo AT-V3s' product page listed the deck material as "8-Layer Canadian Maple deck". Meaning, it has absolutely nothing to do with Bamboo. I reach out to Raldey and they told me it's actually Bamboo plies mixed with Maple plies. I don't care. The deck has no flex and calling it bamboo deck brings no meaning, so let's just not call it Raldey Bamboo from now on.
However, despite being a little bit shady on the marketing side, the deck is fine. It's almost the same as the one used on the Raldey MT-V3. It's wide and has a mild concave, which makes it comfortable for foot placement. But it's definitely not flexible, thanks to the full-length plastic enclosure screwed to the deck.
Wheels – Airless rubber wheels
There are 2 wheel options available, 165mm and 195mm. That's around 6.5 inches and 7.6 inches. The review unit we get is rocking the 165mm wheels. These are airless rubber wheels, and we will talk a little bit more about the ride feel later.
Trucks – Wide Double Kingpin
The trucks are 14-inch double kingpin trucks, which makes them slightly wider than the typical 12-inch truck found on competing AT boards, like the Wowgo AT 2 and Ownboard Bamboo AT.
We will talk about how well these double kingpin trucks fare later.
Electronic Speed Controller – Customised LingYi ESC
On the electronics side, Raldey is using a customised LingYi ESC featuring push to power-on.
Veteran Eskater would already know how the board rides just by knowing the ESC it uses, but we will talk more about it later.
Battery – 10s4p Sanyo GA
In the battery department, it is equipped with a Sanyo GA battery in 10s4p configuration, making a pack of 504wh batteries. Sanyo GA is a pretty competent cell for Eskate.
10s4p is also the typical size for most AT boards.
Motors – 6368 belt motor
The pair of 6368 belt motors are rated as 1500W each. They are top-mounted and allows the board to have more ground clearance. However, it does make the board more difficult to stand leaning to the wall.
Numbers for Raldey AT-V3s: Top speed and Range
Raldey did not put out a marketed top speed and range for the 165mm configuration, but for us, all these parts come together to give the Raldey AT-V3 a top speed of 23mph (37kmh) and a range of 20miles (33km), when riding fast on the pro and high modes.
So, here comes the $899 dollar question – how well does the Raldey AT-V3 ride?
Speed control
First, let's talk about speed control.
Raldey uses a customized LingYi ESC which has 4 acceleration modes and 4 brakes modes that can be adjusted independently from each other. We said this before and we will say it again, when it comes to acceleration. Ling Yi ESCs are meant to be ridden in the 3rd(High mode), but not the 4th('Pro' Mode).
Pro modes have super strong acceleration with a less smooth curve, and the result is a jolty feel. In high mode, acceleration is smooth enough, while still being strong. No reason to go to the 4th mode unless you enjoy peeing your pants a little bit from time to time.
The braking is great, smooth, and has 4 different strength that cater to everyone's individual tastes.
Ride feel
Next, let's talk about the ride feel.
The stiff deck, plus airless rubber wheels that are super thin on the motor side, means the board felt rough on gravel and trails. Don't get me wrong, the wheels are big enough to roll over these surfaces, the experience just isn't fun, as the wheels and deck do little to cushion the vibrations. Obviously, it would be better if you are riding on the 195mm wheels, but we have no way of telling how much better. I am guessing not by much.
Regarding the torque, I know many of you aren't a fan of 10s batteries, but for us, Raldey AT-V3s is plenty powerful. Good enough power for whatever hills we encountered during our ride.
The general riding experience on regular roads is fine, but we can't help but notice some flaws in it. The trucks, though wide, are the type of double kingpin trucks that are on the twitchy and wobbly side. We are still able to get to top speed and live to tell about it, but it's a bit sketchy.
Although the Double Kingpin trucks allow a small turning radius, they, unfortunately, have a poor return to the center. Combining that with a stiff deck and hard wheels make carving less fun. Upgrading to a better set of bushings would probably solve this complaint though.
Final Verdict: Best Budget AT Option?
With all that said, the final question to be asked is this: how is the Raldey AT-V3S as a budget AT option?
Here is my answer: The over-arching theme of the Raldey AT-V3S can be summarized as capable but not comfortable.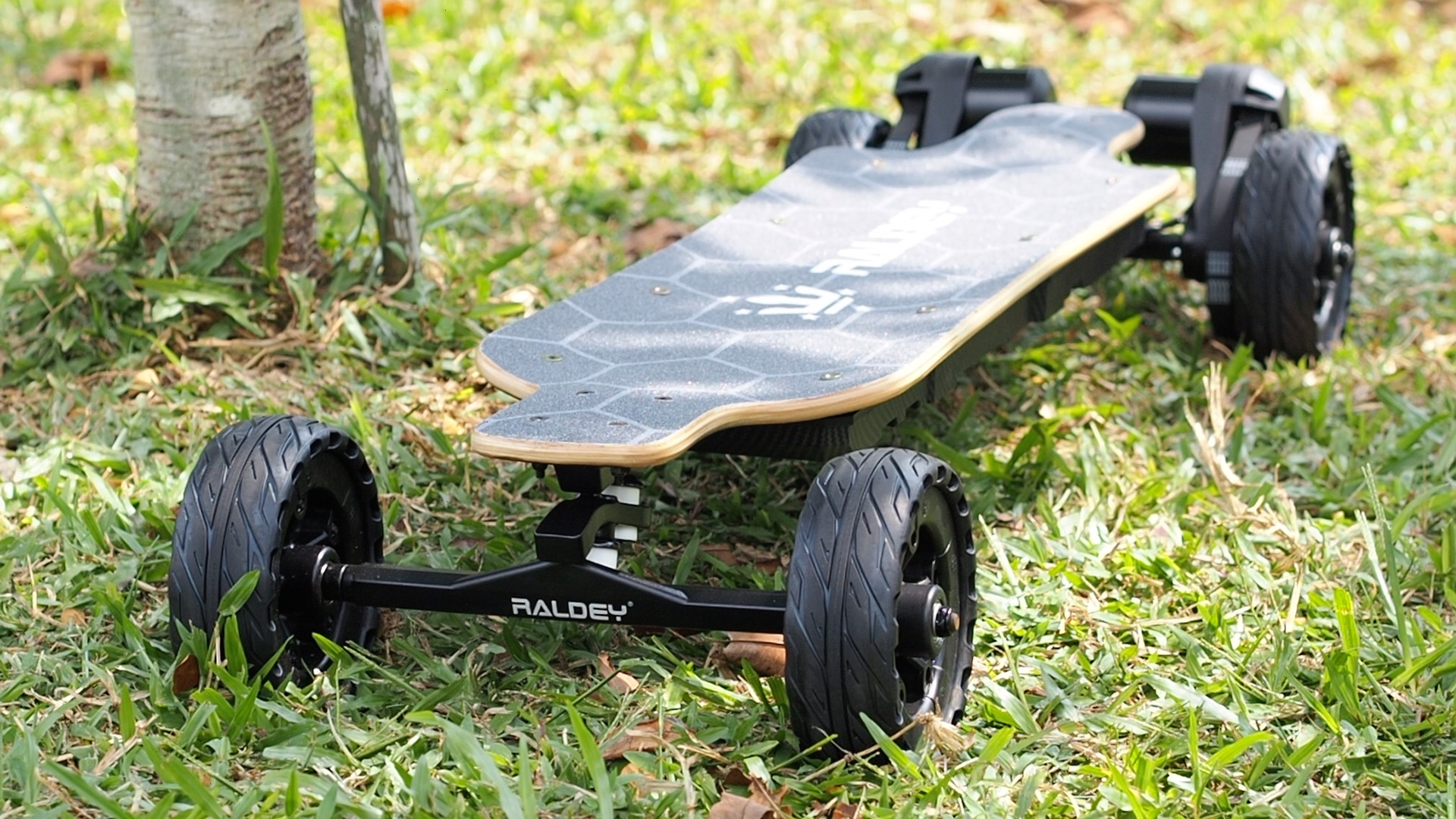 Yes, the wheels are big enough for all-terrain, but it's not comfortable.
Yes, double kingpin trucks allows better carving, but the bushings and the rough wheels mean that it wasn't the buttery smooth carving experience we would have loved to have.
Yes, the individual parts are great, and the board is IP 55 waterproof, but the over-all polish of the product is lacking, and this Raldey is not as pretty as some other brands.
In short, the Raldey AT V3S is a perfectly capable ride for any situation, and any terrain, but it's not a refined one. For many, it would be worth spending a couple hundred dollars more for something pricier, but for those who want to pay the absolute minimum for an AT, this is a solid choice.
If you are interested in buying a Raldey, be sure to check out our affiliate discount link here and uses code: "ESKATEHQ" during checkout.
It will help you get a small monetary discount and helps us out too. On top of that, you'll be tagged as an Electric Skateboard HQ customer and probably be treated better. Cheers!