Today we will be reviewing the Ecomobl ET2, a $1599 All-Terrain electric skateboard powered by two planetary gear drives.
For those who don't know, Ecomobl is very competent at one thing—making powerful monster machines capable of traversing the harshest terrain. They're a brand that focuses on creating supreme All-Terrain boards, and they do not disappoint.
We've reviewed the Ecomobl ET a while back, and liked it, so we are pretty excited to see how this new and improved second version is going to be.
Let us run through the specs first!
Build and specs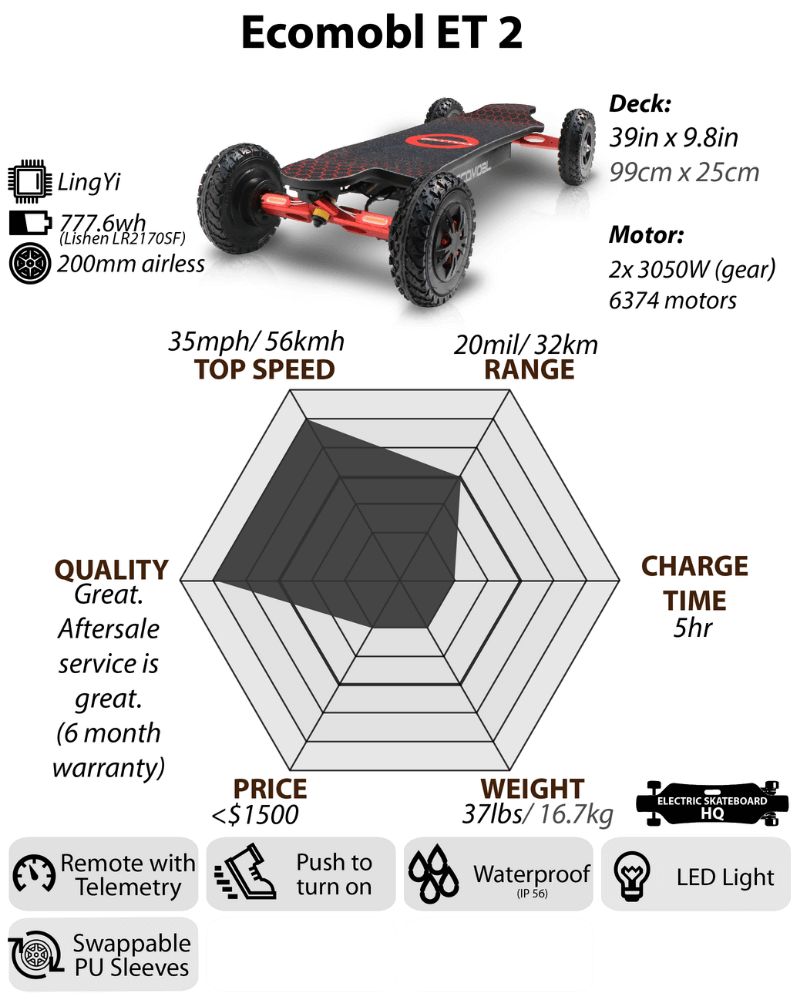 Deck: Canadian Maple with a wide concave and aggressive drop, IP56 waterproof
Electronic Speed Controller: 12s LingYi ESC
Battery: Samsung 40T cells (out of stock); Lishen 21700 cells LR2170SF (temporary)
Marketed range: 20-25 mph (32-40 kph)
Motors: Dual 3050W motors, 6374 Dual planetary gear drive motors, 190 kV
Marketed top speed: 35mph (56kph)
Wheels: 200mm airless rubber wheels
Trucks: 18" wide all-terrain trucks
Weight: 37 lbs (16.7 kg)
Lights: Headlights and Taillights (remote controlled)
Deck
Ecomobl ET2's deck is made of Canadian Maple with a wide concave. The full-length metal enclosure underneath the deck made the board completely rock solid. It's impossible to flex.
What the deck flexes, though, is its aggressive drop. This drop allows a lower ride height and also functions as a foot stopper. When going on or off a steep incline, you can also use it as a step.
Electronic Speed Controller (ESC) & Remote
For the electronic speed controller, 12s LingYi ESC was used and paired with a specialized remote. On its LED screen, you'll see your range, speed, and battery percentage.
Functionality-wise, the remote is superb. By design though, the plastic material felt cheap. We don't admire the remote that much but it's still comfortable on the hand and doesn't disconnect.
Choosing a LingYi ESC also means the board has a push-to-power-on feature—a very handy and welcome function.
Battery & Range
For the battery, ET2 will be using Samsung 40T cells. Samsung ran out of stock for these batteries, so in the meantime, Ecomobl is using Lishen 21700 cells.
ET2 is also on a $100 discount for this product since Lishen batteries are less recognized. According to an internet listing, Lishen batteries have a rate of 4.5 mAh per cell.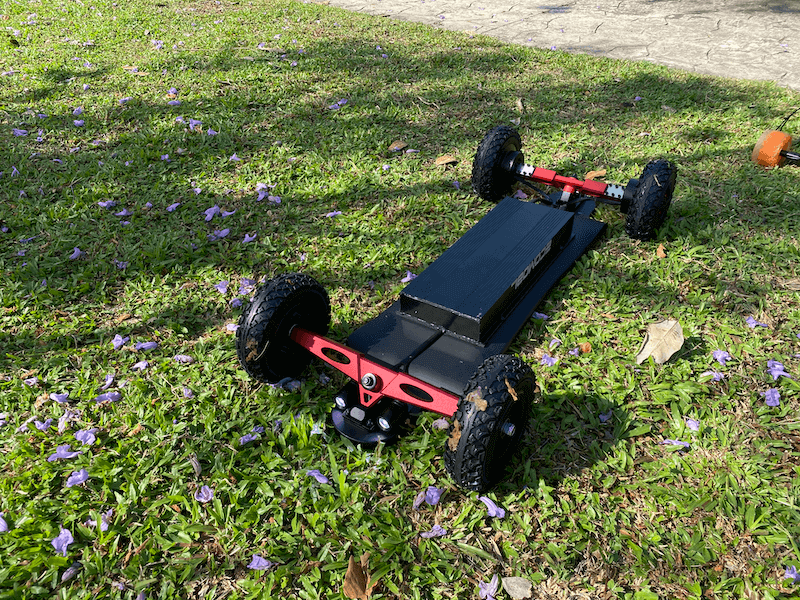 The review unit we received is running on a Lishen battery, so you can expect a better performance if you're watching this in the future and Samsung 40T is being used.
For the Lishen configuration, ET2 went with 12s4p 21700 cells which can give you 18 AH and 777.6 WH.
Our tested range hit 18 miles or 29 km which is not bad for a marketed range of 20-25 miles.
The range was not the focus of ET2, after all. Compared to the first-gen ET which will run you a marathon, ET2 was configured to prioritize power.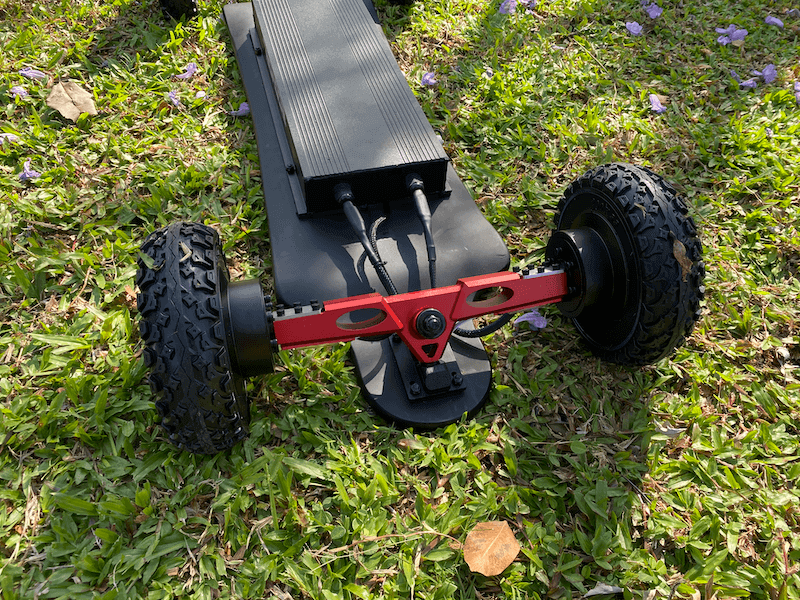 Motors & Power
Ecomobl ET2 used dual 3050W motors and 6374 dual planetary gear drive motors with 190 Kilovolts.
Want to know what part Ecomobl does the best? Check out their planetary gear drive.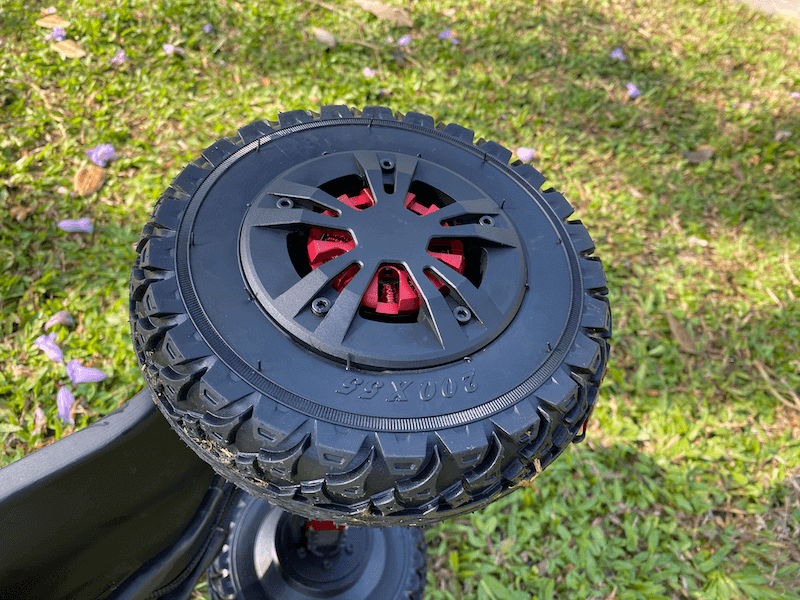 Ecomobl's planetary gear drive has a very strong torque without the belt. It has a similar function with belt motors, but it's actually built into the wheels. These babies will scream a high pitch noise when running and won't roll freely as hub motors.
But how competent is ET2's motor, on paper?
To help you picture it out, the first version, ET, has 2000W motors which already felt extreme for us.
ET2 has a marketed top speed of 35mph or 56 kph but we didn't try it out because we wanted to stay alive.
From every factor the board revealed during our test, we expect a top speed of 28-31 miles or 45-50 kilometers per hour, and that's intense.
Wheels
The wheels are 200mm airless rubber wheels. The thread patterns are more aggressive in this version, and the wheels are noticeably thicker. Did it affect the ride? We'll talk about that later.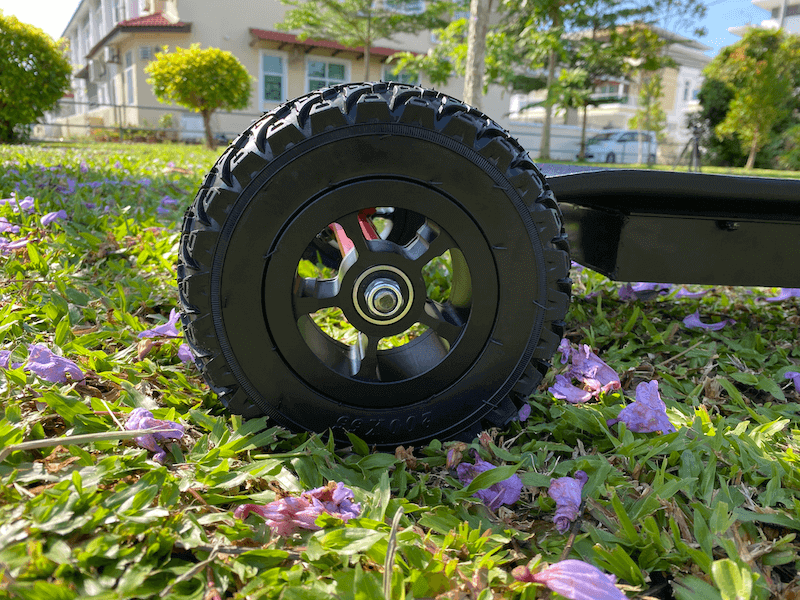 Trucks
The trucks are much wider than your typical All-Terrain trucks. They're 18 inches wide and are 3 inches wider than Ecomobl ET. The wider the trucks, the more stability there should be.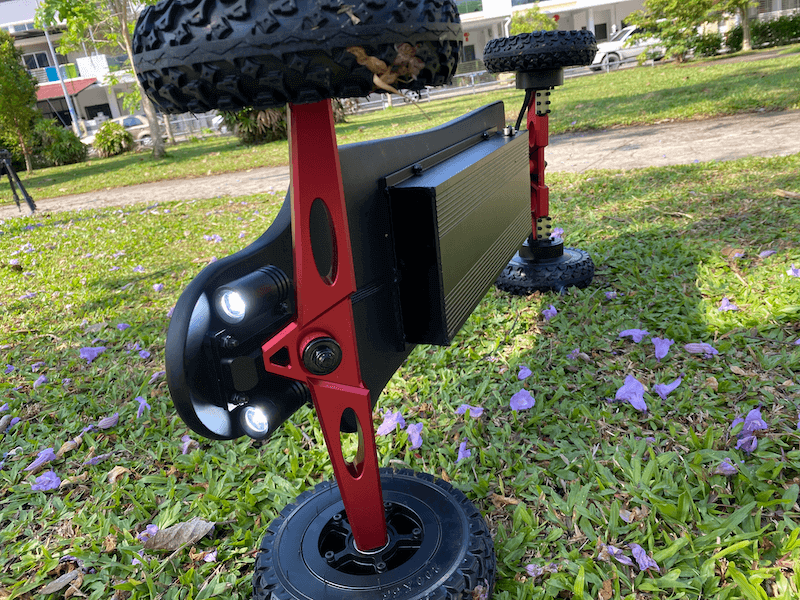 Weight & Other Features
Ecomobl ET2 also weighs 37 lbs or 16.7 kg which is nothing new with beast machines like these. It also has a built-in headlight and taillight which can be turned on and off using the remote. Pretty convenient! Compared to the original ET though, ET2 did not come with the board-length underglow light, which will definitely be missed.
The board is also IP56 waterproof with a fine-looking polish.
If you ask us, this board can surely be your wingman with all the attention you'll attract. Do you agree? Let us know in the comments below.
You can also check out Ecomobl ET2's unboxing here.
Now, it's time to ride!
Riding experience
ET2 has 4 speed and brake modes that you can configure independently. When it comes to smoothness, I've got to say that Ecomobl ET2 was a little bit rough on the edges.
LingYi ESC's jerkiness in control, in our opinion, gets worse when paired with a tougher motor.
You would love what ET2 has in store for you if you're a fan of punchy and powerful rides, but if you want a chill one? ET2 will be a bummer.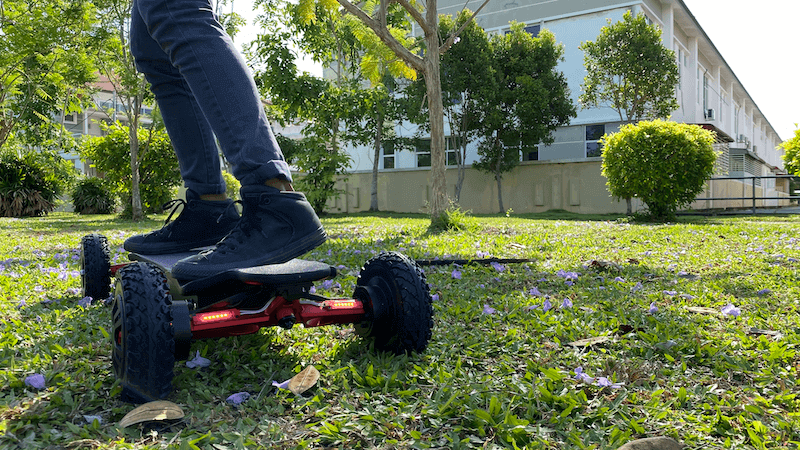 Of course, the acceleration on the 1st and 2nd modes is pretty gentle. However, do know that the top speed is capped pretty low with the first 2 acceleration modes, so you would need to go into 3rd mode to ride faster.
The brakes are strong and fine. Most eskaters will probably choose the 1st or 2nd braking mode as they are both smooth and strong.
When maneuvering ET2, the trucks came in pretty loose from the package. We chose to tighten it to the max. After doing that, we found that these 18-inch trucks are pretty solid.
Turning was effortless, allowing the board to have a good turning radius and comfortable carving. We did get great stability with the wider trucks, but we expect a heavier rider might need to swap a bushing here.
From our modding experience, we know that a wider truck actually requires a harder bushing, and a regular 100A bushing probably will still be too soft for someone who weighs heavier than us scrawny Asians.
Overkill on the streets
As you can guess, Ecomobl ET2 is overkill when riding on typical streets. You might be thinking of giving away some of the power in exchange for greater control smoothness, especially if you ride on regular roads most of the time.
Even if the wide trucks provided lots of stability, we weren't able to push the board to its limit because of the harsh control.
The big wheels helped eliminate vibrations from the road, but it's not the most fun carving machine, either. Let's not forget that ET2 is still a heavy AT board.
Where the Ecomobl ET2 gets more spotlight would be in off-road situations. The motors are powerful enough to conquer any steep incline. Combine that with big 200mm wheels and you can ride through almost any terrain.
The stiff deck also adds stability on rough roads. You might bounce off the board when riding through bumps and rocks if the deck is flexible. Yikes.
Aggressive drop
The aggressive drop on the deck acts as a foot stopper and gives you more balance on the board. If you want to change your foot position, the drop also acts as a step when going up and down steep inclines.
Unlike pneumatic wheels, the 200mm airless wheels won't cushion the vibrations when riding on rocks, but the vibrations are still tolerable.
We always prefer pneumatic tires over airless rubber tires, but at least with airless rubber tires, you won't be concerned with puncturing the wheels or maintaining tire pressure.
If there's one place the Ecomobl ET and ET2 should avoid, that place would be the beach. Sand will get caught in the exposed gear drive easily.
So what's our verdict?
THE VERDICT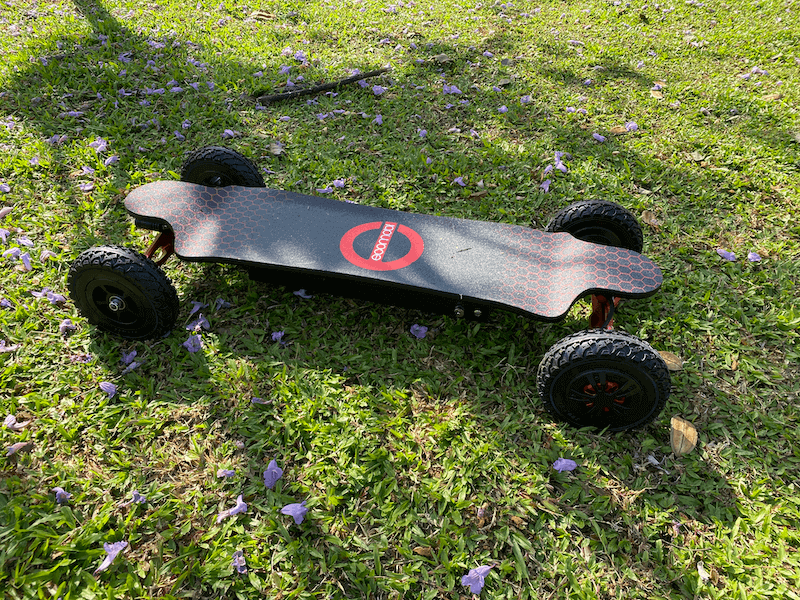 Is ET2 really an upgrade of the first version or nah?
Ecomobl ET2 got better at what it's meant to do: to be a powerful off-road electric skateboard.
Coming from ET, the second version ET2 became so specific for off-road use that, sadly, it's not as versatile as it used to be.
While ET2 got better at being an off-road beast, it also got worse at being a relaxed ride on regular streets. But hey, it's what it's designed to do. Also, compared to the original ET and most all-terrain boards in the market, ET2 is much stronger and powerful while also having wider trucks and larger wheels.
This makes ET2 an excellent choice for those who love power and off-road rides or heavier riders who are looking for a board with maximum torque. However, being an even more powerful beast means ET2 won't go easy on you on a common road.
If you want the strongest monster for off-road use, ET2 fits the bill well.
If you want a versatile board that is still wildly powerful, the tamer first version of Ecomobl ET may already be enough.
To check out our review on Ecomobl ET, click here.
If you are interested in buying an Ecomobl, be sure to check out our affiliate discount link here and uses code: "Electric Skateboard HQ 5%OFF" during check out.
It will help you get a 5% off and helps us out too. On top of that, you'll be tagged as an Electric Skateboard HQ customer and probably be treated better. Cheers!