First, A Forward
I don't typically review accessories as I don't usually accessorise a whole lot when I skate. The most I usually do are helmets, pads, and gloves. I think accessories are fairly personal things and people may or may not like something based on their own personal perferences. Pads and gloves are obvious items here. But what about lights? Lights are fairly universal with specs that can be objectively discussed. This is why when Shredlights asked if I would like to take a look at the new SL200, I agreed to write my thoughts down. So, without further ado, let's jump right in.
Shredlights sent me a big box
Yeah. I thought they would just send me a pack but instead they sent me a big box of like a bazillion lights. There were Action Packs, Combo Packs, Night Ops Packs, and a buttload of mounting brackets for basically any kind of board. There was also a stack of stickers included which I certainly appreciated. Did you know each sticker on your board adds 5MPH to your top end?
Let's talk about the mounting system.
The original Shredlights were possibly the most popular eskate specific lights in the world. The mounting system that screwed in using the existing hardware mounting screws on your board was innovative and convenient at the time. However, reports of light housing rubber tearing due to fatigue and lights falling off mid-ride started appearing. The double hook system itself wasn't very easy to take on and off either, and was disliked by not a few people, myself amongst them.
So what's changed there then?
Well, the mounting system has been completely redesigned. Folks, I would be very surprised if your lights fell off. It's very rock solid. Instead of stretch-the-rubber push-pull-help-how-do-I-get-this-off-oops-I-tore-the-casing, it's now a slide on and spring-loaded click-in. The new mounting plates are more robust as well. Thicker steel is now used, and the mounting plates now have a matte finish instead of the glossy black paint they used previously that liked to chip off. The variety of mounting configurations also impressed me. There are flat mounts, vertical mounts, and diagonal mounts. They've really thought of everything this time.
In addition to board mounts, Shredlights have also gotten into mounting on other objects and surfaces. In the Night Ops pack, they include a bunch of different mounting plates and clips that can stick onto various surfaces. The most notable thing is Shredlights have decided to use GoPro style pivots. This means you can buy any accessory that's got a GoPro pivot system on it and it'll fit right away. I think this is a great decision and really increases the usability of the product.
One last thing worth mentioning is the clip mount. This is possibly my single favorite improvement of the SL200, and is really what makes the product for me. The clip clips onto most anything, but I most often clip it onto the strap of my sling bag at night. The clip allows for near 360 degrees of freedom for you to angle the light, and is a great solution when riding with others as for me it is often annoying to have lights mounted on the helmet because when you look at somebody you might blind them.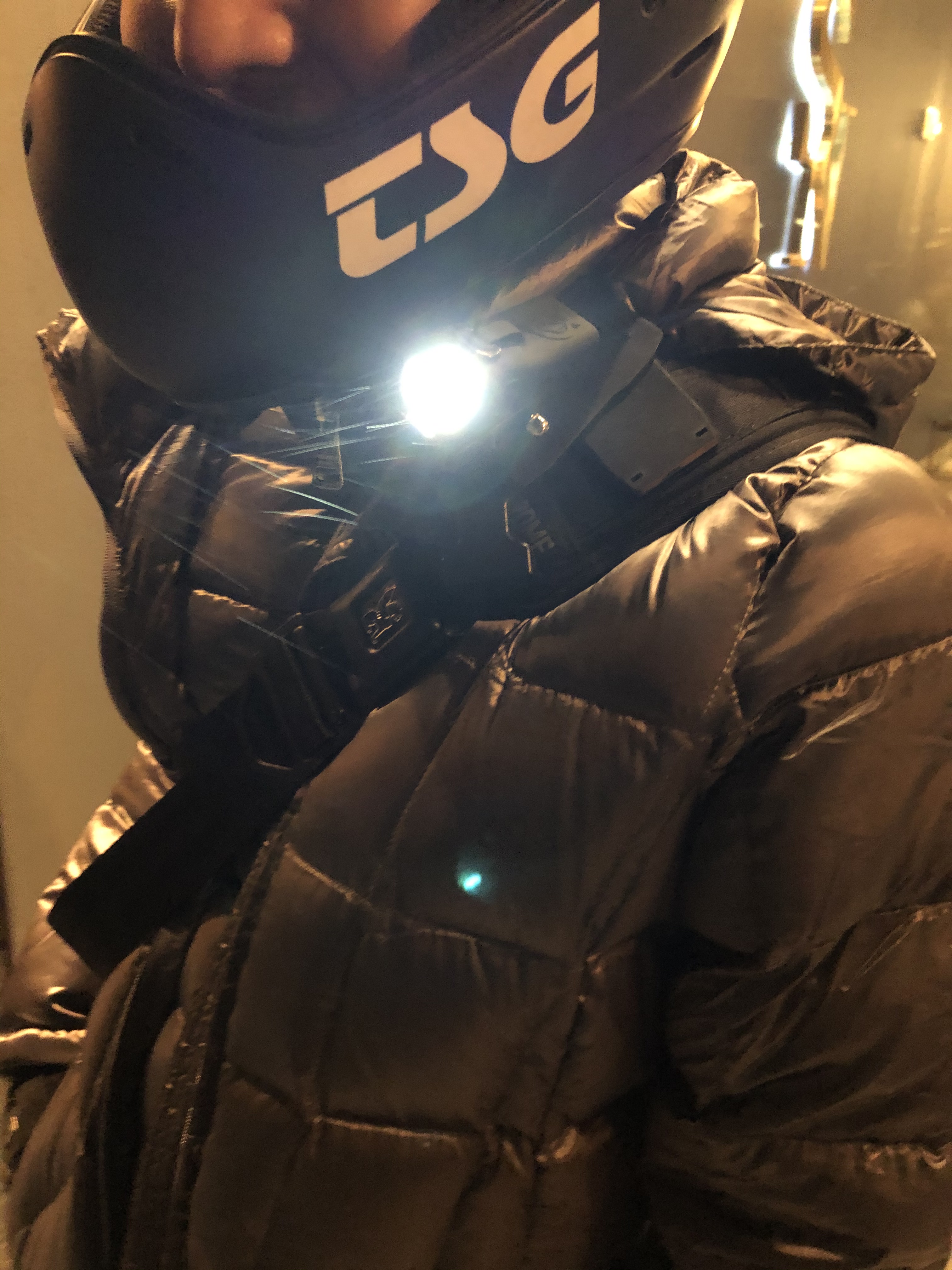 Speaking of the lights…
All the best mounts in the world would be moot if the lights didn't perform right?
Well, I'm glad to say they perform, and perform well. In my personal testing, my single backpack strap clipped SL200 effortlessly lit up the road around 20 feet in front of me with a constant-on beam to a satisfying degree. That's a win in my book. On the highest constant brightness setting, one light lasts a few long rides before needing to be recharged. That's another win in my book. So much better than the V1 Shredlights already.
Now, I don't really like putting lights on my board, so I only have cursory first hand experience with board mounted lights. However, my good friend and esteemed videographer Justin Yee is an avid user of the V1 Shredlights, so I gave him a set of front and back SL200s to test on his eskating adventures. Here's what he said (paraphrased):
"They're way brighter than the original. It's got really sick light patterns, and the new mounting mechanism is great. The new charge port covers stay great and don't tear off. They light up a lot more of the road compared to the old ones, now you can actually see bumps and cracks and have time to react. The rear lights are also very noticeable. I have no complaints. Steep price but for the convenience and function I'd say worth if you like having lights on your board"
To sum up,
What we have here are bright, quality, durable lights purpose made for eskates and eskaters. At $100 for two front lights, two rear lights, and mounting brackets, it might seem a little steep. However I think what you're really buying into here is an ecosystem, and personally I think it's a really flexible ecosystem and a great choice of lights. I was certainly surprised by the quality and performance, and I think you will be too.
Click here to check out Shredlight!
Use promo-code: ESKATEHQ to get 10% off