Since I first seen a video of an electric skateboard on Facebook back in 2015, I was hooked.
Can you blame me? Eskates are much cooler than hoverboard, Segway, bicycle or a scooter.  It's the future of transportation, fitting perfectly with the urban commute.
Sadly, even though I had done lots of researches and wrote tons of reviews on electric skateboards, I had yet to come down from the fences to buy one (They are expensive to me!)
I felt that Eskates has not matured yet. The perfect board for the perfect price has not existed yet.
As a fellow Redditor said (and I Paraphrase): Boosted need to fix its battery, Evolve need to fix it's remote, Mellow needs to be cheaper, Arc board should have hub motor and on top of that, every board should have a removable battery and be waterproof!
Luckily for us, competition in the eskates world seems only to intensify with time and a lot more choices have popped up. Since my preview of 2017 board at the start of this year, 2 more boards has been announced in Kickstarter and Indiegogo. Walnutt Spectra and Lou Board.
I decided to get either one of them, and I am losing sleep choosing between them.
But at last at the ending of their Kickstarter campaign, I made my decision and backed Walnutt Spectra Mini.
I first got to know Walnutt Spectra when I was writing a post about Eskates in CES 2017.
Walnutt then started IndieGoGo campaign in May and was scheduled to ship as early as August (wow?).
I was primarily ogling at Spectra Mini for its price and its size.
It has decent Stats too. 17 inch, 7.5lbs, 12.4 mph speed with 6.5 miles range. 14% hill climb.
(That will be 43cm, 3.4kg, 20kmh, 10km range).
It cost me 299USD plus 35USD shipping to Malaysia.
This slideshow requires JavaScript.
You can find more individual electric skateboard stat chart here.
So, what does Spectra offers?
Spectra most unique feature would be its Posture Control: The board moves according to where you put your body weight on. Lean in to move forward, lean back to brake- which I was told to be a bad idea cause it is easier to lose my balance if I roll over a bump while leaning forward.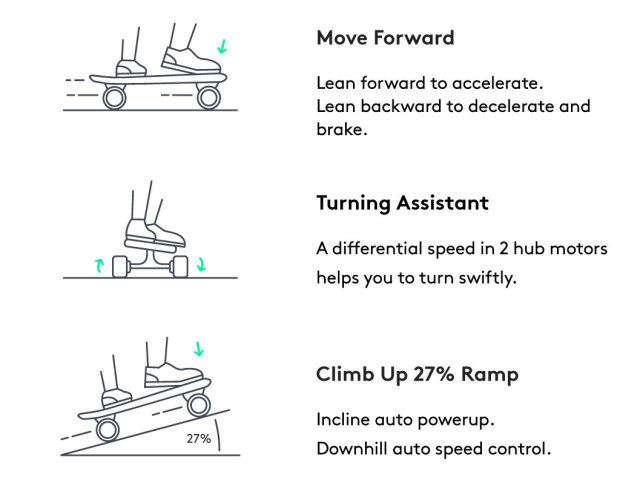 The board also packs those standard features that nowadays most eskates have such as:
– Regenerative Breaking (Which electric skateboard nowadays don't have it?)
– Speed Modes (duh)
– Application to go along with it.
– Water/weather resistant (I'll believe it when some 3rd party tested it)
– LED indicator (I actually agree it is nice to be seen at night)

The features above tells me that Walnutt Spectra is not going to be inferior compares to other small eskates like the Blink Lite, Arc Board, Bolt and Lou Board. However what gets me interested is the fact that this board has a software in it, and its firmware can be updated.
So is this going to be the first smart electric skateboard on the market? (Or would the software be dumb and gets in the way instead?) I was sufficiently intrigued to put money in to find out myself.
However, there was Lou Board, on the other hand, campaigning in Kickstarter with the similar price (299$). Equally as good stats wise, with a removable battery (Spectra's could not), with better water protection, it is very difficult to decide between them.
Ultimately, it was THIS that made me chose Spectra.
Portability.
I measured:
17 inch or 43cm means Spectra Mini can fit into most backpacks.
I knew by experience that the primary reason I didn't bring my penny board everywhere I went was that it was still too big to be carried easily in a backpack or most grocery bags.
If "the best camera is the one that's with you", the best eskates for me is the one that I will actually carry around.
So before I take the plunge and get myself my dream board Linky, I will just have to settle with my little Walnutt Spectra Mini first.
I hope I have better luck using it than  Caisey Neistat in his vlog.
Link to Walnutt Spectra IndieGoGo Campaign.
Link to Walnutt Official Webpage.
Link to Walnutt Facebook Page.