Introductions
Designing a new product can be scary. After all, you can never know if something new might turn out to be a dud. But I guess we all know the proven formula to make a great electric skateboard:
7-inch pneumatic wheels with the ability to swap to street setup +
Dual Belt drive +
Double drop deck +
Double Kingpin Trucks
Give the board a pack of 10s4p batteries and throw in some hexagon-grip-tape design and you've got yourself a very, very effective formula. The same formula that Evolve has been cooking for almost a decade now.
It wasn't until 2019 that we start seeing brands copy this formula. Personally, I'm surprised it took these companies so long, but there are only a few notable attempts: Backfire Ranger X1 and now X2 did it with hub motors; Ownboard Bamboo AT made an attempt that we like, and then there was the first Wowgo AT.
Wowgo AT 2 Review
We never reviewed the Wowgo AT and we know we don't need to, because right from the get-go everyone who took a glimpse of that board knows it's troubled. To say the least, it had a very problematic rear truck that made it a poor ride.
Long story short, they tried again with Version Two and made lots of changes this time. Now let's run through the specs of Wowgo AT 2 real quick.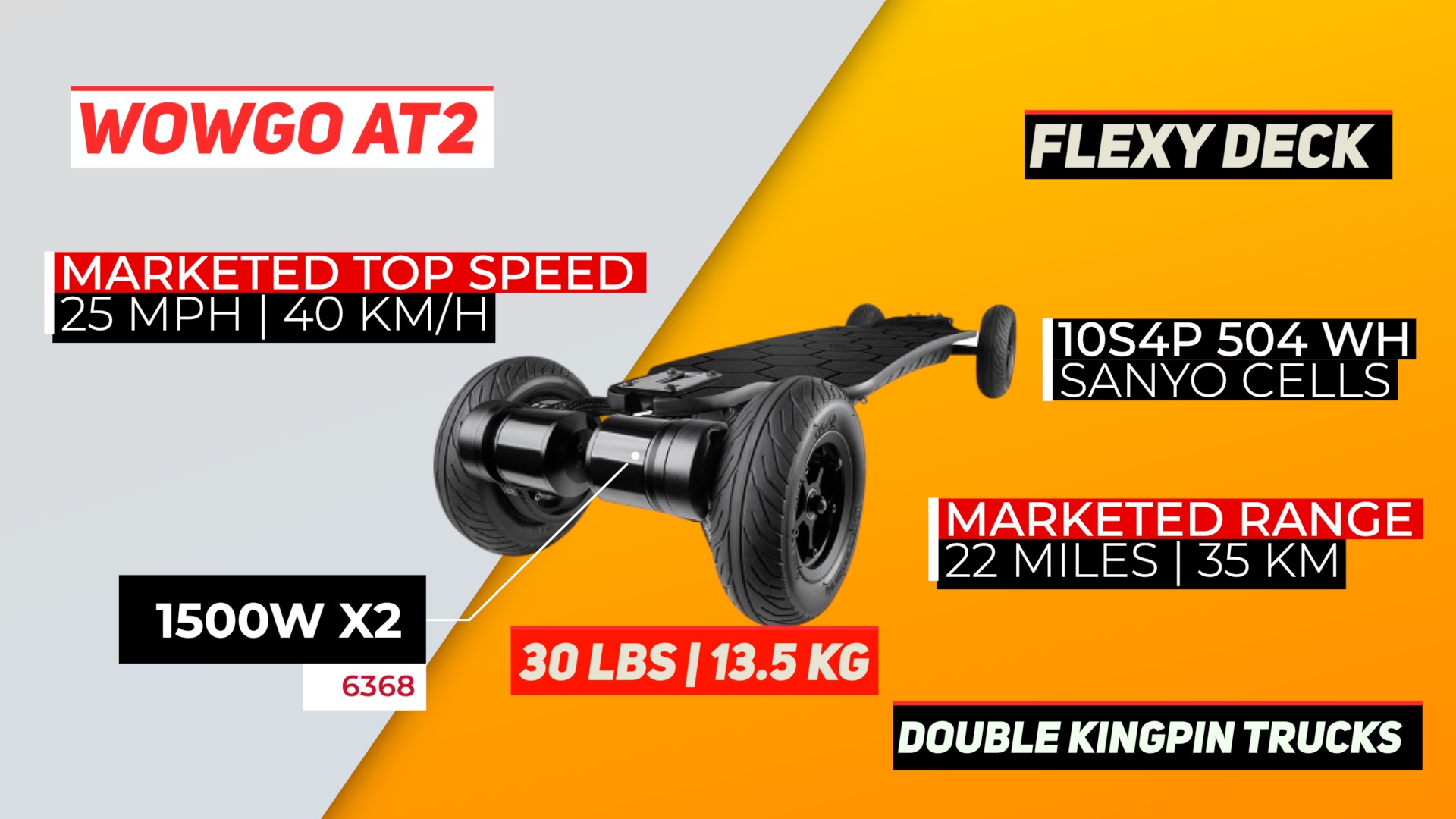 Size: 38-inch long board
Top Speed: 25mph/40km
Range: 22miles/35km
Battery Pack: 504Wh 10s4p Sanyo battery
Weight: 30lbs/13.5kg
Features:

Flexy deck made out of fiberglass, bamboo, and maple wood.
Double kingpin trucks.
Dual 6368 1500W motors.
Hobbywing ESC with smart turn on.
Two wheel-configurations are available:

175mm pneumatic wheels or
120mm cloud wheels.

Price: 1099.99 USD
Unboxing
Wowgo AT 2 gave me a few of small but nice surprises.
During the unboxing, I was surprised that they included a wheel pump in the box, a funny nice gesture. A bigger surprise came when I found out that it has the smart turn-on feature previously never seen outside of Exway.
I'm also mildly impressed that Wowgo had stepped up on the polish of the board, again. From the hexagon absorptive grip-tape, they use to the overall feel and look of the enclosure, couldn't find any blemishes. All Chinese brands had been upping the ante in the product polish, but for the past 1 year, Wowgo seems to go slightly further in this aspect than the rest (especially since Wowgo 3).
Let's put it this way, everything about Wowgo AT 2 felt really premium, and the only thing that doesn't feel premium about it … is unfortunately the quirky brand name.
Of course, good specs and polished finish are just the qualifiers when a board costs as much as $1099.99 especially when the consistency and ease of access to aftersales service can and is a valid concern, an issue that's unfortunately plaguing most if not all of the Chinese brands.
In short, besides looking pretty, the riding experience has to be really good too!
Riding Experience
i. Acceleration & Breaking
Unsurprising, but equally worth mentioning, is the control. Wowgo uses a customized Hobbywing ESC where we expected smooth acceleration and smooth braking, and that's exactly what we got.
Customized Hobbywing has a tendency to have weak brakes, but for the Wowgo AT 2, the brake is actually pretty strong. No complaints here.
ii. Vibration
Duh.
You obviously couldn't find a much better board to combat road vibration than a board with pneumatic wheels, is belt-driven and has flex in the deck.
iii. Top Speed
The marketed top speed is 25mph (40km). We manage to hit that.
That's not impressive. What's impressive is that for a board that uses dual kingpin trucks, Wowgo AT 2 felt really stable cruising near top speed, in AT configuration.
This is not how I felt riding on other DKP trucks, like the similarly built and priced Ownboard Bamboo AT, for example, that board doesn't felt stable in AT wheels despite having more aggressive drop deck and lower ride height.
Stability concern is such a none issue that switching to the 120mm Cloudwheels seems unnecessary. You get more safety with the AT wheels anyways.
iv. Range
And the marketed range is 22miles (35km).
We were able to hit that number. It's a big pack of Sanyo GA 18500, 504Wh, in 10s4p configuration after-all.
On a side note: Evolve Bamboo GTR also uses a 504wh pack, 10s4p configuration, Samsung 35E cells. It's marketed range is 19miles (30km) and we hit around 20-21miles on it too.
A closer look at the parts
i. Deck
Wowgo AT2 has a less aggressive drop-deck and hence a higher ride height, so it should, in theory, be even more twitchy. But that wasn't the case; the truck is configured so well right out of the box, and thanks to the harder bushing it is actually the most stable dual kingpin we've ever tried.
The slightly concave double drop down deck is really comfortable to stand on, and road vibration is never better countered than with pneumatic wheels, flex deck, and absorptive grip tape.
iii. Trucks
As mentioned, the dual kingpin truck is very well configured, probably partly thanks to the harder bushing it is using? One of the most stable dual kingpin we've ever tried.
iii. Electronic components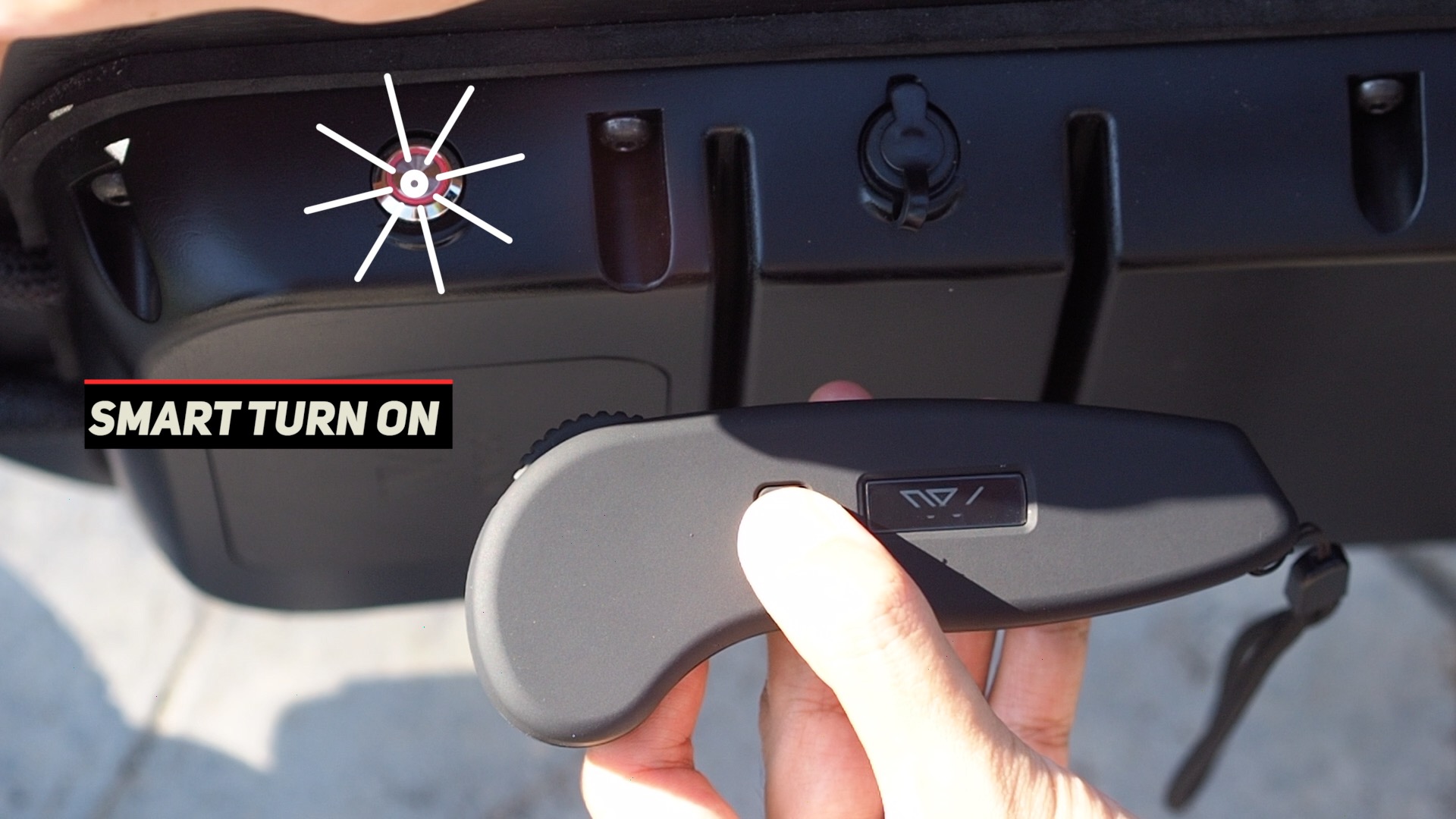 The brain of the board is the Hobbywing ESC with a smart turn on. Meaning, the board turns on just by turning on the remote. This is a big deal.
I feel like a nerd for saying this but I love the components case. It's plastic but it's pretty and elegant looking. No more off the shelf parts this time.
iv. Remote
Single-button remote with telemetry reading. Comfortable on hand.
The connectivity range seems to be shorter on this one than other remote, bring it a few feet away from the board and it will vibrate and disconnect.
iv. Wheel
Two wheel-configurations are available – 175mm pneumatic wheels or 120mm cloud wheels.
By the way, this thing weighs in at almost 30lbs (13.5kg), in AT set-up, and switching to cloud wheels is just gonna slice a pound or two off it. In short, it's heavy.
Let me repeat myself here, if you are picking between Cloudwheels set-up or pneumatic AT set-up, go pneumatic.
Verdict
The Wowgo team deserves a pat on their back for the AT2; it has respectable specs and it has a top-notch feel to back it up. For those who have strong feelings against Evolve, this is the board to get. For those who don't have strong feelings against Evolve, this might still be a better choice after considering Hobbywing ESC gives you better overall control and smoothness, and the smart-turn-on feature is huge.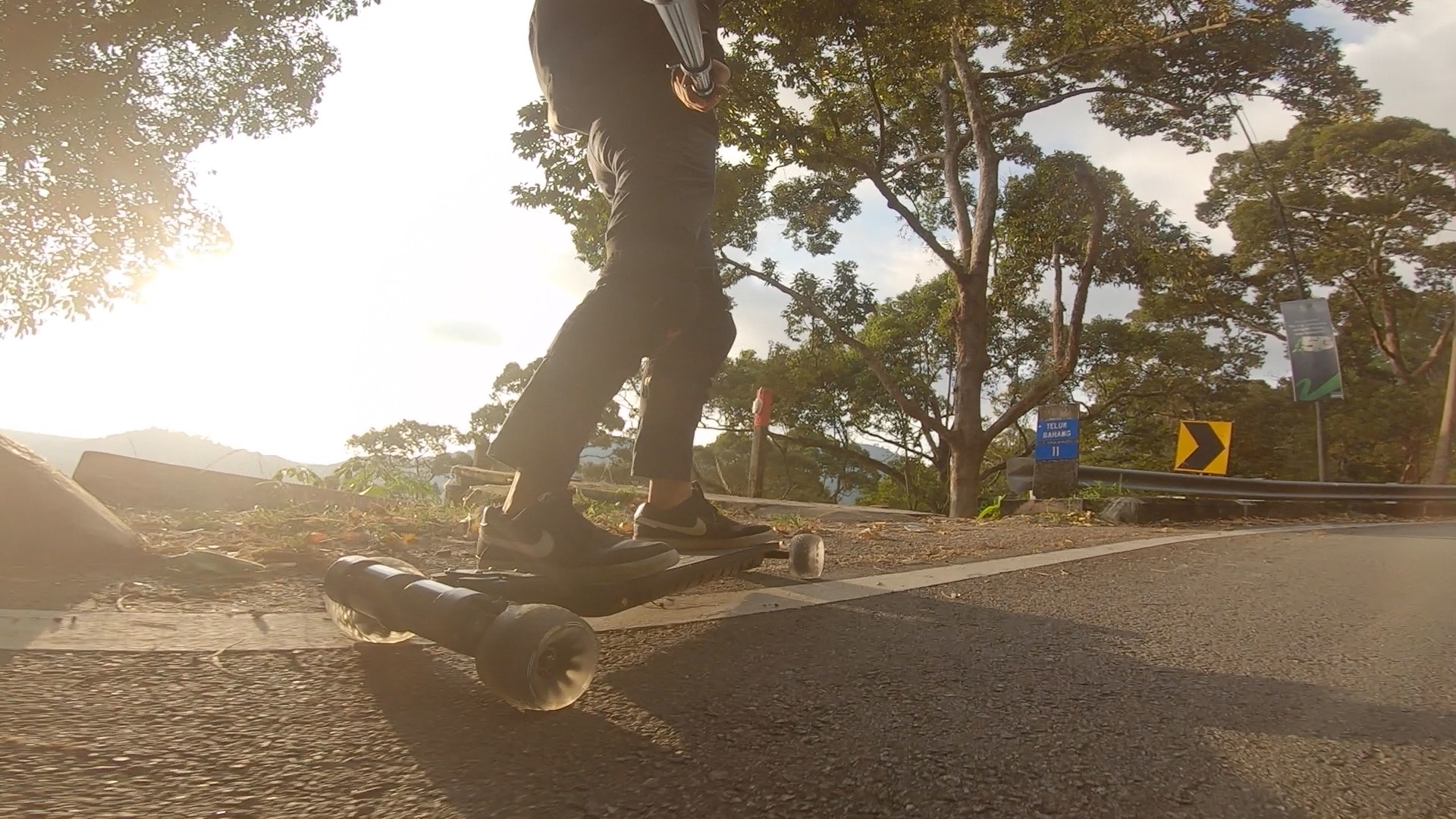 If you're willing to put up with average after-sale service and the woefully unpredictable shipping time during this pandemic, you certainly won't be disappointed by this one.
If you are interested in buying a Wowgo, be sure to check out our affiliate discount link here during check out.
It will help you get a small monetary discount and helps us out too. On top of that, you'll be tagged as an Electric Skateboard HQ customer and probably be treated better. Cheers!