Winboard Panther – Review
Foreword
After spending years in the OEM/ODM sphere, Winboard finally decides to join the action by launching their own line of products. This is no doubt going to be huge for us Eskate consumers as Winboard has been one of the biggest players in Eskate manufacturing with a long resume of working with brands such as LouBoard, and HaloBoard. It is also the manufacturer of the beautiful carbon fiber deck for the Predator Banshee – the same deck featured on the Lynx series.
On August 18th, Winboard is going to jump into the market with 2 lines of products, the shorterLynx, and the longer Panther. My buddy Drew has already reviewed the Lynx Challenge, this is my review of the Panther.
Let me start out by saying that I expect the Panther to be the benchmark for future mid-tier electric skateboards. And it's not just because of the stunning graphics on the grip tape.
Introduction to WinBoard

Founded in 2015, Winboard has always been one of the top Eskate manufacturers specializing in carbon fiber materials and hub motors.
They have a variety of products available for purchase but their focus was never to sell directly to the consumer. For that reason, I have been very critical of buying their products as an individual buyer, due to the fact that you probably wouldn't get any post-sale support.
And that's why things got really interesting when Winboard set-up their retail branch, and it seems that they are really serious about it.
How serious?
They set up a fully functional website for retail.
They are launching two very competitive products simultaneously- the Lynx and the Panther, on August 18th 2018 – with a grand opening lucky draw to have a random 5% buyers get their boards for free. (and extend the original 6 months warranty to 1 years for free for all.)
They opened 4 branches worldwide to support sales and customer services – in theUS, Australia, Czech Republic, and Spain. Repairs and service will be handled by the local distributor (in the US, it will be at Las Vegas)
A big manufacturer, going into retail themselves with a head full of steam, I wouldn't want to compete against that.
Winboard Panther Review
"Wow".
Is what everyone says when first shown this board.
A lot of effort was put into designing a new grip tape graphic for the Lynx and the Panther, and I am sure you will agree with me that it was money well spent.
Call me superficial but the gorgeous graphic really did make me like the board better.
I felt proud to be seen riding this around on this gorgeous board, but looks aside, does it have any substance to it?
Winboard Panther Specs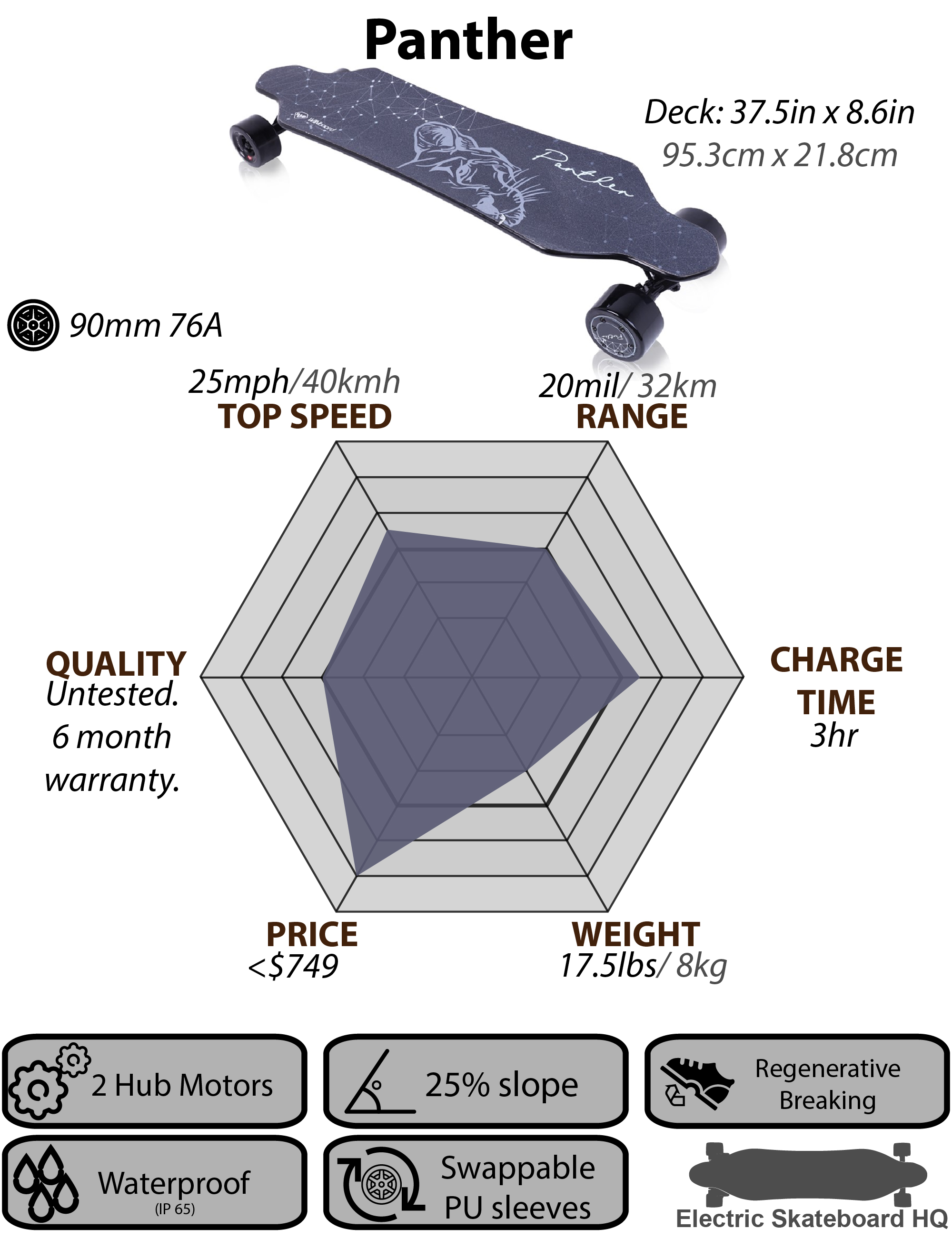 The Winboard Panther is a very well rounded board.
Top Speed: 25mph (40kmh)
Range: 20mil (32km)
Weight: 17.5lbs (8kg)
Charge Time: 3 Hours
Features: IP 65 Waterproof, swappable PU Sleeves, Regenerative Braking.
Price: 749 USD.
Build Quality
Looking past the beautiful grip tape, the board doesn't have a particularly innovative design. Unlike the Lynx, which rocked a carbon fiber deck to house everything, the Panther has a typical setup – a maple deck with an enclosure underneath spanning the length of the board.
All in all, the board is very presentable- from the sturdy built to the small graphics on the wheels, it is not hard to see that the board came from an experienced manufacturer.
Deck
The Panther features a maple deck with a nice concave.
It's not too aggressive. Just nice enough for me to feel where my feet are and make controlling the board more comfortable.
It is, of course, a stiff deck by design as the board is using a single board-length enclosure underneath.
As usual, stiff decks help with stability at high speed while sacrificing the comfort of a flexy deck.
Considering that the Panther can go pretty fast, I think using a stiffer deck is a wise choice.
Wheels
The 90MM 76a wheels are big and soft.
90mm (and above) is the size that I like my wheels to be as I don't have the smoothest roads where I live, and softer wheels help with rougher roads significantly.
The PU sleeves on the hub motor are swappable, an important feature that most modern hub-drives have.
Trucks
They look and felt sturdy. Closer inspection shows nothing wrong with them.
(No lopsided screw holes or anything like we found on our Lynx review unit)
Summary of Build Quality
The Panther looks and felt really solid.
Nothing I can complain about really. I couldn't comment on the packaging as I was told that part wasn't finalized yet.
By the looks of it, it is well worth it's $749 price tag.
Riding Experience:
Acceleration and Deceleration
There are 4 ride modes:
L mode with a top speed of 10mph/16kmh
M mode with a top speed of 20mph/ 32kmh
H mode with a top speed of 25mph/ 40kmh
H+ mode with a top speed of 25mph/ 40kmh, but with crazy acceleration.
Let's start by talking about the acceleration and deceleration. I have to say, it's very well configured.
I heard that Winboard had programmed the board to smooth out speed changes in an effort to eliminate jolts, and that effort is noticeable.
When pushing the throttle hard, the board will flow easily into the acceleration, even in H+ mode.
When letting go of the throttle, either by choice or by accident, the board doesn't experience a sudden loss of speed. The board will ease out that deceleration smoothly.
Even trying to kill myself by going from full-throttle top speed to full braking, the board tries to ease me into it.
(But I have to admit, I didn't commit to testing the full-throttle top speed to full throttle braking that strictly, I still pull the throttle back a bit before committing to full braking, because a previous test on another board sent me flying and I'm too chicken to do that test properly now.)
I think this configuration helps a lot in making newer riders feel safe, knowing that accidental input is not going to throw them off.
Some may like a more raw and untamed board, but that's clearly not what Winboard is trying to be.
So, back to the 4 riding modes:
The L-mode is very gentle on both starting and braking – it passed what I call a newbie test, where I give the board to someone who has never ridden an Eskate before and see if they complain about anything.
I did it twice and both times, both newbies felt comfortable on the Panther within 5 min – not zooming around per-se but at least moving tentatively and starting to learn to turn.
Once the training wheels can be taken off, the M-mode is where the majority will spend time for relaxing rides and cruises. The acceleration and braking are still gentle, but less boring speed-wise.
H mode is where the veterans of Eskate will reside. Strong braking, quick acceleration.
And that H+ mode? I think it was made for the top 5% of veteran eskaters. Waayyyy too fast for me.
Good for drag races, but I don't see myself using that, ever.
Vibration & Stability
Vibrations are tolerable on the Panther, even with the stiffer deck. I am not entirely sure what to point to but vibration on the road felt muffled on the Panther, perhaps due to the soft riser or perhaps it's the softer, large wheels?
At 17.5lbs(8kg) Panther is not light but that heaviness makes riding it feel stable. The sturdiness makes the Panther a very comfortable ride at high speed.
Remote Control
One of the best remotes I've ever used.
It's ergonomic and fits nicely in the hand.
The dial is springy and with a good amount of resistance for better control and has a reasonable amount of travel.
The remote also has a screen that shows all the important information – Battery life of remote and board, current speed, ride modes and even an odometer!
There is also a cruise control mode available, press down the middle button and the board will maintain the same speed until you tell it otherwise.
Of course, no disconnection during testing. It's a great remote.
Summary of Riding Experience
Oh I l love it, but it wasn't perfect.
I set up my trucks to be on the tight side, to make it as stable as I could for speed, but even with it loose, I don't see how the board could be as carvy and maneuverable as other eskates on the market.
Perhaps changing the trucks and bushing might help with that, but at the stock setting, the board doesn't allow very tight carving.
Cruising on an open road at higher speeds is where the Panther truly shined.
Big carves on an open road, feeling stable on turns, reliable and comfortable control really helped to get the most enjoyability out of a nice cruise.
That stability and smooth control will also allow more conservative riders to expand their speed limit, and we all know eskating is more fun when it's fast.
Capability
Panthers are amazing things.
The more I learn about them, the more they amaze me.
Panthers can run up to 50mph, and travel up to 20miles per day.
they can also leap up to 40 feet up! Crazy!
Ops! wrong Panther.
The Winboard Panther, the skateboard, er..hem, are very capable as well.
About as good as a real panther in range per charge, with a very good top speed; leaping ability though wasn't specified by Winboard so I'm not too sure about that.
Range
The Winboard Panther is shipping with either a
9AH, Samsung 30Q 10S3P battery (324wh) or
10.5AH Samsung 35E 10S3P battery (378wh).
Same price and you get to choose.
Please refer to your nearest DIY guy/gurl or my short battery guide if you can't make sense of the differences.
Both batteries should perform the similarly with this set-up but I personally prefer Samsung 30Q because it was what I received 😛 — and because it has better continuous current output.
The advertised range for the Panther is 20miles(32km). Which is by no means an inflated estimate and you can tell by the size of the battery.
My personal range test, running on a flat surface on mostly M-mode lasted me a bit more than the advertised 20miles (32km) before the battery went dead.
Of course, if you go full throttle top speed all of the time, you will get much less than 20miles(32km) range.
Voltage sag: Top speed began to drop to 40 km/h by the half bar, and at 36 km/h by 25%. It is still capable of going at a ride-able speed until the very end which is good!
(my weight 165lbs/ 75kg)
Speed
Marketed top speed is 25mph(40kmh).
Like the case of Drew with the Winboard Lynx, we both have no problem passing that. I hit 28 mph (45kmh) with a speed tuck.
Winboard told me they made the decision to market it as 25mph (40kmh) as they would rather under-promise and over-deliver than the other way around. This gets a brownie point from me!
Torque
I am not really worried about the torque that this board provides at all, and I can't really find any hill that it can't climb over.
My Standard stop and go test is on a 10% incline. No problem for the Panther. In fact, it's not even breaking a sweat.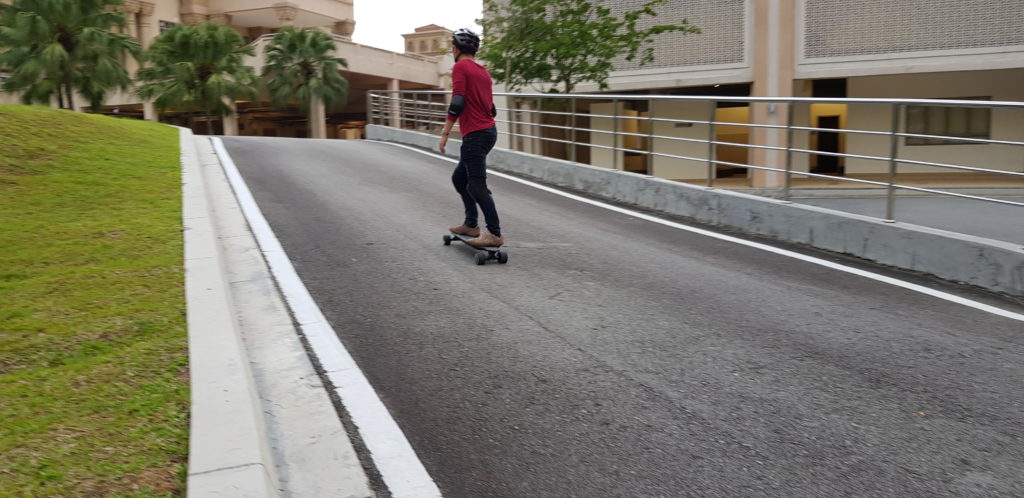 Retested on a 15% climb, and it still didn't break a sweat doing a stop and go.
Notably, though, the board couldn't brake to a stop while braking downhill. It can slow to almost a crawl, just not to a complete stop. Only a few boards we have tested have been able to achieve this feat.
Customer Service
The best prediction of the future is the past, and Winboard, at least the retail branch, has no past history to base any prediction on.
However, things have been done to make Winboard a safe recommendation, even on day 1.
For instance, they have installed local distributors around the world to handle customer service and repairs.
On top of that, they didn't get any random Joe to man their businesses. They manage to get Michael Espinosa from the Esk8squad to be their brand ambassador in the US and to help with servicing, and that alone would be enough to assure me on the post-sale support.
Other Features
The Panther isn't packed with features per se. It's a relatively simple board.
It has swappable urethane on the hub motors, which is nice.
IP 65 waterproof rating that I am not going to risk testing. The board looks quite sealed against water getting in, but water is never good for an eskate. Think of the motors, think of the deck.
If you need head and tail lights, they do offer a 25% off coupon for Shredlights with purchase of the board.
(It's a pretty good deal, in contrast our "EskateHQ" discount code will just get you 10% off. Check out our atypical Shredlight review on a OneWheel here.)
Verdict
The Eskate community has seen more unicorns than Shrek in fairy tale so it is often unwise to get too hype on a pre-launch product.
I am aware that "Winboard the manufacturer" has had some 'disharmony' with its business partners. With that said, this new "Winboard retail" has done enough to gain my trust and alleviate much of my concern:
They chose to skip the crowdfunding route which historically has been problematic for eskate projects.
They skipped the pre-order wait and released a products that are available right away and should be arriving at doorsteps within a month.
They planned out the way they would handle post-sale service, and they got a reputable eskater to be their ambassador.
They are being honest with specs, not trying to exploit those who are not in-the-know.
And from my dealings with the co-founder, she has a very anxious profile and cares a great deal about serving customers.
And, at the end of the day, the Winboard Panther is a great board. It looks elegant, it rides nicely and it's powerful.
I have no doubt that this will be the benchmark of mid-priced electric skateboards in the future.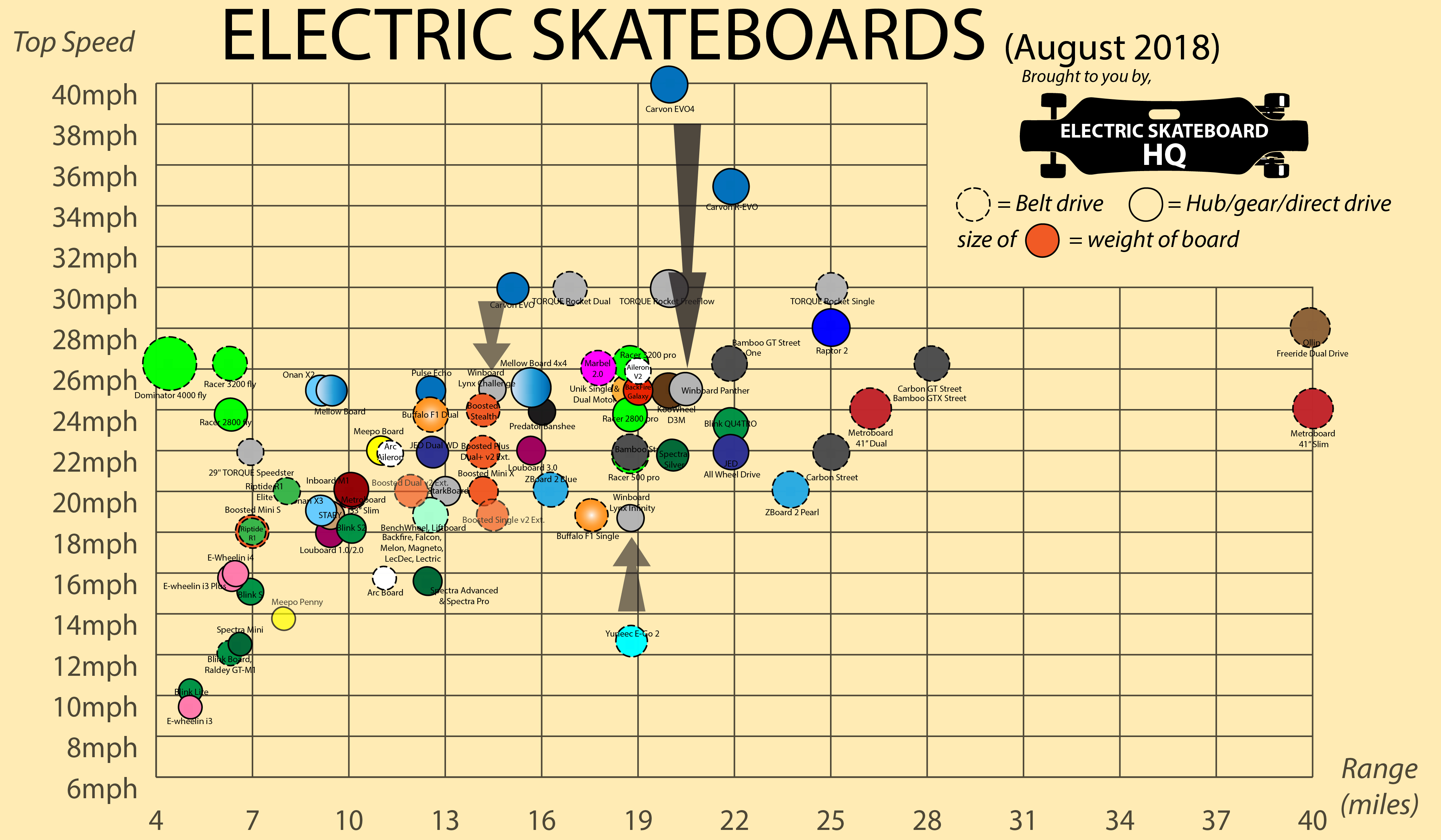 So, Winboard is trying to gain a reputation and consumer goodwill by selling their new products, the Lynx and the Panther, at below market price – leveraging the advantage they have as a big manufacturer.
They will launch on August 18th, 2018, and there will be a launch day promotion happening:
One in 20 random customers will get their boards for free.
Everyone get their warranty extended from 6 months to 1 year.
*Promotion only valid for customers who order on that day.
And of course, to top that up, use "EskateHQ" code during checkout to get an grip tape eraser, extra grip tape and Bones reds bearing.
(We know what our readers want. You're welcome.)
Check out our review on Winboard Lynx
Lynx Infinity Review – By Samuel James