Today we will be reviewing the WowGo 2S Pro—a $429 electric skateboard that aims to be the leader of the best budget boards in the market.
Before the WowGo 2S Pro replaced WowGo Knight on the shelf, WowGo Knight was our reigning champion for the best budget electric skateboard.
So being a theoretical upgrade over the Knight, 2S Pro should inherit that throne, right?
As usual, let's run through the specs.
Build and specs: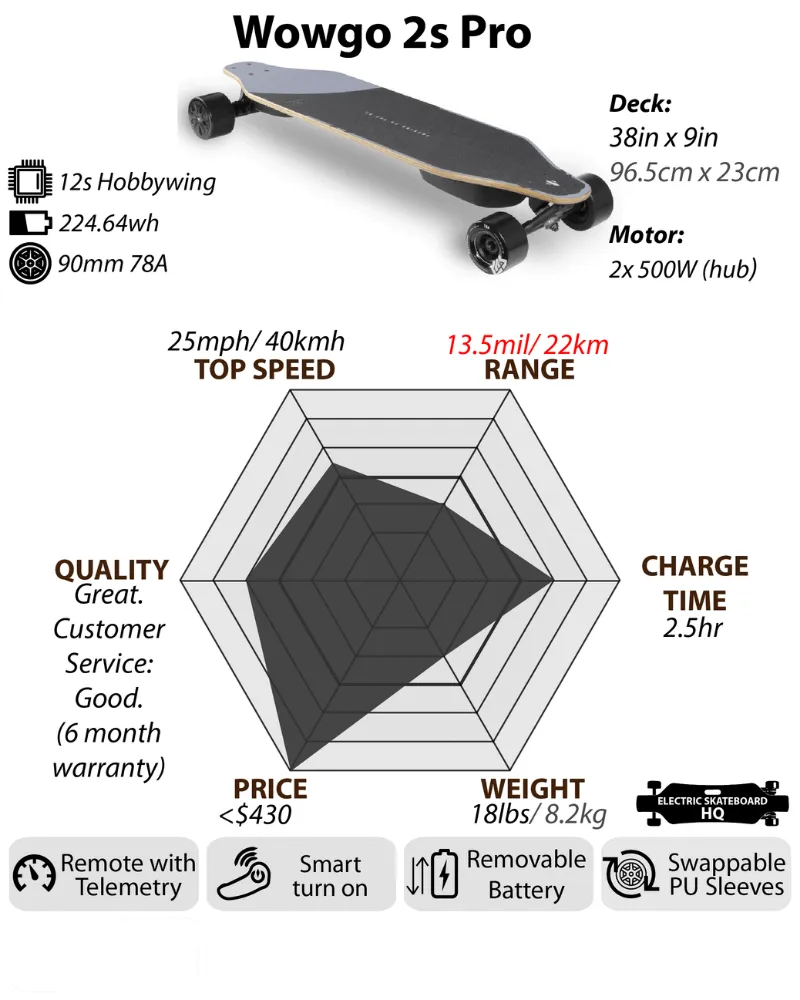 Deck: Canadian maple + Bamboo + Fiberglass; mild flexible deck; wide mild concave; flat camber/rocker
Electric speed controller: 12s Hobbywing ESC with smart power-on; remote with telemetry, 4 speed modes
Trucks: Poseidon Trucks by WowGo, 50° front truck, 8 inches, Reverse Kingpin
Bushing type: 85 A
Motor: 500W dual hub motor (not compatible with Cloudwheel Donuts)
Marketed top speed: 25 mph or 40 kph
Battery: 12S2P 5.2 AH battery
Marketed range: 15-16 miles or 24-28 km
Wheels: 78 A soft PU wheels
The deck of WowGo 2S Pro is a combination of Canadian Maple, bamboo, and fiberglass. A mild flex can be expected on this board. To secure your feet, the board features a wide but subtle concave, and it's flat without any camber or rocker.
Most entry-level boards try to put as much flex on their deck as possible, unlike the 2S Pro. At the end of the day, your personal preference would probably decide on how you feel about the choice, but after reviewing so many budget electric skateboards that went for the similar flexi-deck ride feel, we are just happy to see variations among entry-level eskates.
You can also notice that the design underneath the board is a head-turner.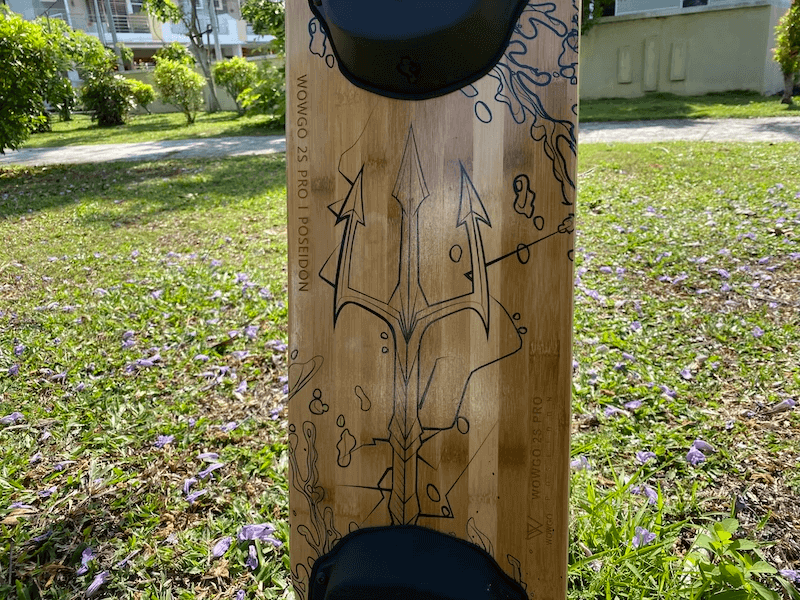 If you're familiar with the Loaded Vanguard, WowGo 2S Pro feels like it has the same approach in design. Do you like it? We think it's dope!
The WowGo 2S Pro also uses the 12s Hobbywing ESC with a smart power-on feature for the board's electronic speed controller.
We all know how silky smooth the 12s Hobbywing ESC is, and how convenient the smart power-on feature is for your rides.
It's no surprise that WowGo went with what works. If it ain't broken, why fix it?
Stable at turbo mode
There are 4 speed modes, with the highest speed mode as Turbo, and the remote is the generic Hobbywing ESC remote with telemetry.
The WowGo remote's design has always been our favorite. It's not different from your generic remote when it comes to function, but the way it looks is elegant.
The trucks, on the other hand, are something more special. These are reverse kingpin trucks especially made by WowGo and they call it the Poseidon Truck. The Poseidon Trucks are 8 inches and are 50° at the front. It also has a bushing type of 85 A.
Poseidon Trucks
These trucks look like a Caliber II clone instead of the Paris clone that was on the previous entry-level WowGo boards.
With this kind of choice, we bet the Poseidon truck is more likely going to prioritize stability over maneuverability. We will go deeper into that when we talk about the riding experience.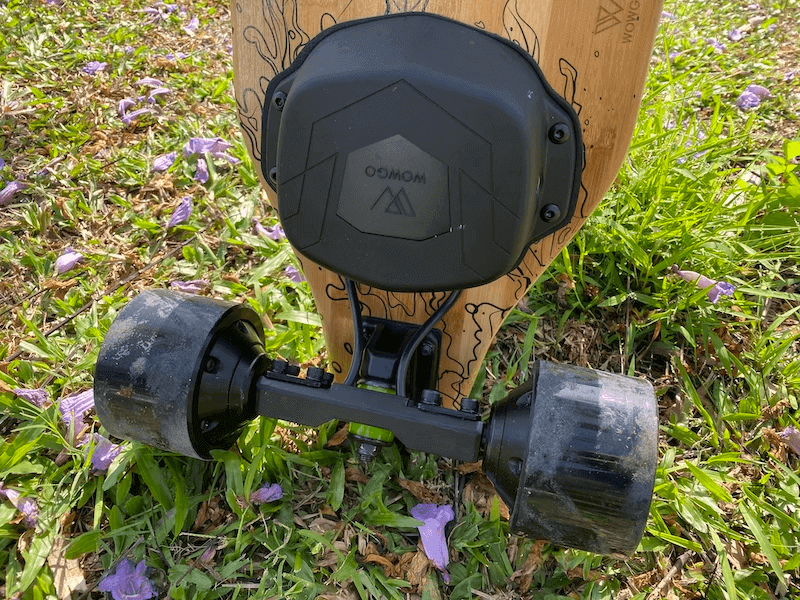 The WowGo 2S Pro also uses 500W dual hub motors. This is where WowGo took a tiny step back by going with a weaker motor than its predecessor, WowGo Knight, which was using a 540W motor. Still, this 500W is quite good compared to other budget boards.
For reference, WowGo's fiercest competitor such as Meepo V3 uses 540W hubs, but Backfire G2 Black only has 400W hubs.
To check out Meepo V3's review, click here.
The marketed top speed is 25 mph or 40 kph and in our tested top speed, it hit 26 mph or 42 kph. Awesome!
As for the sleeves of the hub, it's sad to say that they aren't compatible with Cloudwheel Donuts.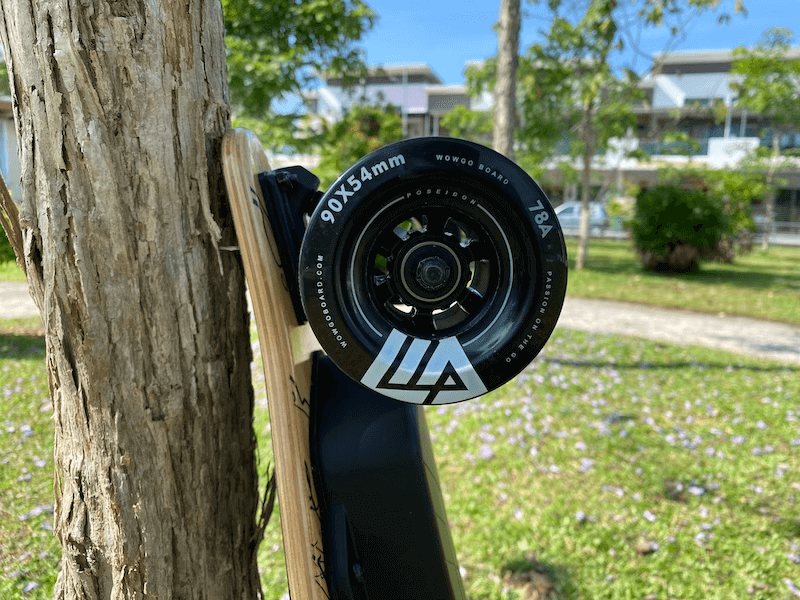 Don't worry though, because WowGo is working on a similar semi-AT sleeve which will be released in a couple of months.
For the wheels, WowGo 2S Pro is using the standard for entry-level boards—78A soft PU wheels.
And let's not forget about power. The WowGo 2S Pro uses a 12S2P 5.2 AH battery. The marketed range is 15-16 miles or 24-28 km and our tested range reached 11 miles or 17 km.
WowGo kind of made an overstatement with the range, but also note that 11 mph is the usual range for most entry-level boards that have a 2p configuration. This is nothing new for us.
Another thing we observed is that WowGo 2S Pro didn't provide any waterproof certification.
We learned not to trust the "water certification," anyway, so it doesn't mean much.
Basically, WowGo is just emphasizing that it's never a good idea to ride when it's wet outside.
For a sneak peek at how WowGo 2S Pro can ride on dry pavements, click here.
Riding experience
All build and specs considered, it's time to ride!
As expected of the 12s Hobbywing ESC, WowGo 2S Pro's speed and speed control are perfect.
Both the acceleration and braking of the 2S Pro are silky smooth and intuitive. The brake strength is pretty strong, too.
The 500W hub motor's torque also performs well. By using one of the strongest hub motors amongst the entry-level hub boards, WowGo 2S Pro can conquer any humps on the road.
Although the torque and the thrill are still a step behind what a set of powerful belt motors would offer, WowGo 2S Pro is still one of the strongest hub boards amongst all the entry-level boards we tested.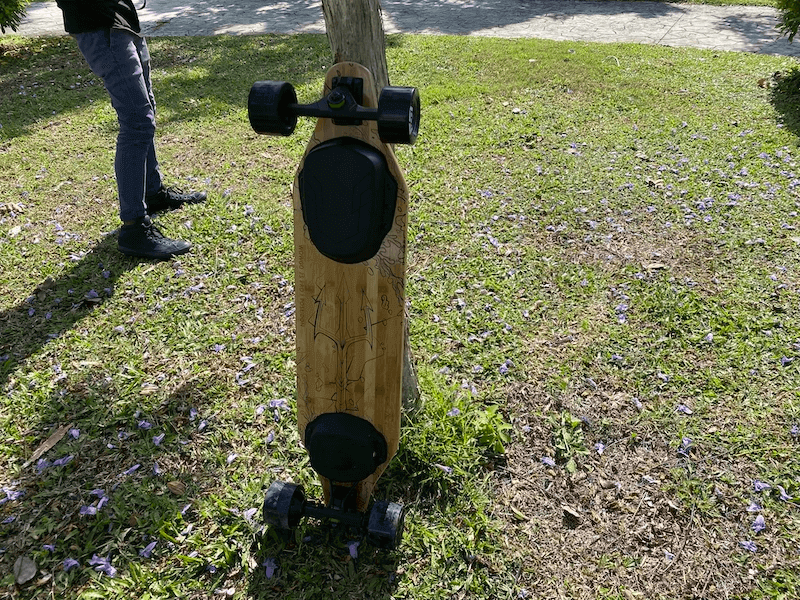 When it comes to maneuvering the board, carving is fairly fun but more on the tight side.
The Poseidon trucks rebound to center well, and are very stable at high speed.
WowGo 2S Pro definitely favors stability over maneuverability, as it is often the case with Caliber II clones.
To help you picture it out, Poseidon trucks are not as good as genuine Paris Trucks or genuine Caliber II trucks.
But when put alongside with entry-level boards, the Poseidon truck is definitely on par with other good proprietary trucks such as Exway's Trist truck or Meepo's Shredder Trucks.
To round up the riding experience, WowGo 2S Pro is a great ride that both beginners and veterans will enjoy.
The wide deck with mild concave is comfortable and helps with both control and knowing your foot position.
The board is both powerful and smooth in speed controls.
The stability from the trucks allows us to go on turbo speed with confidence. The stiffer deck also adds to that stability.
Carving, while not experienced to the fullest, is still very enjoyable thanks to the decent trucks.
For a better comparison, WowGo 2S Pro rides pretty similarly to the WowGo 3. But with a more flexi-deck and genuine Paris truck, WowGo 3 obviously is more fun for carving.
We should also note that the 2S Pro freerolls well, so we guess they probably used good bearings for this one.
If we were to nitpick anything on the 2S Pro, it would probably be its vibration dampening ability, which again, is no surprise for a hub board.
The soft wheels and composite deck did a bit to cushion all the vibration from riding over rough roads. It's… better than we expected, but we did have a pretty low expectation on this part, to begin with.
We are hoping that, in the future, the Cloudwheel-ish PU sleeves that WowGo is developing will be a good option for those who couldn't tolerate the vibration.
So, what's the verdict on the WowGo 2s Pro?
THE VERDICT
Did WowGo 2S Pro inherit the throne from the WowGo Knight as the best budget board?
Well, yes.
It seems to me that WowGo knows what they are doing with WowGo 2S Pro. After all, they were the first among the earliest and most reputable budget brands.
When it comes to entry-level boards under $450, Wowgo 2S Pro now replaced the gold standard that was previously set by the WowGo Knight.
The board's performance definitely matches its competitors, and the ride feel leads the affordable segment. WowGo 2S Pro's polish is much beyond the asking price.
Simply put, for any rider that wants an entry-level affordable hub board, Wowgo 2s Pro, for now, should be the first consideration.
Ride safe, guys!
If you are interested in buying a Wowgo, be sure to check out our affiliate discount link here and receive $5 off during checkout.
It will help you get a small monetary discount and helps us out too. On top of that, you'll be tagged as an Electric Skateboard HQ customer and probably be treated better. Cheers!