Follow the discussion on Reddit here
Forward
I've written about many Exway boards in the past. In fact, I've just written about the Exway Flex, which you can find here, and I have also written previous reviews of the X1 and X1 Pro. By this point, my general impressions of Exway boards are basically the same, so it'll be useless for me to keep rehashing the same thing.
I do have a few things I do want to talk about though, so let's run through them.
Boardiness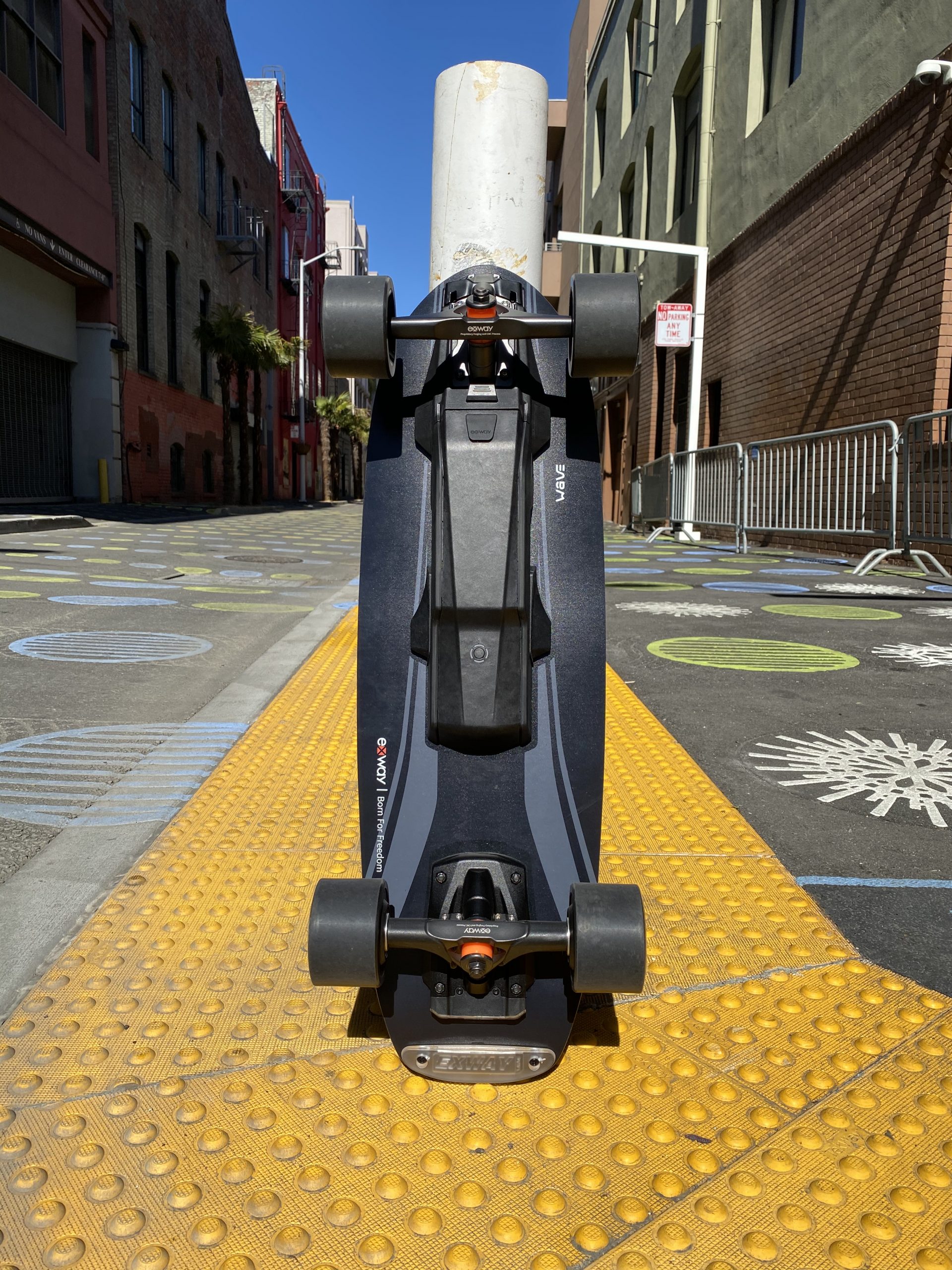 If you haven't guessed from the pictures and title, yes this is a shortboard, and that means several things. If you're thinking about buying this board, you already know about the tradeoffs inherent to a shortboard.
The ridefeel will be way different than a longboard. Due to the differences in wheelbase and deck construction compared to a longboard, the Wave feels very direct and nimble. The deck has a nice bowl shaped concave that really keeps you locked in and help your feet place properly, and the kicktail is just long enough to be useful while not getting in the way. The Trist trucks really come alive with the new shortened wheelbase, and I had no problems feeling confident on the thing.
Due to the increased squirreliness of the Wave, Exway has limited the top speed to around 22mph. I personally think that's plenty fast on a shortboard. Again, you're really not buying this thing to go racing. Power delivery remains the same as other Exway boards; that is to say it's smooth and handles just fine.
Swappability and Battery
Exway has done quite a few innovations here I think. It's apparent they've thought about how everything goes together.
The elephant in the room is the swappable battery pack design. Exway has gone for a slide and click design for their 10S2P Sony VTC6 "smart" battery packs. The main concern with swappable packs in general is and has always been the latching mechanism. You either go too risky (see Mellow's battery pack falling out debacle) or too annoying (Ride Unlimited's design that requires screws). I think Exway has hit upon a fairly good mechanism here. Depressing the (very firm) latch allows the battery to slide out sideways along a rail instead of the same direction as gravity and vibration. The battery connectors themselves are recessed and fit tightly when pressed together. There's a hidden USB charge port that's usable when the battery is off the board. Exway has also promised a flight ready 10S1P pack variant. Overall I'm liking this setup.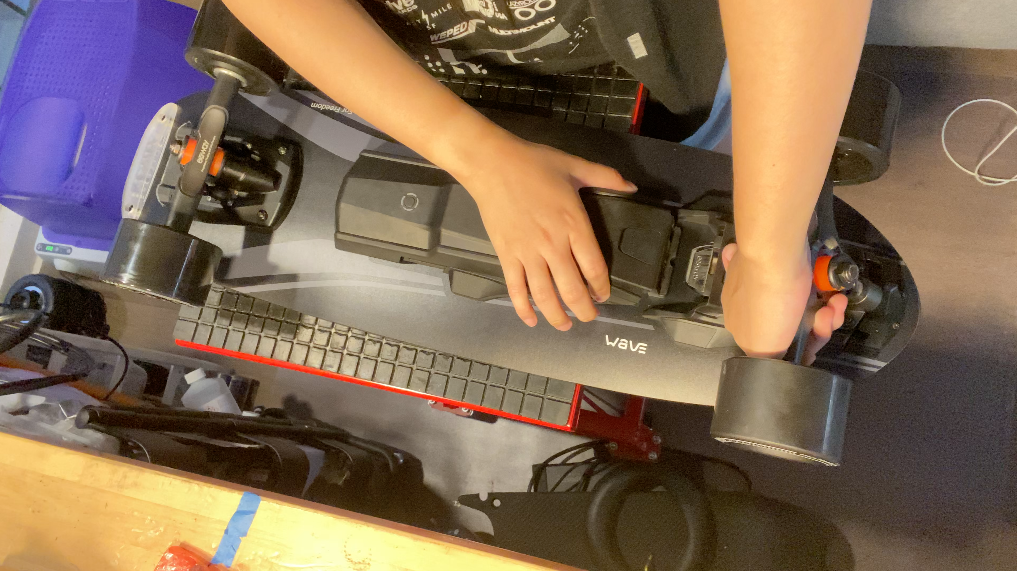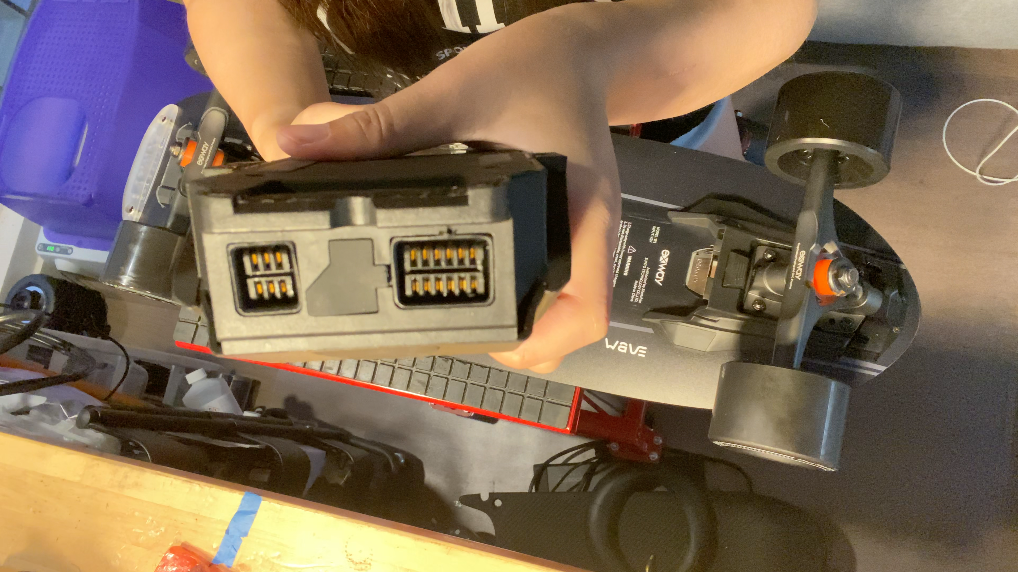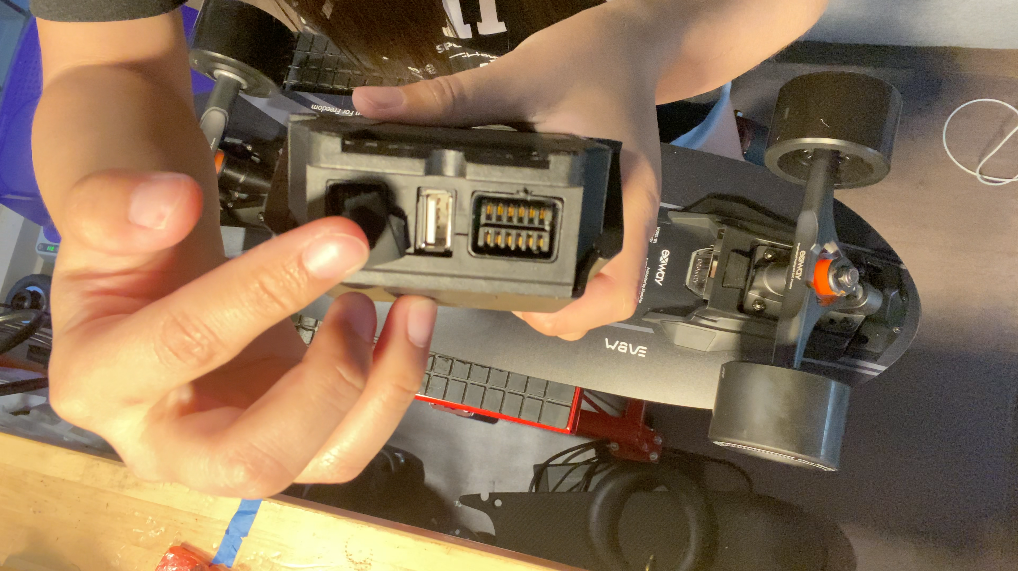 Range testing the Wave produces fairly favorable results. Of course we know that manufacturer range estimates aren't going to be what you get on a day to day basis, but I got around 7.5 miles (12 km) of hard riding (full throttle, hard takeoffs and brakes) in a hilly area weighing around 125lb (57kg), so I think if you're just cruising in a flatter area 10 miles (16 km) or so is not an unrealistic figure to expect. It goes without saying that the test was performed will all settings turned all the way up. This makes it the longest range shortboard I've tested.
Amenities
The Wave has a surprising amount of amenities for a shortboard. Exway has seen fit to add an integrated RGB tail light standard. This will be a big plus for night riders. By default the tail light comes on red when braking and show increasingly rainbow patterns when accelerating, but you can also adjust light patterns in the app to have it be uh, more tame, or turn it off completely if you're a boring Debbie Downer.
What's more, Exway has taken a page out of Boosted's Mini X playbook by using a semi-transparent tail puck so the tail light can shine through and light it up. The effect is pretty striking and you won't be out $230 just for some tail lights and a transparent tail puck.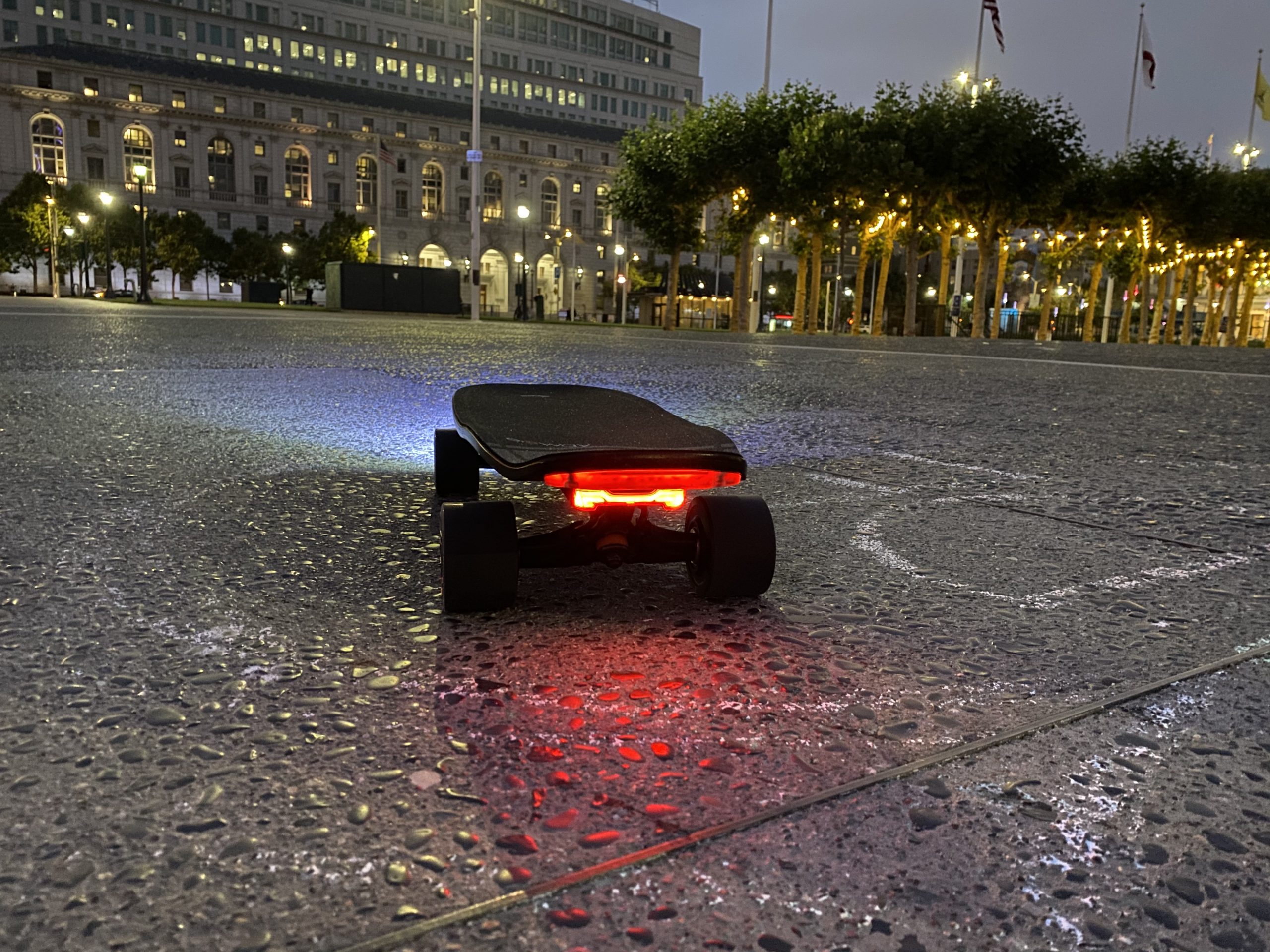 Exway also included a front light on the review units, but the front light is a $30 add-on regularly. It's a shame it isn't a standard add-on, it would have really completed the whole look I think. The front light is fairly bright and similarly integrated, with a double click on the remote to turn it on and off. Both the front and tail light intensities can be adjusted in the Exway app as well.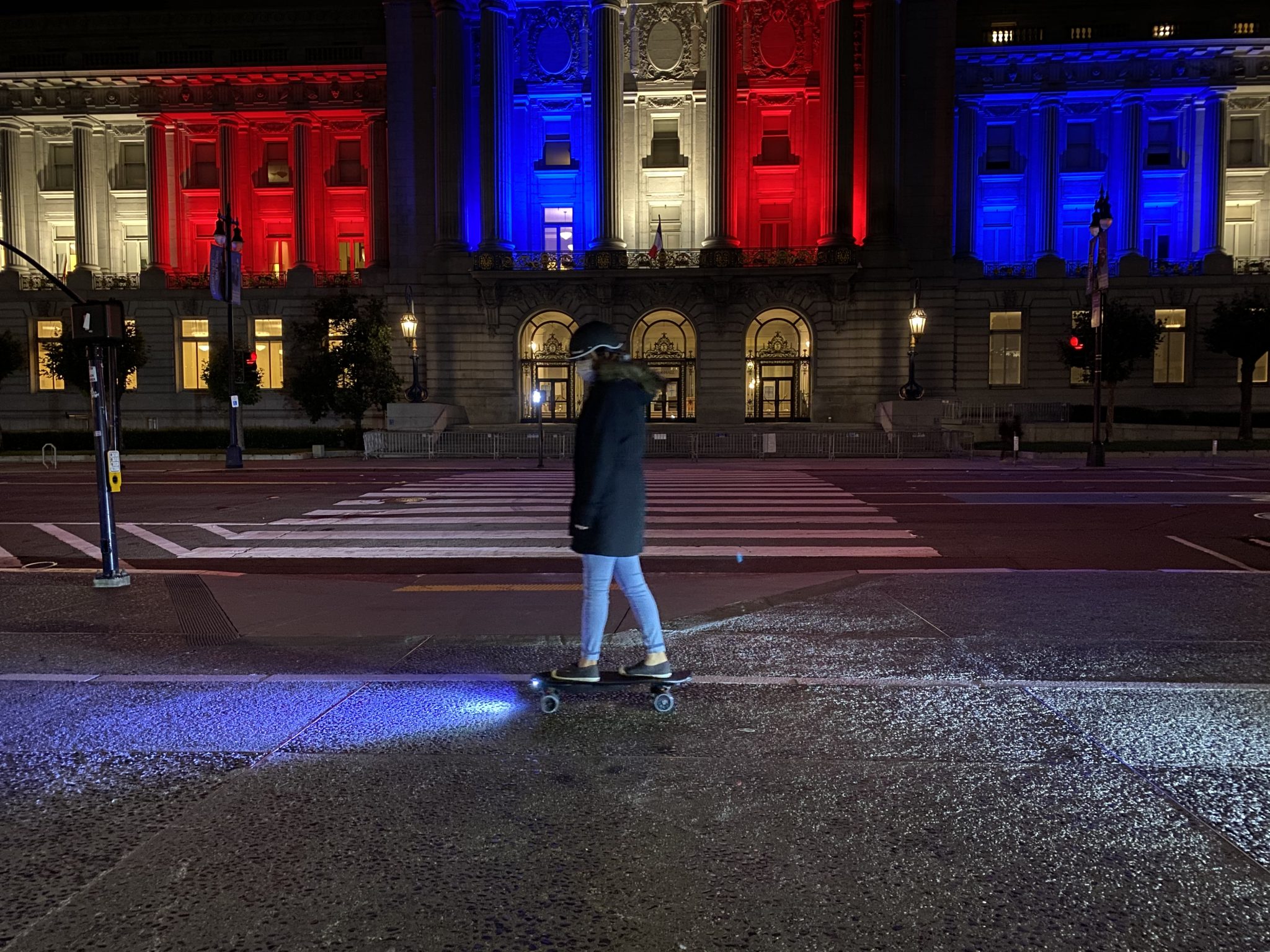 Of course, the Wave has the other usual Exway amenities as well. Remote on/off, smart battery preservation, cushioned griptape, etc. As with the Flex, Exway has chosen not to use the magnetic charge port that's present (and seemingly becoming a bigger pain than it's worth) on the X1 and X1 Pro.
Riding The Wave
The Wave is a good board. As a person who doesn't normally ride or enjoy shortboards, I have to say I'm pretty happy with it. With the Wave, I think Exway has hit two out of three major market segments. They have a general consumer board in the Flex and a short range travel-able board with the Wave. It remains to be seen how the all terrain board pans out, but I have no doubt they'll succeed with that one as well.
Indeed, what worries me isn't Exway's technology prowess. It's their logistical prowess and customer support. Over the last few months, I've seen Exway struggle to deliver the Flex to consumers. Only now, two months since the projected ship date, are delivery reports starting to trickle in. I'd love to see Exway step up their delivery game with the Wave deliveries and communicate more with customers moving forward.
Anyways, pending delivery, I wholeheartedly recommend the Wave for shortboard enthusiasts. Of course, I'd like to spend more time with the Wave, but so far so good.
If you are interested in buying an Exway, be sure to check out our affiliate discount link here and uses code: "ESKATEHQ" during check out.
It will help you get a small monetary discount (-$20) and helps us out too. On top of that, you'll be tagged as an Electric Skateboard HQ customer and probably be treated better. Cheers!