Today, we will be looking at Maxfind's flagship, the Maxfind FF-Belt.
In the Olden days, Maxfind has been known as a brand that produces value-for-money electric skateboards, putting out budget buys such as the Max-A, Max-B. These few years, however, they have been shifting their focus away from price and began to focus more on polish. Their price got higher, their customer service got better, and their boards became more interesting.
So, FF-Belt.
FF-Belt is a cool-looking, $899 belt-driven electric skateboard with a double-drop deck, 12s3p hot-swappable battery, dual kingpin trucks, and big 105mm Cloudwheel clones.
As usual, let's run through the specs!
Build and specs of Maxfind FF-Belt
Deck: composite, flexible, double-drop (polyphenylene sulfide and fiberglass, coated with carbon fiber)
Battery: 12s3p Samsung, 376 WH, hot-swappable
ESC: 12s Hobbywing ESC
Marketed range: 25 miles/40km
Motors: 2*1500W belt motors
Marketed top speed: 28 mph/45 km/h
Trucks: Double Kingpin
Wheels: 105mm Cloudwheel clones
The most eye-catching part of the Maxfind FF-Belt has to be the deck. Maxfind FF series uses a super flexible composite deck made of polyphenylene sulfide and fiberglass with a carbon fiber coat. It definitely has a more modern and polished vibe than your usual eskates.
The deck is wide and has a good concave to it, so we can always know where to place our feet during a ride. It also has a double-drop design for a decreased riding height. Double-drop decks are known for good stability on streets. Maxfind FF-Belt is formulating excellent stability for a flexible deck with these specs so far.
Hot-swappable batteries accessible from the top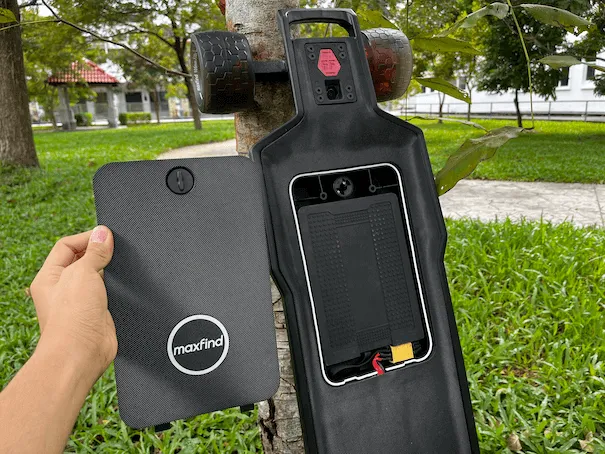 The deck also uses rubber grip tape. We prefer this as it doesn't catch on fabrics and damage them. What makes Maxfind FF-Belt different from other eskates is that it has a built-in electronics compartment that can be accessed from the top. This allows easy access for the hot-swappable batteries and gives the board a very pleasant unibody look. What do you think? Let us know in the comments below.
Fair range for 12s3p batteries with 376 watt-hours
The swappable battery is a pack of 12s3p batteries with 376 watt-hours and gives a marketed range of at least 25 miles or 40 km. I bet you can immediately tell that this is too good to be true, as it is impossible for a 376 watt-hour to deliver 25 miles in a running belt. And sure enough, our 95 kg rider was only able to get 14 miles or 23km out of a full charge. Well, at the end of the day, it's still a fair range.
As for the trucks, the Maxfind FF-Belt goes with Double Kingpin trucks and pairs them with 105 mm Cloudwheel clones. We will go into details on how the trucks and wheels perform a little bit later.
For the motors, Maxfind FF-Belt rocks a pair of 1500W motors and combines it with the latest 12s Hobbywing ESC, which comes with a smart power-on. This gave the Maxfind FF-Belt a marketed top speed of 28 mph or 45 km/h which we can hit without a problem.
All in all, the Maxfind FF-Belt is very polished and well built. Unlike most Chinese brands that just assemble off-the-shelf parts, slap on a logo, and call it a new product, you won't find off-the-shelf generic parts on Maxfind here. However, all of this means nothing if the board wasn't pleasant to ride, so now, let's talk about the riding experience!
Riding experience of Maxfind FF-Belt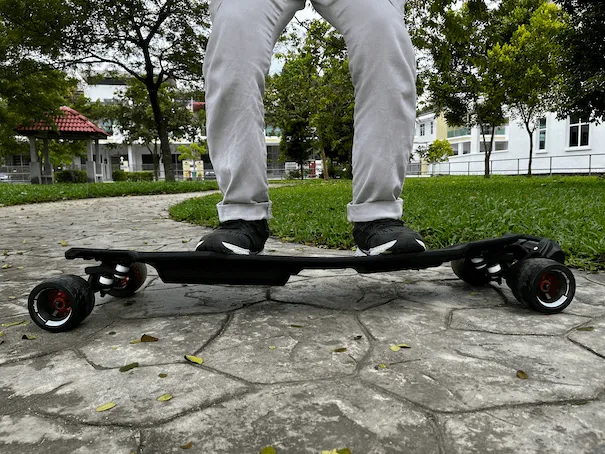 Maxfind FF-Belt is a comfortable ride, thanks to the deck it uses. The composite deck is very comfy, wide, long, and has a good concave. The double-dropped deck allowed lower riding height and added to the stability of the ride.
The 12s Hobbywing ESC is also, as usual, buttery smooth. Like we always mention, Hobbywing has already perfected the formula in speed control, acceleration, and braking. The torque and braking are both strong. It's not really surprising for a belt-driven board. To give you some context, the torque is stronger than most mid-tier belt-driven boards such as Exway Flex Riot. Maxfind FF-Belt, however, is not as strong as some of the torque specialists, such as the Beastboard Viper and Ownboard W2 Pro.
To check out our review on Beastboard Viper, click here.
To check out our review on Ownboard W2 Pro, click here.
Stable Double Kingpin trucks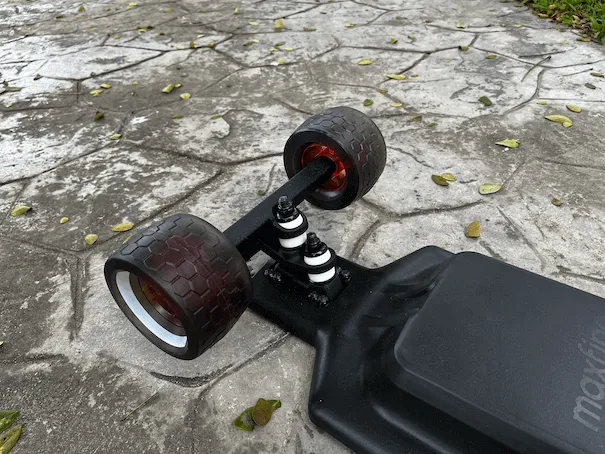 On maneuverability, we previously reviewed the Maxfind FF Street and the Double Kingpin trucks just didn't work. It wasn't stable and tended to sway a lot. However, Maxfind has improved on its build and design, and we can finally say that this installation of Double Kingpin trucks is quite alright when it comes to stability and has a decent return to the center. There's definitely better turning and carving. Being Double Kingpin Trucks, they are obviously easy to turn, and fun to carve in, more so than reverse kingpin trucks for sure. It's not the best Double Kingpin truck we've ever tried, but it's decent.
To check out our previous review on Maxfind FF Street, click here.
Cloudwheel clones perform well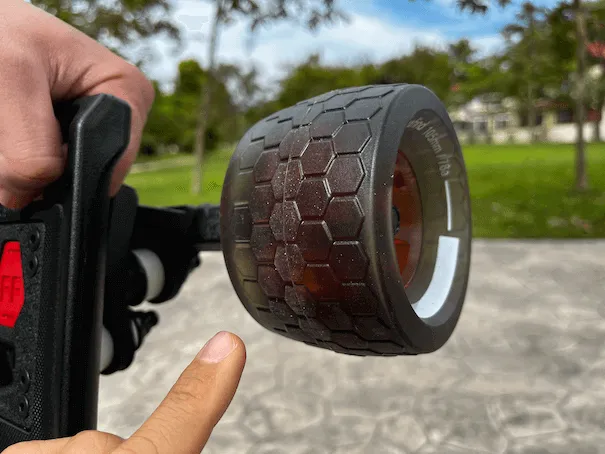 Finally, let's get closer to the ground and talk about the ones that keep the ride rolling—the 105mm Cloudwheel clones. Maxfind FF-Belt was destined to do well in vibration handling given that it was designed with a flexible deck and big 105mm wheels.
Riding on rough roads with this one wasn't too bad, but we have to say that these wheels are inferior compared to the original Cloudwheels. These 105mm shock-absorbing wheels are harder and seem to have less grip than Cloudwheels. Even though these Maxfind wheels absorb less shock compared to the original Cloudwheels, these wheels still do their job well enough to reduce the vibrations. Size does help, after all.
THE VERDICT – Should you buy the Maxfind FF-Belt?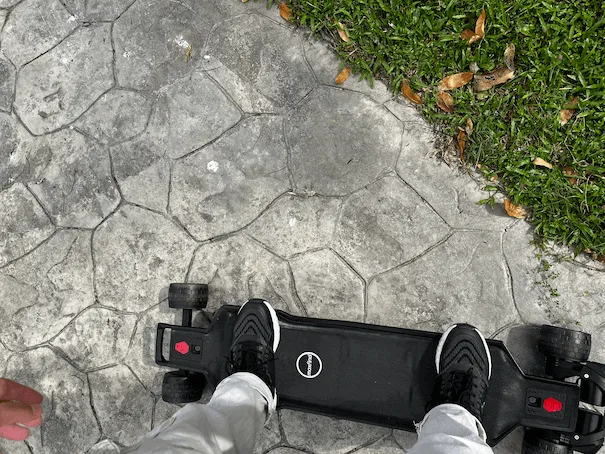 So, to sum it all up here's the verdict.
When it comes to value, paying $899 for a 12s3p belt-driven board with a beautiful composite deck and swappable battery feature is not a bad value proposition by any means.
However, the critique I have for Maxfind FF-Belt is that, while it does everything well—torque, range, speed control, maneuverability up to vibration handling, that's all it is. The Maxfind FF-Belt is pretty good, but it wasn't amazing in any of those categories.
What it is, however, is a good-looking board that has no glaring weakness, and isn't that how a lot of us choose our cars?
RIDE SAFE, GUYS!
If you are interested in buying the Maxfind, be sure to check out our affiliate discount link here and use code: "ESKATEHQ" to receive 5% off during check out.
It will help you get a small monetary discount and help us out too. On top of that, you'll be tagged as an Electric Skateboard HQ customer and probably be treated better. Cheers!