So! Today we will be looking at the Tynee Board Ultra, the flagship product of the Tynee board brand.
In our previous review of Tynee Board Pro, we've mentioned that Tynee Board is a company that's not so tiny since they are founded by giant industry veterans who parted ways with a major eskate brand. Tynee has put out a lot of muscle with its very competitive products since its founding, and today, we will be reviewing Tynee Board's latest flagship board—the Tynee Board Ultra.
The Tynee Board Ultra is a $609 board or $729 if you're going to get it with Cloudwheels, so it's a mid-tier electric skateboard playing in the same ballpark with Exway Flex Riot ($594) and Wowgo 3 ($529).
To check out our previous review for the Tynee Board Pro, click here.
Formulated boosted-style
As a matter of fact, these three boards are built with the same formula—using flexible decks, plus Hobbywing ESC for the smoothest control, and adding on some dual belt drives for power and tada! You get a recipe similar to the late-Boosted board—a comfortable board that's strong in power, smooth in control, and fun for carving.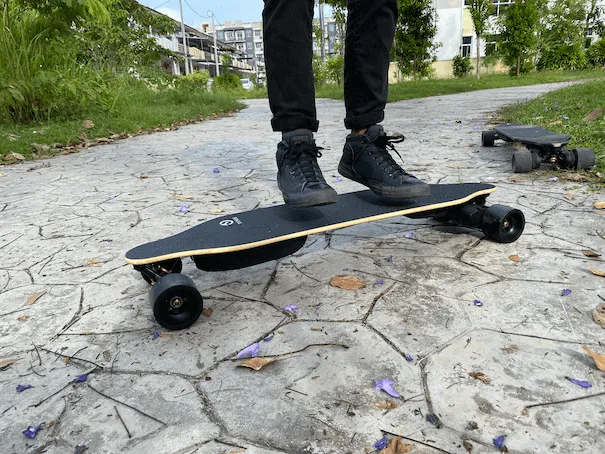 To separate Ultra from the rest, Tynee packed this board with 13s batteries for better power. To give you a little background, most boards at this price are still with 10s batteries and at best, 12s. Now the question is, can Tynee Board Ultra truly demonstrate a stronger power with these extra series of batteries? We will see. As usual, let's go through the specs.
Tynee Board Ultra – Build and specs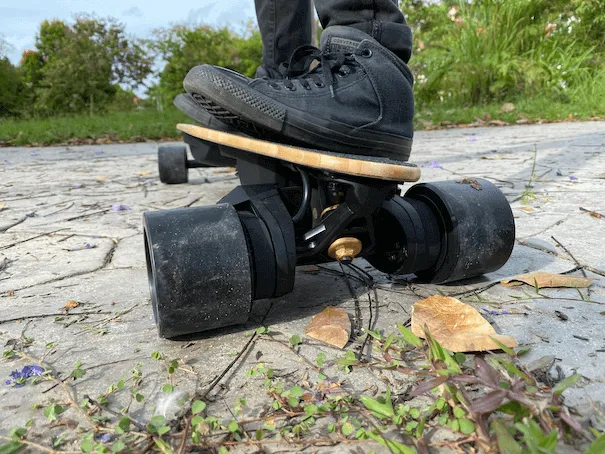 Deck: bamboo and fiberglass; flexi-deck, no concave, camber
Board weight: 16.9 lbs/7.7.kg
ESC: 13s Hobbywing ESC with smart power-on
Batteries: 13s2p 18500, 281 Wh, 7.8 Ah
Motors: Hobbywing 5255 dual belt, 2 * 600 W 170kv
Trucks: Tynee PE trucks (Paris V3 clone)
Marketed top speed: 28mph or 45 km/h
Marketed range: 18.6 miles or 30 km
Wheels: 90 MM x 62 MM 78 A; 105 MM Cloudwheels
Tynee Board Ultra's deck is a combination of bamboo and fiberglass with no concave and is flexible with camber.
Ultra also uses a 13s Hobbywing ESC with 4-speed modes and smart power-on. Its electronic enclosure is made of nylon and fiberglass, and it's pretty sleek.
What do you think about Tynee Board Ultra's very classic vibe? Let us know in the comments section!
Tynee Board also mentioned that the board is IP 54 waterproof, but as always, we would advise not to take any waterproof rating of any boards too seriously.
Better power but with measly range
Now let's go to their upgrade, the 13s2p 18500 cell batteries. These add up to 281 Watt-hours or 7.8 Amp-hours in size. A higher series of batteries promised better power, but that didn't add up to the range.
Tynee Board Ultra has a marketed range of 18.6 miles or 30 km. There's a chance you can go that far by riding slow, but that won't utilize the power of a 13s board.
We tested the board riding fast, and our 155 lbs (70 kg) rider got only 10 miles or 16.5 km for range. Our 200 lbs or 90 kg riders only got a measly 8 miles or 13 km. Let's just say it left us wanting more.
Tynee PE trucks as Paris V3 clones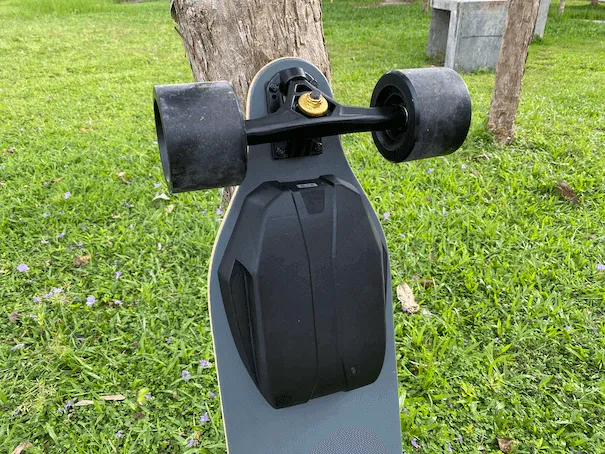 For the trucks, Tynee Board uses its proprietary truck named Tynee PE trucks, which are based on the upgraded Paris V3. Tynee seems to be pretty confident with their trucks, backing it up with a lifetime warranty. We will talk about how the trucks will ride a bit later.
As for the motors, Tynee Board Ultra uses Hobbywing 5255 belt motors, 2 * 600 W with 170kv. These motors compete on the same level as most belt-driven boards at this price range.
Combining these motors and ESC allowed the board to have a marketed top speed of 28mph or 45 km/h, which we were able to hit pretty easily. Tynee Board Ultra retains a healthy 25mph or 40km/h top speed even as it drops below the half battery, which is not something every board does, mind you.
Lastly, Tynee Board Ultra is available for both street wheels and Cloudwheels. The board uses your typical street wheels in 90 MM x 62 MM with a 78 A durometer and is also compatible with 105 MM Cloudwheels.
As you can see, the polish of the Tynee Board Ultra is pretty good. It does not shout premium, but it is definitely well built.
Tynee Board Ultra – Riding experience
Now that we've run through the specs, it's time to ride!
The best trait of Tynee Board Ultra is the smoothness of its ride feel. Carving is fun with its flexible deck that also helps reduce vibration from the road. If you're the type who can't tolerate road vibration at all, you can always spend an extra $120 and get the 105 MM Cloudwheels.
PE trucks handle top speed with a smooth ride feeling
Moving on to the trucks, we still prefer branded Paris trucks over Tynee PE trucks, but these PE trucks aren't that bad. It has a good return to center and is very responsive. It can also handle high speed without compromising the silky-smooth ride. The board is quite stable, although the bounce of the flexible deck can take away some stability at top speed, especially on rougher roads.
Acceleration power with a massive punch
When it comes to speed control, the Hobbywing ESC has always perfected a very smooth and intuitive control across all 4-speed modes.
So, let's now talk about power. The acceleration power for Ultra is very strong, indeed. The 13s batteries did not disappoint, either. More powerful than most of its peers, you will be hard-pressed to find similarly priced boards that pack a massive punch than the Tynee Ultra. Among the boards we've tested, only a few do better than the Tynee Ultra in the torque department. (For example, the Beastboard Viper – Torque Specialist and Ownboard W2 Pro).
To check out our review on the Beastboard Viper, click here.
You wouldn't need to worry about going uphill with this board, ever. The braking is very strong and smooth, as expected from the latest gen of Hobbywing ESC.
Eliminates voltage sag
Another special factor about Ultra's ESC configuration is that it eliminates voltage sag. The board retains its strong power down to the last 10% battery. One downside with this configuration though, is that the board sometimes allows us to ride it down to 0% battery. This can surprise you if you aren't being careful. Thankfully, all electric skateboards at present are programmed to brake gently to a stop upon disconnection.
With that, the power of the Ultra can come as a double-edged sword.
First, it allows a strong ride even when the battery is low. You get to drain through the battery really fast as a result.
Second, the board has a higher top speed (28mph or 45km/h), and utilizing them with a bouncy flexy deck is quite scary. It might come out as a fancy feature after all.
These are obviously minor nitpicks, but it's worth considering a board with a stiffer deck if going fast is high on your priority list.
THE VERDICT – Is Tynee Board Ultra worth your money?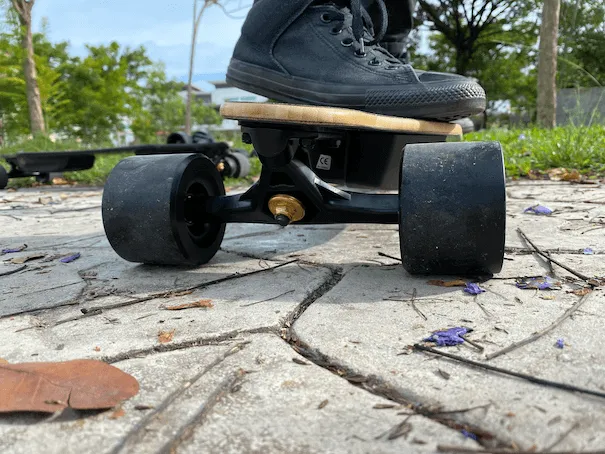 Alright, time to summarize!
The Tynee Board Ultra is a well-polished, boosted-style board deserving its $609 price tag. You get a smooth riding experience and strong power that lasts down to the very last percent of the battery, which, unfortunately, happens too soon (8 miles) when riding fast.
When it comes to the brand Tynee, I do feel comfortable recommending it as it is run by industry veterans who have proven that they know what they are doing. This young brand has also kept its reputation intact, which is harder than it sounds among Chinese eskate brands.
So, for those who expect a lot of range from a mid-tier electric skateboard, the Tynee Board Ultra should not be on your buying list. But for those who do not want to compromise on torque and power, even during the last leg of the ride, I'm sure Tyneeboard Ultra will make you very happy.
If you are interested in buying the Tyneeboard Ultra, be sure to check out our affiliate discount link here and use code: "ESKATEHQ" to receive $10 off during check out.
It will help you get a small monetary discount and help us out too. On top of that, you'll be tagged as an Electric Skateboard HQ customer and probably be treated better. Cheers!