In the world of electric skateboards, shortboard lovers often get the short ends of the stick as most eskate brands spend most of their R&D resources on longboards. It's very common for most eskate brands to develop a longboard, slap on the same components on a shorter deck, and call it a day. But, not anymore. The Wowgo Mini 2 shortboard just changed the game.
Just look back on Meepo Mini 1 and Wowgo Mini. Don't we all agree on how uninspired they look? Thankfully, this all changed when the late Boosted made the positively received Boosted Mini, and everyone else followed the craze of making better electric shortboards.
Late 2021, Wowgo finally joined the "make shortboard great" movement as they replaced their pathetic-looking Wowgo Mini with the Wowgo Mini 2—a $559.99 electric shortboard that rocks a 10s2p 187.6Wh battery.
Based on its look, it's pretty obvious right from the get-go that this is not an assembled-from-spared-parts board.
As per usual, let's go through the parts and specs.
Build and specs
Deck: Canadian maple, U-shaped concave with kick tail
Weight: 15.32 lb / 6.5 kg
ESC: Hobbywing ESC 4-speed modes with smart power-on
Battery: 187.2 Wh – 10s2p
Marketed range: 15 miles / 25 km
Motors: hub motors 680 W * 2
Marketed top speed: 25 mph / 40 km/h
Wheels: 90mm street / 105 Cloudwheel Donuts
First, let's look at this deck.
The Wowgo Mini 2 went with a deck with U-shape concave, following a pursuit on the popular Boosted Mini. Unlike Boosted Mini or Exway Wave though, the concave is more subtle on this one.
An aggressive concave would have given the board a more responsive feel but may place some discomfort on our feet. I think most people would find this concave in their sweet spot as it still feels responsive, allowing a comfortable feet placement.
To check out our review on Exway Wave, click here.
Functional kicktail with deck guard
The board obviously has a functional kicktail that sure is useful to those who know how to kick turns. It also has a deck guard under it to help protect the tail. If you want to look cool when braking, you can use the kicktail to brake instead of the remote.
Shortboard polish looks premium
Beneath the deck, we have a single enclosure that houses both the ESC and battery. It appears that Wowgo put in a good effort in designing this mini-board. Unlike the first generation Wowgo Mini which was just assembled from off-the-shelf parts, the Mini 2 looks and feels premium. You can tell that they thought about the design thoroughly. The details on top of the deck are sick! Underneath the deck, you'll find a very nice gloss finish.
Perfectly smooth ride with Hobbywing ESC
Now, it's time to look at the electronics!
Wowgo Mini 2 uses Hobbywing ESC with 4-speed modes and smart power-on. For the battery, it uses 10s2p 5.0 Amp-hours with 180 Watt-hours. The board's marketed range is 15 miles or 25 km. We had a 95kg or 209lbs rider test it out and the result is 11 miles or 18km in range. This is no surprise for a 5AH battery.
You can also check the battery charge level underneath the deck, which might be helpful when you want to check the battery level when charging.
This battery powers a pair of 680W hub motors which are pre-installed with 90mm street wheels. Wowgo Mini 2 is also compatible with 105mm Cloudwheel Donuts. The package included stickers for the hub wheels as well, and a lot more stickers with other designs. We suggest you should just forget about it, as it easily comes off the wheel and is not worth the hassle.
The marketed top speed is a standard 25 mph or 40 km/h, which we can hit with no problem.
To check out our review on Cloudwheel Donuts, click here.
Well balanced 45-degree trucks at stock settings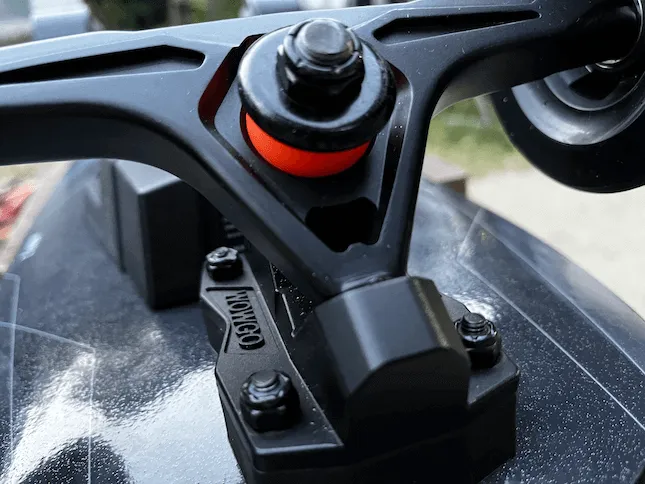 The trucks are Wowgo's proprietary 45-degree trucks with double barrel bushings. 45-degree trucks are what most eskate brands go with, as it balances between stability and responsiveness. These are not the same trucks as the Poseidon truck found on Wowgo 2s Pro. Let's see what it can do later.
Now, to summarize the specs.
On paper, the numbers on Wowgo Mini 2 are the same with most sub-$500 boards from affordable brands. For Wowgo, the slightly higher price is certainly justifiable considering the design and polish. Wowgo also used good quality skate parts, which brings us to the review of the riding experience.
So, how well does the Wowgo Mini 2 ride? Well, we are pretty surprised at how nice the Wowgo Mini 2's performance is.
Riding experience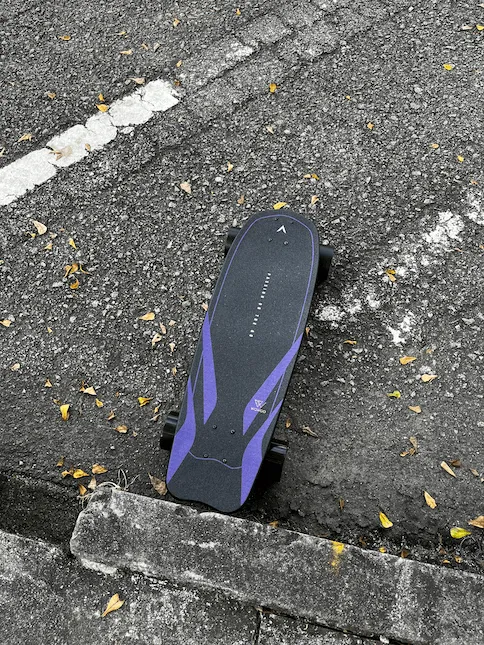 First things first, let's talk about the trucks. It felt really responsive, allowing the board to feel nimble on the feet, and they did this without sacrificing stability. We're pretty surprised that Wowgo's proprietary truck performs this well.
To put the truck performance into context:
If you compare Wowgo Mini 2 to Tynee Board Mini and Meepo Mini 2, Tynee Mini and Meepo Mini 2 did not feel nimble and were less fun to carve around. If you compare it to Exway Wave's Trist trucks on stock settings, Wowgo Mini 2 is more stable.
I always believe that most people get a shortboard for a quick and easy commute on the sidewalk, in college compounds, and a maneuverable board is extra helpful in tight quarters. Obviously, the kicktail is useful for that purpose, too.
Fun to ride with great control and maneuverability
Wowgo Mini 2 is exactly what you want from a shortboard. It is very FUN to ride on smooth roads. Riding it for the first time, I was very shocked.
As we have mentioned, the trucks felt responsive, and the board felt nimble but stable.
And the Hobbywing ESC on this one? The speed controls were super smooth and intuitive, unsurprisingly. What's rather surprising is that the acceleration is pretty darn strong, too— you might even mistake it for a 12s set-up.
Braking is also smooth and very strong. The kicktail is very functional and easy to use, too. The subtle U-concave of the deck helped with the controls while being subtle enough for you to not notice the shape all the time.
So, great speed control and great maneuverability—those are the strengths. Now, let's talk about the weakness.
Weak at handling road vibrations
Actually, there is just one weakness.
Wowgo Mini 2 is terrible at handling road vibration which shouldn't come as a surprise. After all, a shortboard with a stiff deck combined with hub motors is a recipe for a very uncomfortable ride on very rough or poorly paved roads. For most shortboards, you will be standing directly on top of the trucks, and all the vibration from the road goes straight up.
From the road > to the trucks > and to your knees.
The great news here is that you can easily swap to the 105mm Cloudwheel Donuts and greatly decrease road vibrations. But honestly, you should probably consider getting a belt-driven longboard with a flexible deck and big or even all-terrain wheels if you deal with rough roads regularly.
THE VERDICT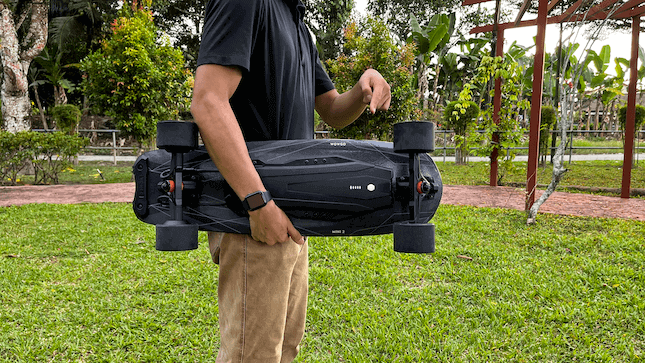 So, to summarize.
For $559.99, Wowgo Mini 2 gives you a comfortable and nimble ride. The 25mph top speed and the 11 miles range are nothing extraordinary, but the polished build and riding experience more than made up for it. The obvious weakness for Wowgo Mini 2 is the poor comfort riding on rough roads. However, this is an inherent problem faced by all hub-shortboards, and the Mini 2 fares arguably better for having the 105mm Cloudwheel Donuts option available.
All things considered, it is very easy for us to recommend Wowgo Mini 2 for anyone that's looking for a shortboard to use on good roads. It is the best shortboard to get for those who want something more refined than the entry-level $400 like the Meepo Mini 2, and don't want to pay extra for the $749 Exway Wave for all its fancy lights and removable battery.
I think anyone who is in the market for an electric shortboard should first consider the Wowgo Mini 2, as it's substantially better than its cheaper competitor while simultaneously not too far behind its pricier counterparts.
Great job, Wowgo. Love this one.
RIDE SAFE, GUYS.
If you are interested in buying the Vokboard be sure to check out our affiliate discount link here and use code: "ESKATEHQ23" to receive $5 off during checkout.
It will help you get a small monetary discount and help us out too. On top of that, you'll be tagged as an Electric Skateboard HQ customer and probably be treated better. Cheers!