Meepo Board is the OG that kickstarted the affordable electric skateboard era in 2017. From Meepo V1 to V4s, each upgraded version the brand makes is always among the best electric skateboards at $400. In February 2023, Meepo released the Meepo V5.
Will Meepo V5 become a worthy successor to the popular Meepo V4s? Let's run through the specs!
Meepo V5 Build and Specs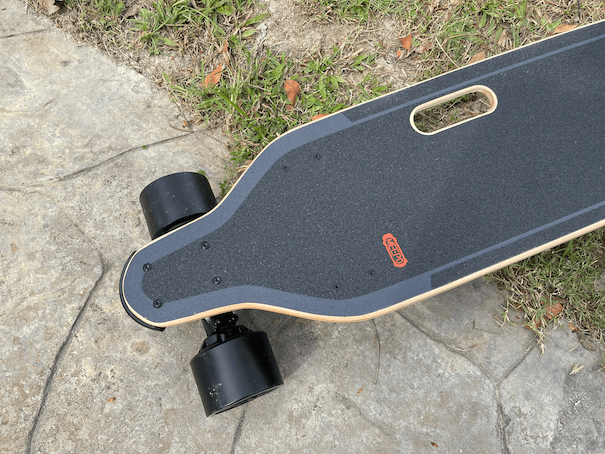 Deck: 8-ply Canadian maple; mild flex, deep concave
Electronic Speed Controller: LingYi ESC; 4-speed modes, push-to-start
Battery: Standard 4AH 144Wh or Extended Range Version 288Wh
Marketed Range: Standard – 11 miles or 18km; Extended Range – 19.8 miles or 32km
Motors: Dual 500W Hub
Marketed Top Speed: 27mph or 44km/h
Trucks: Meepo Signature Shredder Trucks (7-inch 45°)
Wheels: 90mm Urethane
Meepo V5 uses an 8-ply Canadian maple deck with a mild flex and deep concave. The concave is subtle, but enough to make our feet feel comfortable and secure.
The Meepo V5 board handle cut-out also makes a comeback, which unfortunately, makes it look less cool. Still, the handle cut-out is always tremendously helpful when carrying this 18.5 lbs or 8.4kg board.
The overall design of the V5 looks polished and premium by going with a simple blue and black color scheme. The board also shows some of the bare maple deck. We like this design better as it is definitely not toy-ish, unlike some older Meepo boards.
The board also comes with a bash guard for the deck to protect it from collisions. Awesome!
Meepo Designed Controller
As for the electronic speed controller, the V5 uses the LingYi ESC with a push-to-start feature. It has 4-speed modes and 4 braking modes that can be adjusted separately.
What's new to us is the newly designed controller. Instead of using the typical LingYi ESC remote with a mislabelled reverse button, Meepo created a new LingYi remote. It's almost identical to the generic Hobbywing ESC remote.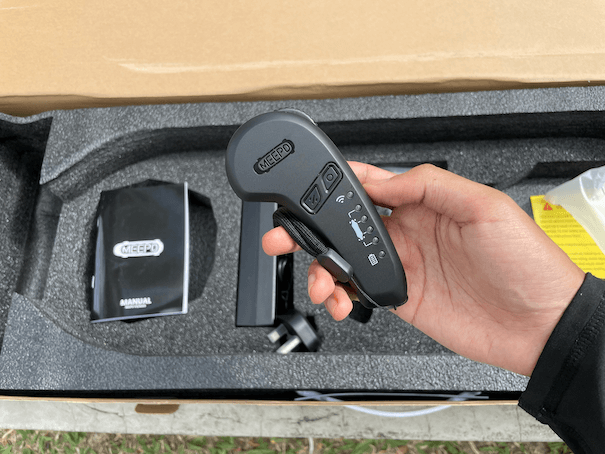 This also means that the Meepo V5 remote does not have a screen showing speed and range. So, if you really want a screen on the remote, you will have to buy the Meepo 5s remote ($69). You can also pair your V5 with another LingYi ESC-compatible remote.
Still The Fastest Board Among Budget Boards
When it comes to the motors, Meepo V5 uses dual 500w hub motors. This is a little surprising since the last generation Meepo V4S used bigger dual 540W hub motors.
We think Meepo designed the V5 for the newcomers, prioritizing battery efficiency instead of over-the-top power. This makes sense as V4 and V4s were crazily powerful. We reviewers love them for that, but it isn't really ideal for regular users. The V4 and V4S boards are tough for beginner riders to get comfortable with.
Interested in Meepo V4? Read our review on this speed monster here.
Also, Meepo improved the V5 hub motors' design. It should be better for cooling now and easier to swap up the PU sleeves.
Meepo claims that the motors can deliver us a maximum speed of 28 mph (45 km/h). During our test, we indeed reached a top speed of 27 mph (44 km/h). This means the Meepo V5 is still the fastest board amongst budget boards despite stepping back on motor power.
As for the trucks, Meepo updated their signature Shredder trucks. These are 7-inch trucks angled at 45 degrees made by Meepo. These trucks came out of the box pretty loose and carve-y, which is different from Meepo's typical style. More on that later.
Range – Well Expected, Nothing Crazy.
Now, let's go to the batteries. The Meepo V5 has two battery options: a standard 4AH 144Wh battery with a marketed range of 11 miles (18 km) and an extended range version with a 288Wh battery with a marketed range of 19.8 miles (32km).
We received the ER version of the board, and our lightweight 143 lbs (65 kg) rider reached a maximum distance of 18.6 miles (30 km). This hits the marketed range claim.
As we all know, the range is subjective to the rider's riding speed and weight, so your mileage may vary.
Want to compare this board to Meepo V4S? We got you! Click here to read our review.
Meepo V5 has an IP55 waterproof rating, so riding the board on some puddles wouldn't be an issue. Do remember to wipe it down as soon as possible. A wet battery will degenerate over a few months.
And, that wraps the specs of the V5! So without further ado, let's see how all of those turn out in the riding experience.
Meepo V5 Ride Experience
When it comes to speed control, it is unsurprising for the Meepo V5 to retain its signature punchy acceleration and strong brake. The board kicks off aggressively at the highest ride mode. While this is fun for thrill-seekers, beginners should stay within the first 3-speed modes. These modes are much more gentle in acceleration and braking.
With that said, the speed control of the V5 is indeed less aggressive than the V4 and V4s. Again, this may disappoint some riders but will help new riders feel more comfortable while learning how to skate.
The deck is undoubtedly the best part of the V5. It is nice and comfortable to stand on. As we have said, the wide concave deck makes it easy to feel our feet' position and keeps them secure. Going with a deck that's on the stiffer side also means that the board feels more stable when riding fast.
The new shredder trucks came out of the box loose, which made the board too easy to turn. While that is fun for carving, it gets a bit sketchy when riding at top speed. So, we tightened it up a little. With the right tightness, the trucks strike a good balance between maneuverability and stability. It carves pretty nicely with good returns to the center and keeps the board steady at high speed. These new Shredder trucks are okay.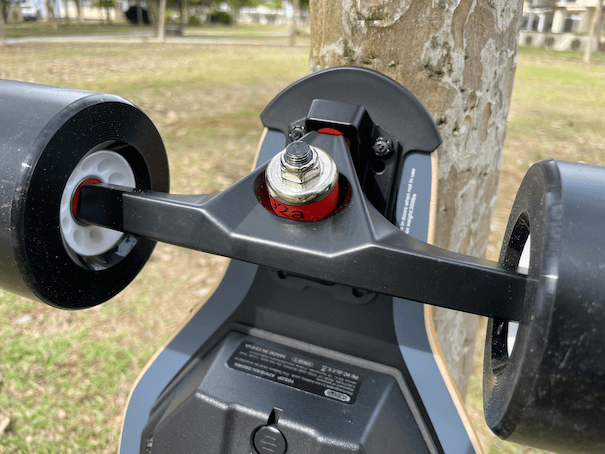 When it comes to road vibration, the result should surprise no one. A hub motor board that rolls with thin urethane wheels will always be uncomfortable when riding on rough pavements. It is not worse than any other hub motor board but not better, either. Or, you could get yourself the 105mm Donut wheels from Meepo or Cloudwheels, and that would make riding on rough roads that much better.
Meepo V5 VERDICT – Great For Beginners
So, here comes the final verdict.
If you are in the market for an electric skateboard that offers solid performance without breaking the bank, the Meepo V5 is a great option to consider. Meepo V5 remains a very good entry-level electric skateboard. The board is beginner-friendly and prioritizes range over power. While Meepo cut down on the motor wattage of the board, Meepo V5 is still one of the fastest boards among top-performing budget boards.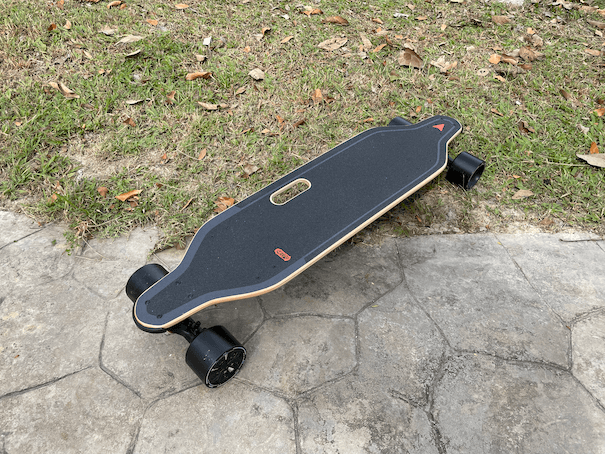 Besides the higher-than-typical 28 mph top speed, this 2023 Meepo improved the little things. Better waterproofing, better hub design, truck quality, etc.
So, if you are looking for your first electric skateboard and are not sure what to get, Meepo V5 is a good place to start. We are… just sad that it is no longer a speed monster like the Meepo V4 was.
If you are interested in buying the Meepo, be sure to check out our affiliate discount link here and use code: "ESKATEHQ" to receive 5% off during check out.
It will help you get a small monetary discount and help us out too. On top of that, you'll be tagged as an Electric Skateboard HQ customer and probably be treated better. Cheers!
If you liked this Meepo V5 review, we've got more at Electric Skateboard HQ. Read the latest reviews, news, and discussions on everything about electric skateboards!
RIDE SAFE, GUYS.