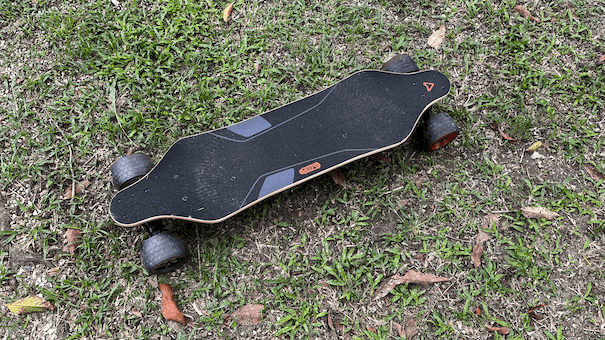 Meepo board is the OG in bringing us affordable options for electric skateboards and since 2017, it has been amongst the top choices for those who are looking for affordable electric skateboards. While their current best seller, Meepo V4 (Shuffle) was just released 10 months ago, Meepo decided to give us an update with the V4s (Shuffle S)… So, let's see what the updates are, and if it gives Meepo further lead over other boards under $500.
Let's get right through it!
Meepo Shuffle S (V4S) Build and Specs
Deck: 8-ply Canadian maple, 1-ply fiberglass; wide concave with a rocker profile
Electronic Speed Controller: LingYi ESC, push-to-start; 4 speed and braking modes
Motors: 540W hub motors
Marketed top speed: 29 mph (47 km/h)
Batteries: 4AH 144Wh or 288Wh
Marketed range: 10 miles (16km) or 18 miles (29km)
Trucks: Meepo's 45° Shredder trucks
Wheels: 105*65mm, 78A donut wheels
The deck of the Meepo Shuffle S is made of 8-ply Canadian maple and 1-ply fiberglass. We can expect a mild flex to it but it compensates with a pretty deep and aggressive concave design. This helps in securing leg placement for great balance during a ride.
The deck also has a slight rocker profile which we're a fan of. This form made the Meepo V4S feel closer to the ground.
Elegant Upgrade on Design
The upgrade of the board is focused on the design. From an orange toy-ish looking color scheme on the Meepo V4, The Meepo Shuffle S (V4S) took a more elegant approach, which we like better, especially on the graphics beneath the deck.
As for the electronic speed controller, the V4S uses the latest Lingyi ESC with a push-to-start feature. It has 4 speed and braking modes which can be adjusted separately. It does provide a smooth acceleration to the board, but is it as smooth as a Hobbywing ESC? We'll talk about that later on.
Lower Rating of Motors and Bigger Wheels?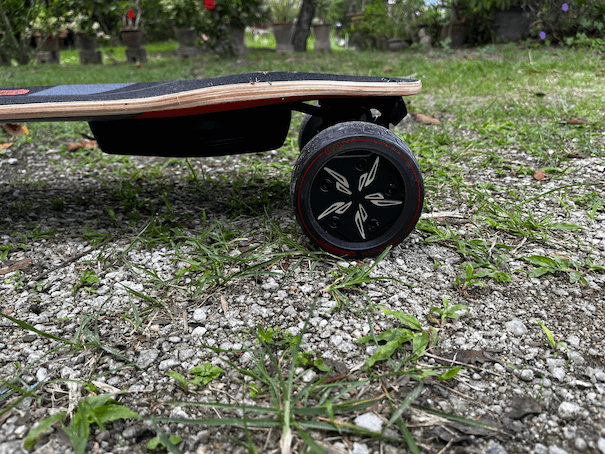 Another change Meepo did on the Shuffle S is using a lower rating for the motors. The Meepo Shuffle S uses dual 540W hub motors which might come as a surprise to Meepo V4 fans. The previous V4 uses dual 620W hub motors and Meepo claims that it's a necessary sacrifice to allow using big 105mm donut wheels. I guess we will have to find out if going with a smaller wattage motor has any negative impact on torque and speed.
These are clones of the famous Cloudwheels which significantly reduce road vibrations. Will it have any effect on the power, though? We'll find out later on.
The marketed top speed for the Meepo Shuffle S is 28.5mph or 46km/h. During our test, we managed to reach 28mph or 45km/h. This is a praiseworthy feat for a budget board.
What's here to stay are the 45° Shredder Downhill Trucks. These trucks are known to be stable rather than carv-y.
To check out our review on Meepo V4 for comparison, click here.
Two Options for Batteries
So, did Meepo change anything for the batteries? The Meepo V4S is keeping the same two options for batteries: a normal 4AH 144Wh battery with a marketed range of 10 miles or 16km and an extended range version of 288Wh battery with a marketed range of 18 miles or 29km.
We received the basic version of the board, and our heavyweight 95kg rider managed to reach a maximum distance of 6 miles or 10km out of the 10 miles or 16km marketed range. It is nowhere near the marketed range but as usual, weight and speed play a huge factor in achieving the maximum possible range of a board.
Meepo also admits that using 105 mm wheels will sacrifice the range by a bit and they insist that everyone should get the ER version for more range.
On the bright side, the battery is fast charging. You can reach a full charge in just 30 minutes by purchasing a separate 8A fast charger for the board.
Now that we know all about the specs of the Meepo V4S, let's talk about everything in action!
Meepo Shuffle S (V4S) Riding Experience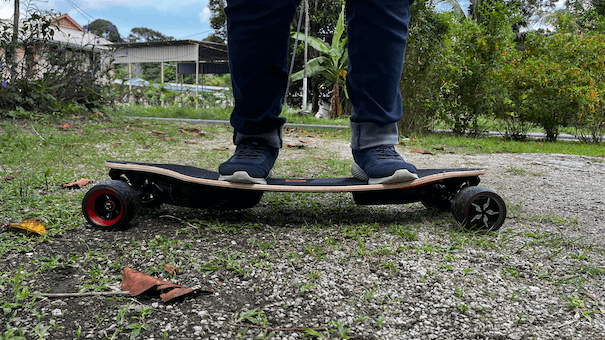 From the get-go, the Meepo V4S is a budget board on steroids! Riding around the V4S is super strong. So I guess, it does live up to the well-known Meepo reputation of delivering a bit of punch when it comes to acceleration and braking.
The controls are still smooth and are not entirely aggressive but beginners should be careful when riding the board for the first time. The board can catch you off guard with its punchy acceleration. With that said, this new Ling Yi ESC did a good job at delivering a smooth ride with the board but it still falls a bit behind the Wowgo 2S Max's silky smooth 12S Hobbywing ESC.
Interested in Wowgo 2S Max? Click here.
Overkill Acceleration Power
Once you get used to it, we are pretty sure that a lot of riders out there would appreciate the punchiness of this board. It turns out that the drop in motor wattage number doesn't really affect the actual performance that much, since the V4 already has a pretty overkill acceleration power.
The deck is without a doubt the charming point of the V4S. It is nice to stand on with the lower ride height. The board's concave is also very easy to feel while riding and secures your feet at all speed modes. The board is not flexible during rides, which highlights stability when riding at higher speeds.
The 105 mm Donut Wheels definitely did their job at absorbing road vibrations, especially on rough roads. But as we all know, hub motors are still hub motors and when the roads get shittier, you would still feel the vibrations traveling through your spine.
To check out our review on Cloudwheel Donuts, click here.
Shredder Trucks Are Geared Towards Stability
As always, Meepo's 45° Shredder trucks are biased towards stability, while 50° trucks, such as the Poseidon trucks on the Wowgo 2s Max, would be more carv-y than stable.
With that said, it's a nice pair of trucks. While the Shredder trucks do not rise to the level of branded trucks such as the Caliber II or Paris, they are definitely just as good as the other proprietary trucks found among affordable eskates. The trucks are decent for carving, have a good return to the center, and are absolutely stable to ride at top speed.
Big 105mm Wheels to the Rescue!
It has to be said that, Meepo's 105mm semi-AT wheels are not Cloudwheels, and is not as good as the genuine Cloudwheels when it comes to ride smoothness.
However, at the end of the day, every millimeter helps when it comes to reducing road vibration. These 105mm wheels do make a huge difference, when compared to a 90mm (such as the one on original V4), when riding on bad roads.
Making 105mm a default wheel size is especially helpful for eskate beginners or commuters, who above all else, value "not flying off the board for failing to dodge a stick."
Meepo Shuffle S VERDICT – Punchy Acceleration and Braking!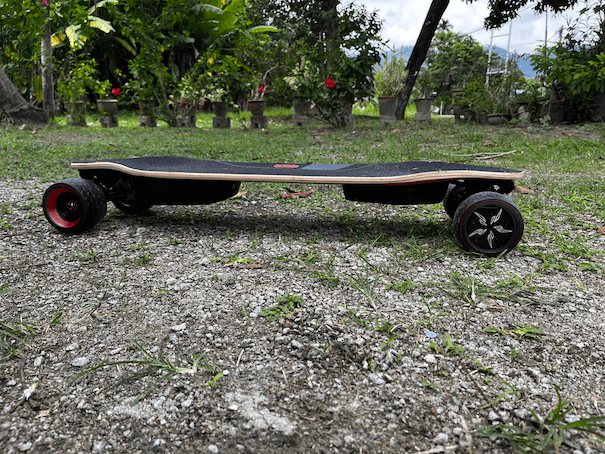 So, here comes the verdict. For a board retailing at 500 USD and is now priced lower at 419 USD with Meepo's current sale, the V4S is a good board with a pretty great design and polish. The addition of 105 mm Wheels would probably split the crowd. For some, it sacrifices range and reduces carving fun; for others, especially beginners, it makes the board much more usable, comfortable and safe.Well, at least you can always shell out more and go with the ER version if range is a concern.
At the end of the day, Meepo V4s is still one of the top choices for an affordable $419 and THE CHOICE for anyone looking for a sub $500 board with big wheels, or a budget board with strong torque.
If you are interested in buying the Meepoboard, be sure to use our affiliate link here.
It will help us out and you'll be tagged as an Electric Skateboard HQ customer and probably be treated better. Cheers!