Being an electric skateboard reviewer and getting the opportunity to sample a huge variety of different eskates is fun. However, I've never gotten my hands on any board that can be called a true off-road build.
Take the Wowgo AT 2, a board that we reviewed a while ago (spoiler alert! It's great!). It has 7" pneumatic wheels and powerful motors that allow you transverse harsh terrain, but no one in their right mind would use it to climb a mountain trail. The board is too delicate for that.
That's why, when Ecomobl offered to send us an Ecomobl ET for a review, I knew I needed to climb a mountain with it. It brags about being a "True All-Terrain Board" after all.
Hold on, let's rewind a bit. "Who is this Ecomobl," you may be asking. Honestly, I had to do some research on the brand before agreeing to do this review. Being a little bit reserved is always good when a brand's flagship product looks like a copy of another brand's products. Let's introduce the elephant in the room: the Ecomobl M24 looks like a Bajaboard, with the upside of being $1000 cheaper and more available outside of Australia.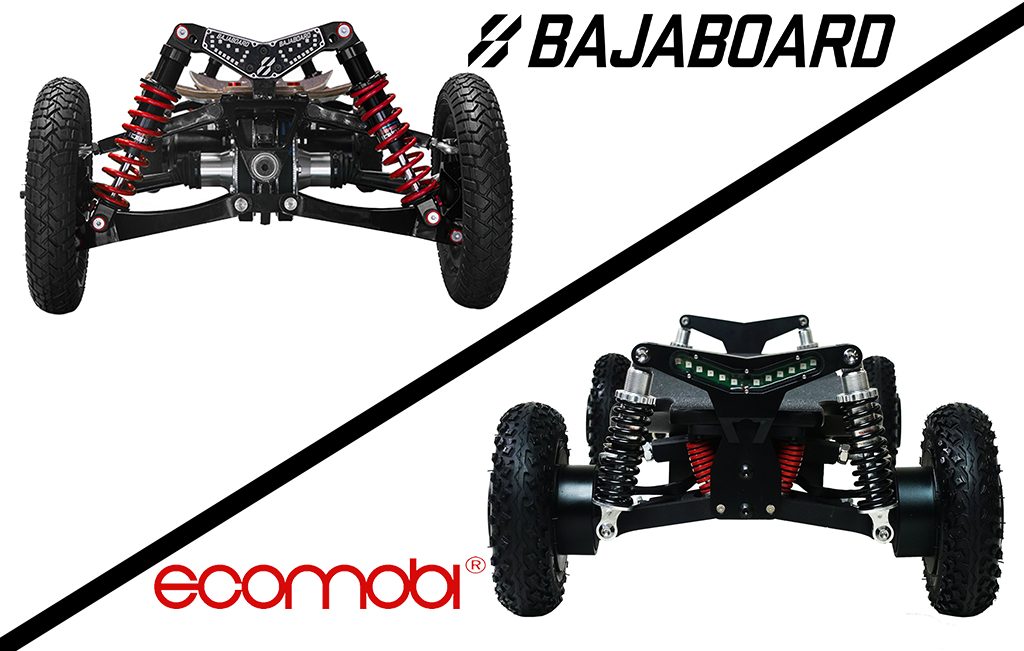 After doing a little bit of digging, I found that although Ecomobl itself is pretty new to most of us and to the consumer markets, they have actually been manufacturing and supplying Eskate parts to other eskate brands for a while now. In 2020, word of mouth started to spread, people started taking chances on their product and so far, the after-sale service has really been on point. Something like a ratio of 10 praises to 1 complaint.
Want to see it for yourself?
Check out Ecomobl Owner's Group and Ecomobl Official group.
Ecomobl ET Review
Now that we've talked about the brand, let's talk about the board, the Ecomobl ET. This is not their flagship product, that would be the Baja-like M24; but in my opinion, the ET is a very important board not only for Ecomobl but for the eskate community as a whole.
Why?
This is the cheapest it gets for you to get something that can climb a mountain trail – I'm not talking about grass, stick, and stones; I'm talking about sand, mud, rocks and huge cracks on a steep incline. So, if this board turns out to be good, it might serve as a gateway drug between street eskating and mountain eskating. A lot of wallets are at risk here.
Deck Size: 39-inch x 9.8-inch (99cm x 25cm)
Top Speed: 35mph/56km
Range: 20-25miles/32-40km
Battery Pack: 648Wh 12s3p Samsung 50E (or Samsung 40T)
Weight: 27lbs/12.2kg
Motor: 2 x 2000W planetary gear drive.
Wheels: 6″ airless rubber wheels (150mm)
Features: 

LingYi ESC with push to turn on.

The option of Range-focus ESC or Power-focus ESC

Integrated board light, headlight and taillights.
IP 56 Waterproof

Price: 1159 USD
By the way, the review unit that I receive is with the Samsung 50E batteries and with Range Focus ESC.
We will talk about their potential differences when we speak about the range.
First, let me show you the parts:
Deck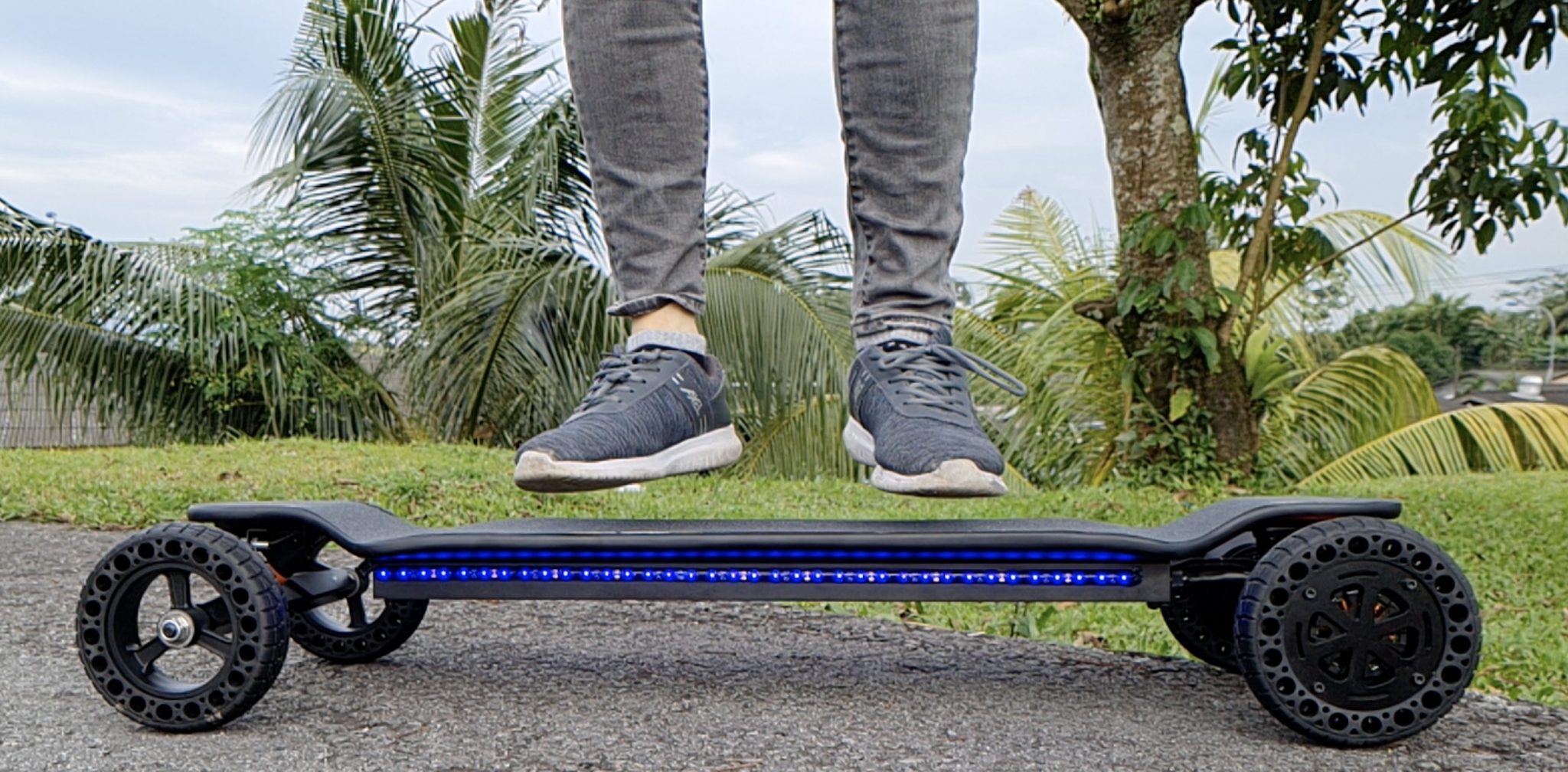 Ecomobl ET uses a 39 inch deck with aggressive drop. There is some nice concave to it so you know where you feet are. Aggressive drop deck not only makes the ride lower and more stable, the drop also serves as a step for you to place your feet during steep incline or decline. Nice!
Even with the aggressive drop, there is a 4″ (10cm) ground clearance. That's pretty enough for most terrain.
Enclosure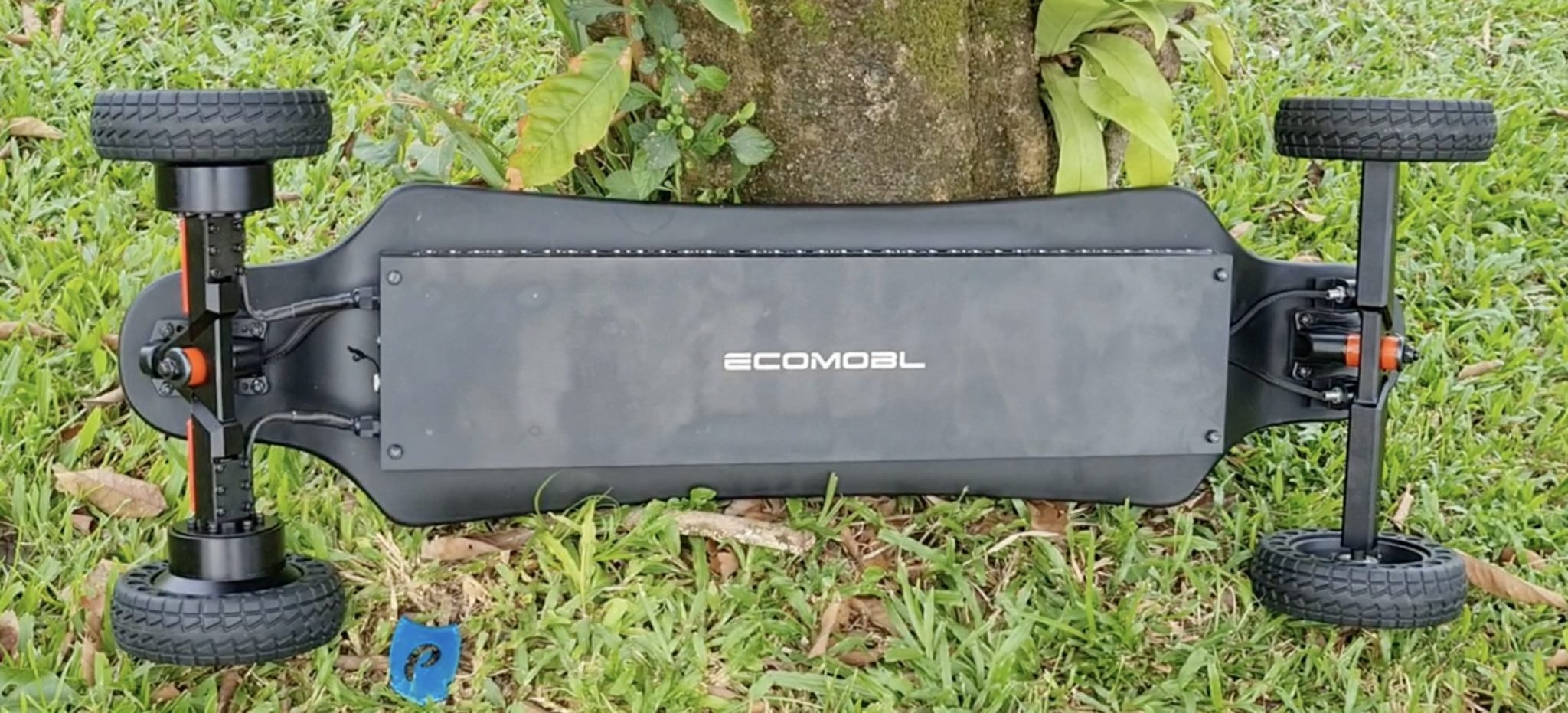 Using a full length aluminium enclosure means you can forget about having any flex on the deck. I don't know if I can fault them for going with the aluminium enclosure as you do need something that's strong enough to withstand abuse, and this enclosure is that. It's also pretty well sealed, giving me a peace of mind when riding not only through puddle but through muds.
This also makes cleaning the board a much easier process.
It's IP 56 waterproof.
Trucks
Ecomobl ET uses a 15″ (38cm) (in axle width) trucks.
Right out of the box, the trucks are too loose and it takes me a while to find the right tightness on the trucks. With the right truck tightness, I got a pretty good balance between stability and maneuvrebility.
I think upgrading the bushing would further improve it.
Wheels
(150mm) 6″ airless rubber wheels can indeed roll over anything that's meant to be rolled over. Pneumatic wheels are softer, that's for sure, but airless wheel don't get punctured when riding over dodgy terrain.
Planetary Gear Drive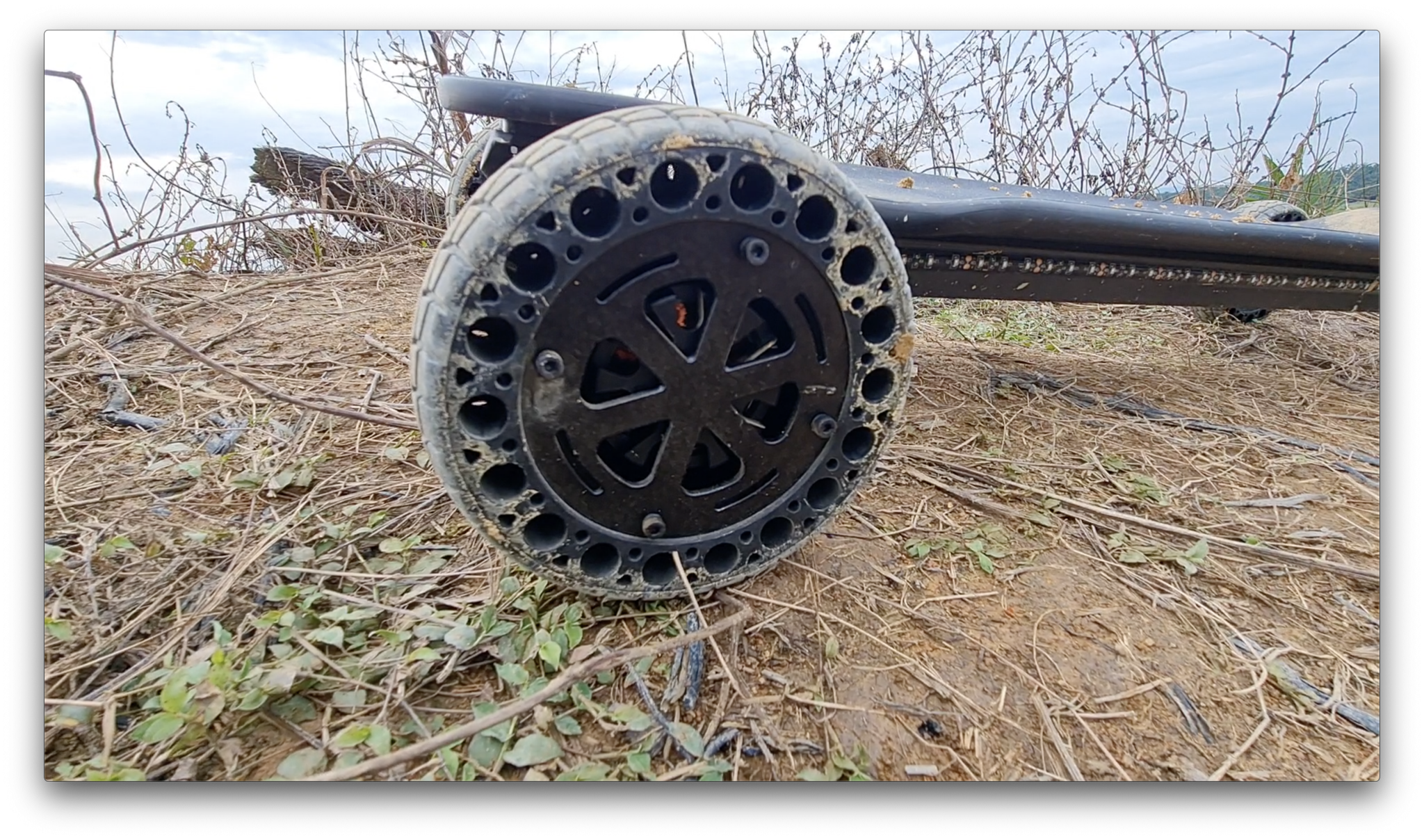 Ecomobl ET uses a gear drive that I've never seen before. They call it planetary gear drive and they are 2000W per piece.
Besides looking fascinating when spinning, the gear drive makes a loud, rather sharp mechanical noise when accelerating.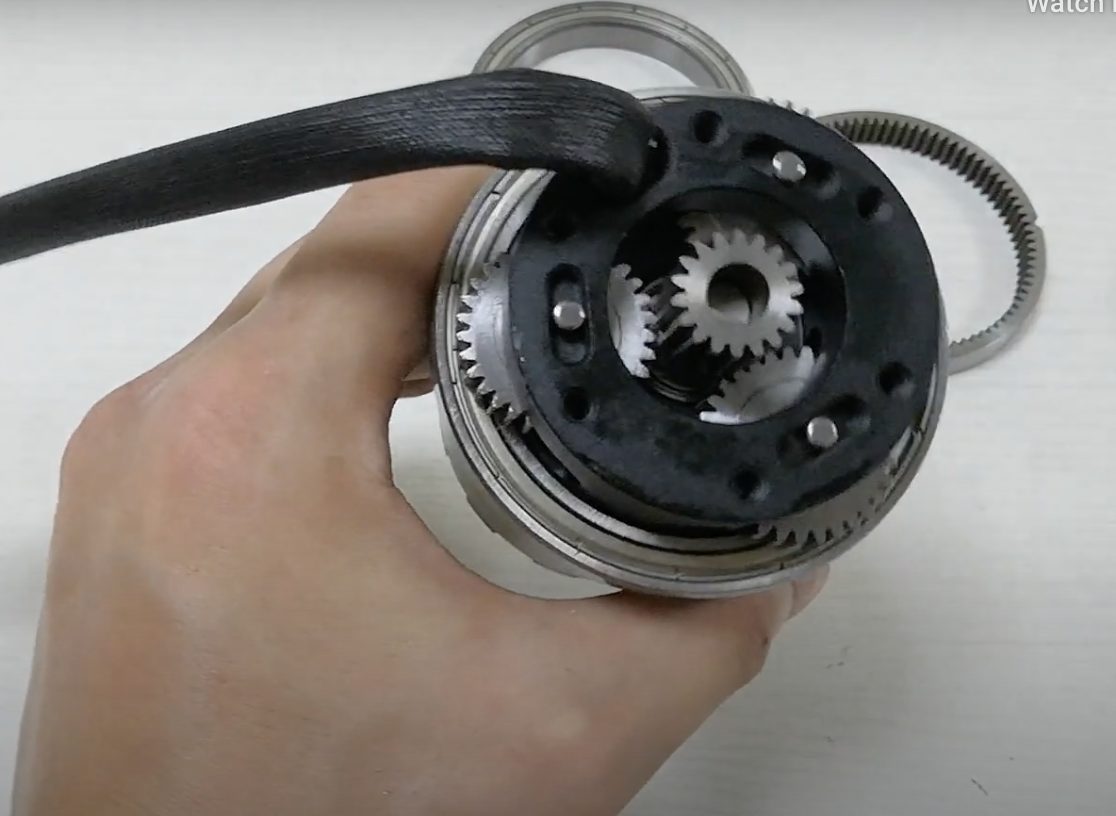 It also freerolls okay-ly, meaning not as resistant as a belt-motor but not as freely as a hub or a regular gear drive.
Battery
As mentioned, there is two battery variant both in 12s3p settings:
Samsung 50E in 15 AH setting (648wh) or
Samsung 40T in 14 AH setting (518wh)
Although Samsung 50E has a higher AH rating (5000mah vs 4000mah in 40T), Samsung 40T is actually considered a better cell as it has less voltage sag.
It means, with Samsung 40T, the board stays "stronger" when battery drains, meaning happier ride and it might still give you almost the same range as the theoretically bigger pack of Samsung 50E anyways!
PS: My review unit has Samsung 50E.
ESC
As mentioned, there are 2 version of ESC.
Range focus ESC
Power focus ESC
Both are LingYi ESC; the differences lies just within the settings.
PS: My review unit has the Range focus ESC.
Remotes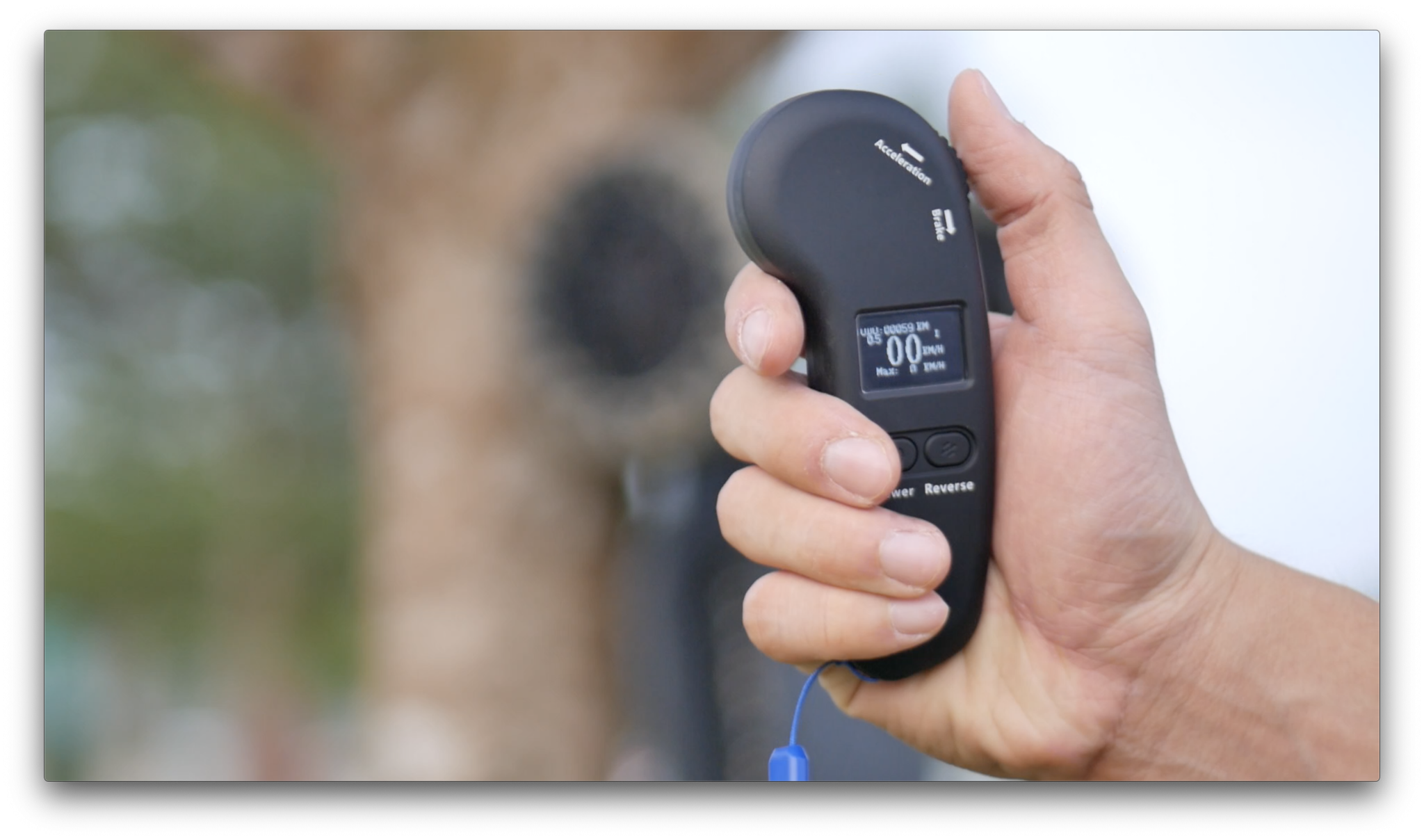 Standard LingYi ESC remote with telemetry, and the standard mislabelled reverse button.
The reverse button is speed mode, double tap power button to reverse.
The remote needs no further introduction. It's comfortable in hand; it has good connectivity.
I just wish it look cooler.
Lights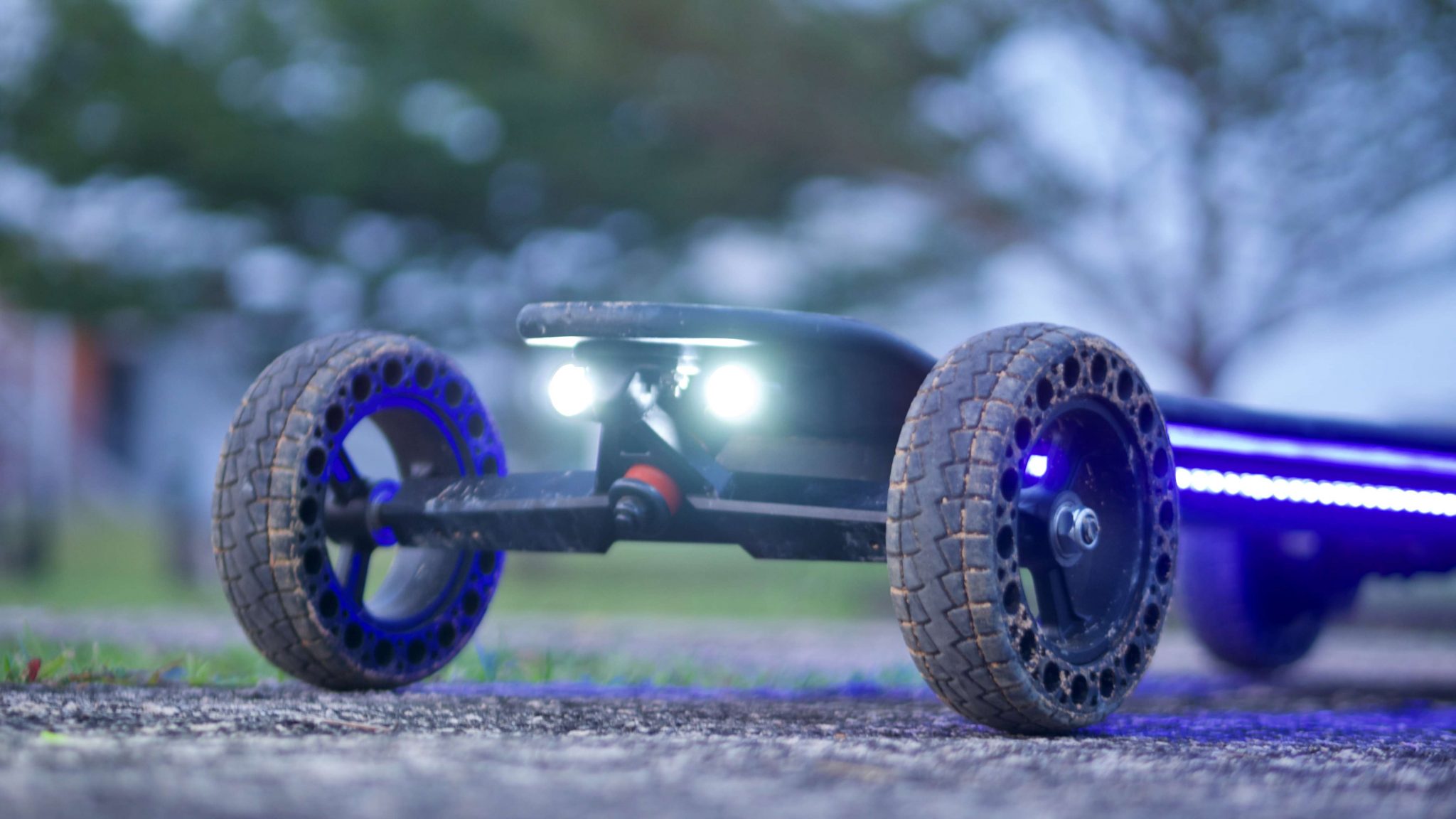 Ecomobl ETs come with integrated lighting systems. You can turn it on or off by holding the reverse button for 3 second.
The lights are cool, and very very useful. They are the headlight, board lights and taillights.
The board lights are an LED stripes lining the enclosure, they are purple. I hate that colour, I wish it was white or yellow or red or anything not purple.
Ecomobl reps describe this color as electric blue and maybe it is in some situations but let's face it; it's purple.
The headlights are white and they are bright enough. Not as bright as the Shredlights or the Backfire Canon headlight but they are good enough.
The tail lights are slightly angled upward so it is visible to anyone behind you. They are red, of course.
All 3 light systems lit up every time you engage the brakes, much like how it is on a car, even if you didn't switch them on. And as far as I know, there is no way to make them stay off.
Q1: Is the Ecomobl ET a capable mountain trail hiking board?
Yeap!
I rode the ET up a rough mountain trail through mud and sand, stones and cracks, and it can handle them, which is amazing!
This is the first time that I was able to ride on a path like this and it is really something else. Now I understand why mountain biking and mountain boarding are popular. And finally, it is a $1000 production board that can hang with the likes of the Trampa DIY build that's at least 2 times the price!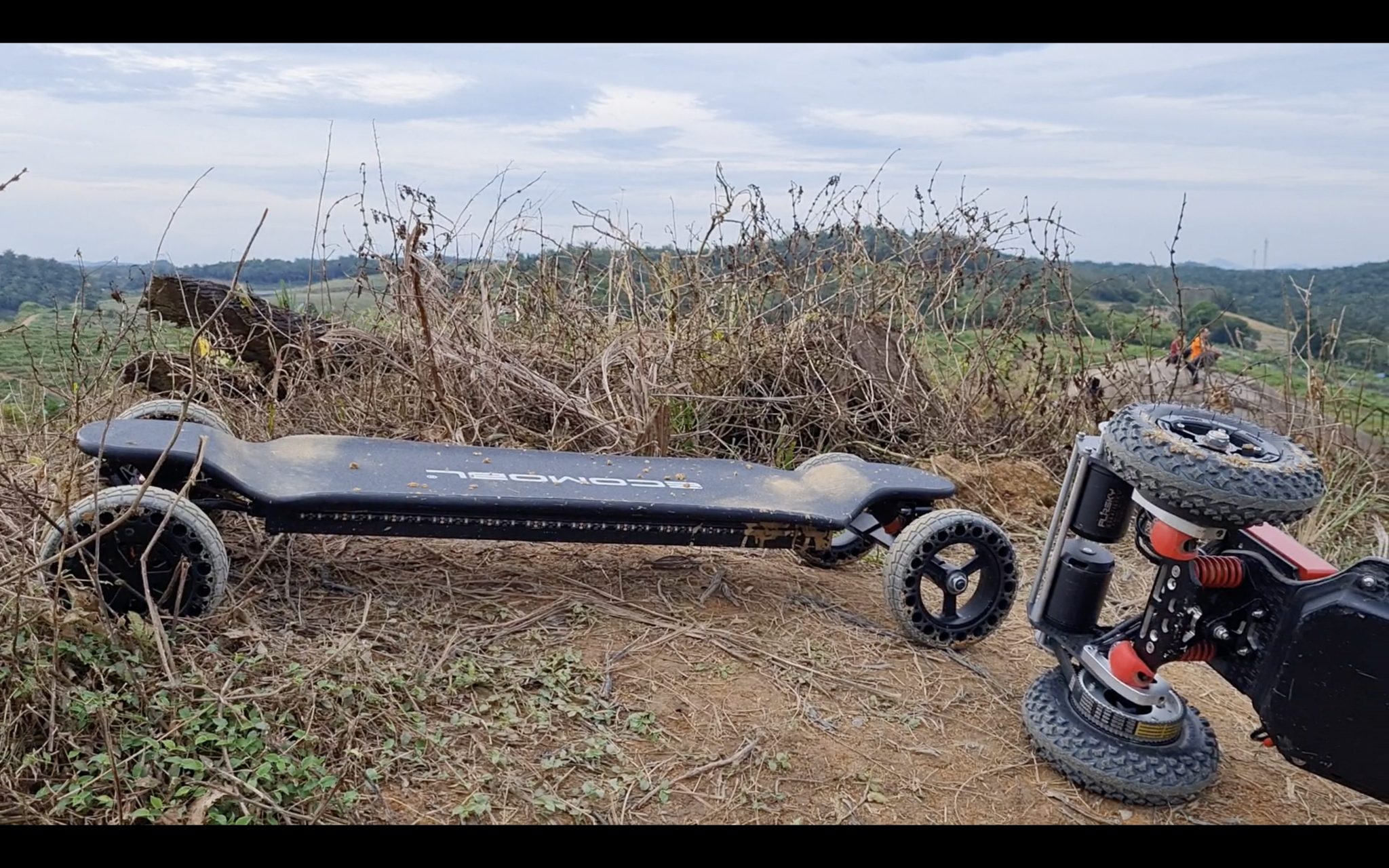 The big wheels were able to handle all of the cracks I faced, and the 2000w planetary gear drive motor is strong enough to handle any incline as long as the wheels get traction. The aggressive drop on the decks serves as a step during sleep inclines or declines, and hence allows me to keep myself onboard both uphill and downhill.
The super-stiff deck does take some fun out of a street ride, but I think it is a logical choice for a board that is designed to go on a mountain trail. A flex deck would have bounced me off the board like a trampoline.
The 6" airless wheels are second best in cushioning the vibrations from rough terrain. Pneumatic wheels are, after all, the gold standard.
The airless 6" wheels nonetheless did a decent job and make stone and pebble roads at least tolerable. Plus, you don't have to worry about puncturing them and ruining the rest of your trip, where you are forced to drag your board downhill as a punctured wheel means it impossible to make turns. Don't ask me how I know…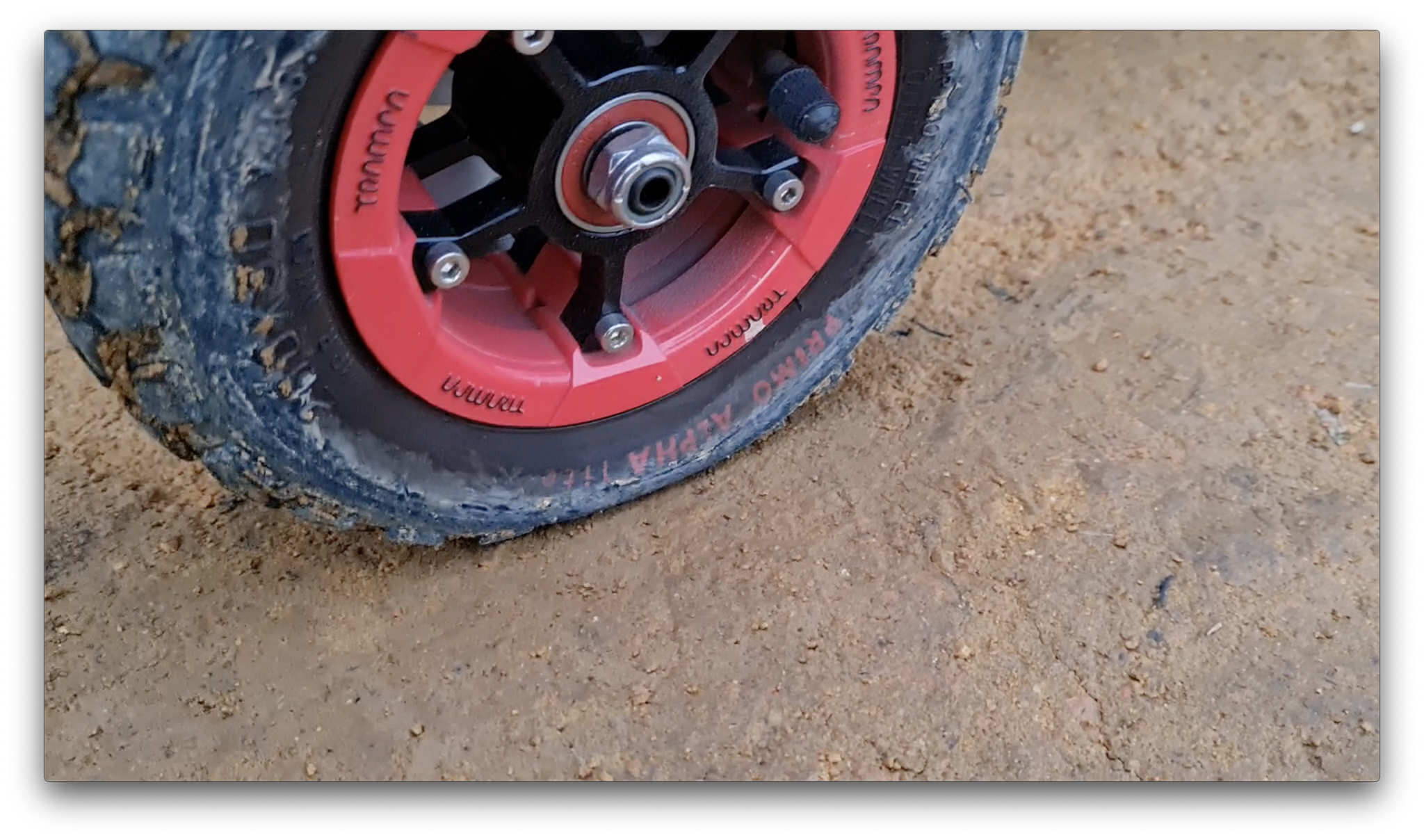 Q2: How smooth is the speed control?
Does the LingYi ESC do well in the Ecomobl ET? Throughout the years, and after … was it 7 iterations? … LingYi ESCs have become very close to Hobbywing ESCs when it comes to control smoothness. It is now at the point where they are difficult to differentiate from one another. The stereotype that LingYi ESCs are jerky and strong, while Hobbywing ESCs are smooth but weak, is no longer true.
However, I have to take that back when it comes to the Ecomobl ET. The control of the Ecomobl ET, with its LingYi ESC, is very stereotypical of that raw and punchy feeling, as compared to, for example, the Hobbywing ESC on the Wowgo AT 2 – or even those of the customized LingYi ESC on the Raldey MT-V3.
I am guessing that the powerful motor accentuates the jolt and makes the imperfections much more obvious. With that said, the control of the Ecomobl ET still fell within what I would consider as "Smooth enough that I can relax while riding it" – but perfectly smooth it is not. The Brakes are strong, however, and that I like.
Q3: Is the Ecomobl ET fun to ride?
Depends on your definition of fun, actually. If your idea of a good AT ride is a buttery smooth ride, with the smooth carving of double kingpin trucks, then Ecomobl ET is definitely not it. Your ideal board would be something like the Evolve or Wowgo AT 2.
If you want a board that seemingly has the power of a jeep, can handle terrain like a jeep, and will make loud mechanical sounds when it accelerates, the Ecomobl ET would be a great board for you.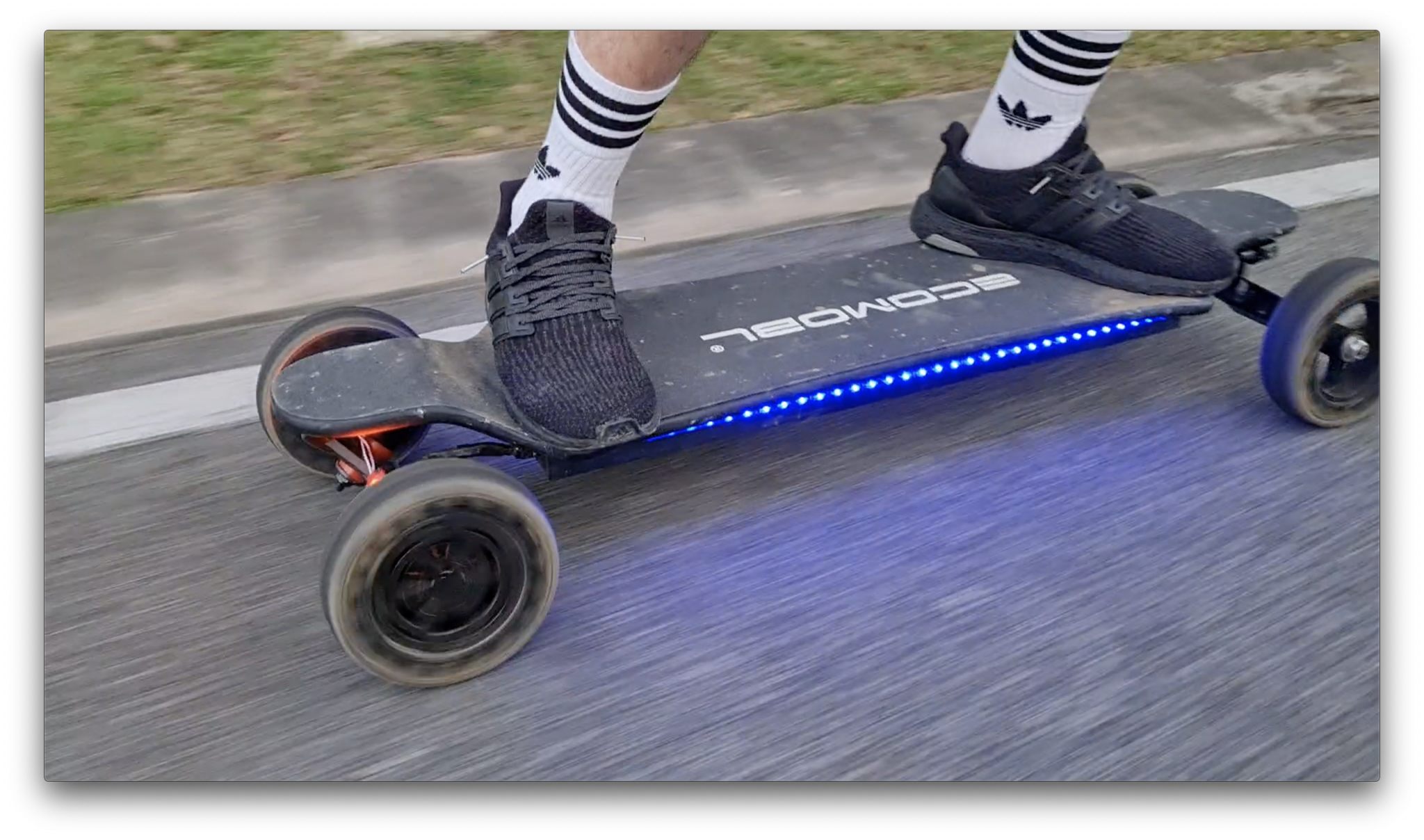 Maneuverability is good, it turns easily and unlike Trampa Builds, making a U-turn on a double lane road is possible with the Ecomobl ET. Everything is great, provided you find the right tightness and configuration on the trucks and bushings. The trucks are very loose when they arrive, and if not tightened things could get sketchy when riding fast.
Now, let's talk about the numbers.
Top Speed
First, let's talk about the top speed, others have told me that hitting the marketed top speed of 35mph or 56kmh is possible, but 33mph (53kmh) is a more reasonable expectation. I did not try the top speed as I kinda value my life… but I can say that the board felt it had a lot more to give when I hit 25mph (40kmh), even when there were only 2 bars of battery left; and with the trucks tightened it felt very stable at that speed.
Range
I hit 17miles (28km) and still had 1.5 bars of battery left, so I have no doubt it can hit the 20miles(32km), the lower end of the marketed range.
Again, my battery is a Samsung 50E pack and theoretically, the newer Samsung 40T pack would have less voltage sag and allow the board to retain a stronger torque even when the battery is low, and maybe even better longevity. This is not to say that I'm not satisfied with the Samsung 50E packs though, they work fine for me.
Verdict: Is Ecomobl ET good?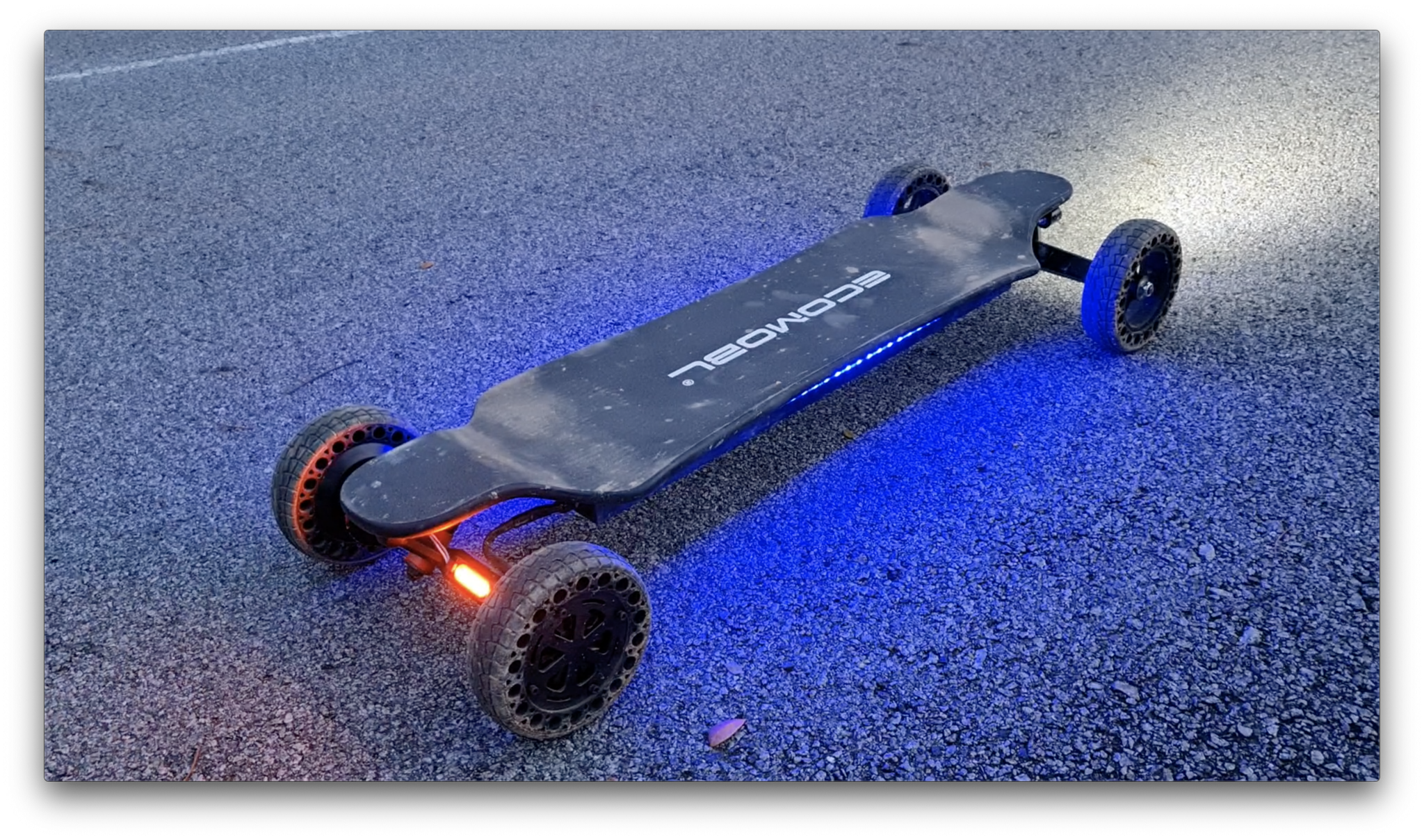 So, the verdict. Why do I like a $1200 board that's not perfectly smooth in control, that's not buttery smooth in carving, that has no flex in it, and has a motor that screams like a rusted motorcycle?
It is because no matter the faults, at the end of the day, it is one of the few boards on the market, that can be abused to climb a muddy mountain trail. The high I got from doing that is really something else.
Plus, even when riding on road, not needing to worry about road condition, puddles, belt-maintenance and about keeping the lights charged are just wonderful for a lazy person like me.
So yes, I think a lot of people would be really happy with the Ecomobl ET.
Check out the Ecomobl ET product page by clicking here.
If you are interested in buying an Ecomobl, be sure to use code: "Electric Skateboard HQ 5%OFF" during checkout.
It will help you get a pretty significant monetary discount and helps us out too. On top of that, you'll be tagged as an Electric Skateboard HQ customer and probably be treated better. Cheers!