For the review of the 2023 Meepo Hurricane Vader, click here.
Meepo Board is traditionally known to make powerful boards at the best "price-performance" ratio. The brand is always your go-to choice for eskates in the sub-$500 segment. Although, they're having less recognition for higher-priced boards. Meepo Board changes the game in 2021 with Meepo Hurricane. This $1699 board has been overwhelmingly popular in the eskate community. So, what sets this all-terrain carbon fiber board apart from its peers? How is it different from other 2-in-1 boards that use the Evolve formula? Let's find out.
Build and specs of Meepo Hurricane
Deck: T700 carbon fiber, double-drop, wide concave, stiff deck, top-access electronic compartment
ESC: LingYi FOC ESC 70 Belt, 4-speed modes, push-to-start feature
Marketed Top Speed: 35mph or 56km/h
Motors: 3500 W * 2
Batteries: 12s4p Molicel P42A
Marketed Range: 31miles or 50km
Trucks: Double Kingpin Truck
Wheels: 155mm pneumatic wheels; 90mm street wheels
Board Weight: 34 lbs or 15.4 kg
Warranty: 1-year guarantee
Meepo Hurricane uses a T700 Carbon Fiber double-drop deck with a built-in, top-access electronic compartment. We didn't really know what T700 carbon fiber is until we were researching for this review and apparently, it's commonly used in drone cameras. This type of carbon fiber reduces the probability of cracks.
The deck is also wide and has a full concave. There's no flex on the board. The carbon fiber is stiff and it's designed with wave lines that look sleek yet adds a military theme.
Top-access electronic compartment
Inside the carbon fiber deck, you'll find a giant battery with a 12s4p configuration using Molicel P42A. This is considered a great cell in the market. It adds up to 725.8 watt-hours, which is the third biggest battery pack you can find on any 2-in-1 board. In terms of specs, it's behind by only a few watts than the Ownboard Zeus's 13s4p 899wh and Eovan GTS Carbon's 12s4p 852Wh pack. Okay maybe not 'a few', but you get the point.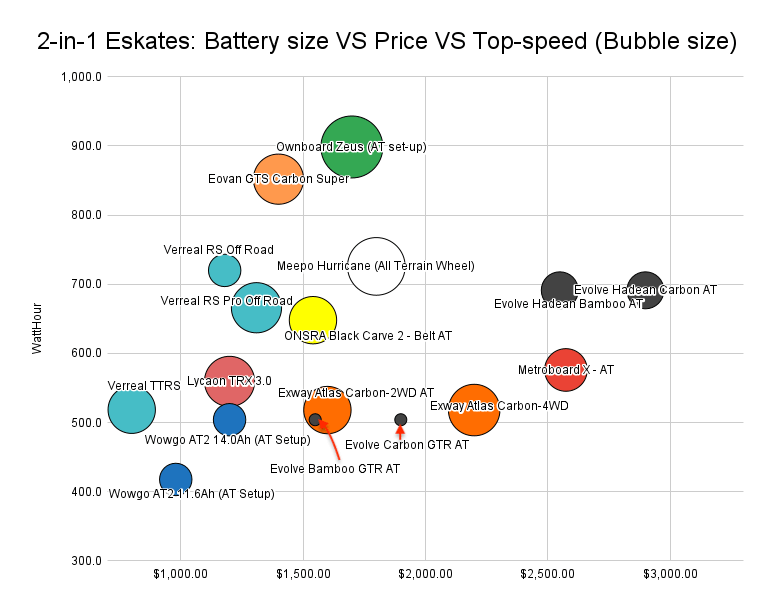 This 725.8wh battery pack gave Meepo a marketed range of 31miles or 50km on all-terrain wheels, and 44 miles or 70km range on street wheels.
Our 210lbs or 95kg test rider put the numbers to the test and got 18.5miles or 30km out of the AT set up. With street wheels, we got 31 miles or 50km.
In our range test, we tried as much as possible to ride. You could probably get the higher advertised range with lighter weight or by riding conservatively.
Electronic Speed control – Hello again, LingYi ESC
For the electronic speed controller, Meepo uses their usual LingYi ESC and they got the latest and greatest version, as always. Hurricane is installed with LingYi FOC 70 Belt with a push-to-start feature. It has 4-speed modes and 4 brake modes that can be set independently of each other.
Meepo Hurricane also uses Double Kingpin Trucks. In the riding experience, we'll see if these trucks blend well with 155mm pneumatic wheels. Purchasing Meepo Hurricane also comes with 90mm street wheels if it matches your preferences better. You can also swap these wheels for other semi-AT wheels like Cloudwheels or Meepo's 110mm Cyclone wheels.
To check out our Meepo NLS Belt Review, click here.
Dual Belt drive – 3500W belt motor
Powering these wheels is a set of 3500W belt motors. Motor wattage means little at this price range, but just for those who are interested, these numbers are the highest out of all belt-driven boards in our database.
With these motors, the Meepo Hurricane has a top speed of 35mph or 56km/h and we managed to only hit 31mph or 50km/h. Although the 35mph was not met, 31mph is still very fast.
The board weighs in at 34 lbs or 15.4 kg and comes with a 1-year warranty.
As you can see, Meepo does what they do best with the Meepo Hurricane – offering beefy specs for its asking price. What's unexpected for me is how well built and well polished the board is.
If Meepo Hurricane is the first Meepo, you might have no idea that the company has its roots as an affordable brand. While looks can be subjective, I think everyone will agree that this is the best-looking Meepo ever seen.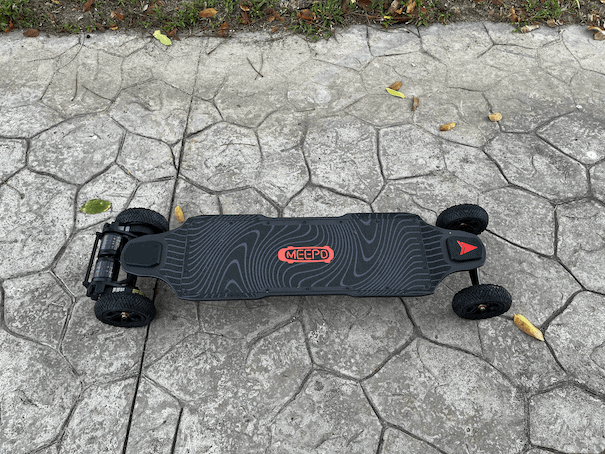 Riding experience of Meepo Hurricane
Now, let's move off the specs on paper and onto the road.
The highlight of the Meepo Hurricane is its power. Meepo loves injecting loads of power into their boards and that's definitely what happened here.
Out of all 2-in-1 boards in the market, the Meepo Hurricane ranks high on the list, beating any other board that isn't a 4-wheel drive.
Power: Meepo Hurricane VS Exway Atlas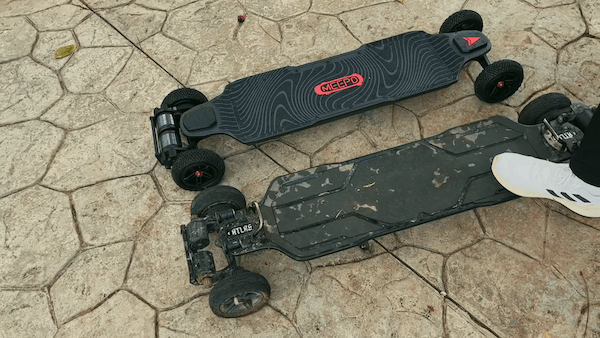 Comparing its acceleration or power against Exway Atlas, Meepo Hurricane is way stronger than the 2-wheel drive version of Atlas and almost as strong as Atlas' 4-wheel drive.
However, the Atlas 4-wheel drive has better torque than Hurricane and can start from a complete stop even on thick grass. Hurricane struggles with this acceleration feature. The 4-wheel drive Exway Atlas also has more grip in offroading and when going up very steep hills, more so when the roads are slippery.
LingYi catches up with Hobbywing ESC
With all that power on the board, it's no surprise that the Meepo Hurricane also has good speed control. We can finally say that the control smoothness of the latest LingYi ESC is now indistinguishable from the gold-standard set by Hobbywing ESC.
Meepo Hurricane has 4-speed modes, and all are smooth and intuitive. Mode 1 and 2 are tame, probably intended for casual riding, while mode 3 and mode 4 are thrillingly powerful. Having 4 different modes for braking also allows you to choose between gentler braking to having a very strong brake on the 4th brake mode. Those who love strong brakes would be really happy with the brakes here.
To check out our Meepo V4 Review, click here.
Double Kingpin trucks geared towards stability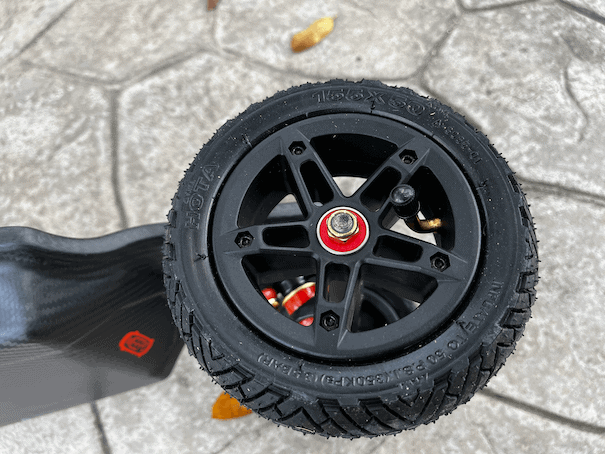 Meepo clearly wants Hurricane to be ridden fast, as even the double kingpin truck on Hurricane is geared towards stability rather than for fun carving. The trucks are not the most agile and the board remains comfortably stable at high speed.
However, this also means that the Hurricane is not your best option for carving. Stiff deck, big wheels, and tight trucks are all minus points for fun carving, and we don't feel much temptation to carve around when we are on the Hurricane.
This is in contrast to the Exway Atlas, which is geared towards responsive trucks that are more fun to carve with, but less stable at high speed.
Built for speed and stability
Besides the trucks, the rest of Hurricane's built speaks stability, too. The carbon fiber deck is wide and has a nice concave to it. It feels nice and stable underneath the feet. The double-drop deck also allows a low to ground ride feel, further adding to the stability. Stiff decks don't bounce, which is yet another point for a stable high-speed ride.
With all that said, designing a board this way has a few trade-offs. For starters, a low ride height also means low ground clearance, and your beautiful carbon fiber deck is just one tall bumper away from becoming less beautiful.
The stiff deck and relatively smaller 155mm pneumatic wheels mean going off-road on gravel, and small rocks aren't as comfortable as other 2-in-1 boards with bigger wheels and flexible decks.
Going with street wheels further exacerbates both of these problems, where the board bottoms out on each bumper and becomes unbearable when riding on poorly paved roads.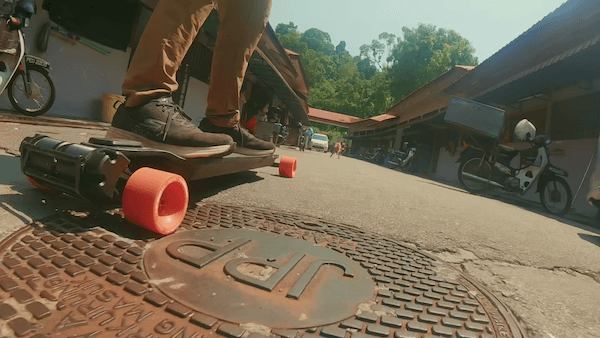 To avoid feeling every small crack and bump, we would recommend skipping the 90mm street and going for semi-AT wheels like the 105mm cloud wheels, or anything bigger. The safest bet is to stick to the AT set-up.
THE VERDICT- Should you buy Meepo Hurricane?
You see, it has been more than half a year since the initial launch of the Meepo Hurricane and even as the hype cooled, the board remains wildly popular. We think all this love is well-deserved, as Meepo Hurricane not only hit it out of the park when it comes to delivering maximum value for the price, it also has an amazing look and amazing polish to go with it.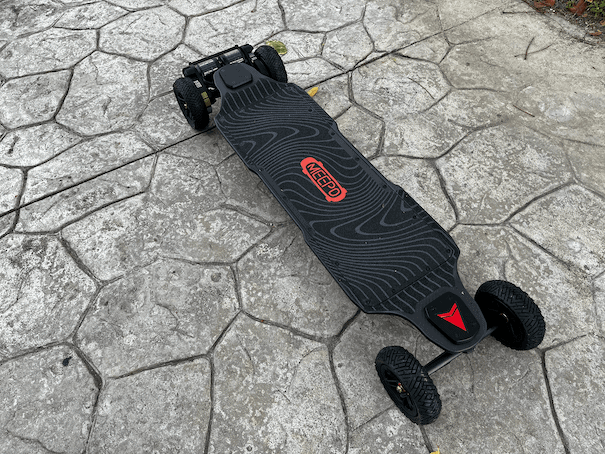 While the similarly priced Exway Atlas 2-wheel-drive is a better carving board and has some fun features such as having a smartphone app, Meepo Hurricane has a much better range and better power. So, whether you are looking for an all-terrain board that speaks power and stability, or simply want a polished AT board that tops the competition with specs, Meepo Hurricane is the board for you. Do look elsewhere, if you want a board that has maximum carving fun, or looking to do hardcore off-roading.
RIDE SAFE, GUYS!
If you are interested in buying the Meepo, be sure to check out our affiliate link here.
You'll be tagged as an Electric Skateboard HQ customer and probably be treated better. Cheers!