Today, we will be looking at Tynee Mini 3, the non-pro & hub version!
Electric shortboards are great for urban commuting, as they are both more portable and more agile to ride around pedestrians on sidewalks. Most major electric skateboard brand has one electric shortboard in their line-up, but Tynee, probably encouraged by how well their Tynee Mini 2 did, launched 2 of them in one go.
In May 2023, Tyneeboard launched two new shortboards: the Tynee Mini 3 Pro and the Tynee Mini 3. While we've already reviewed the $899 Pro version here (it's absurdly strong) ,the focus today is on its sibling, the Tynee Mini 3 – Hub version. Priced at $699 for the hub version and $759 for the belt version, the Mini 3 offers a more affordable alternative to its Pro counterpart.
Tynee Mini 3 (hub) Specifications
Before we delve into the riding experience the Tynee Mini 3 offers, let's chart out its specifications. It's very similar to the Tynee Mini 3 PRO, with the only notable difference being the default wheels, the Motors, and the remote.:
Tynee Mini 3 at a glance:
Price: $699
Deck: Canadian Maple, mildly dish-shaped concave
Trucks: Tynee PE reversed kingpin trucks (based on Paris V3 trucks)
Wheels: 90mm PU wheels (with an optional upgrade to 105mm Cloudwheels)
ESC: 13s Hobbywing ESC with smart turn-on and 4-speed modes
Motors: Dual 700W hub motors
Battery: Molicel P42A battery (13S2P configuration, 393.12Wh, 54.6V)
Top Speed: 32mph (52kph)
Range: Up to 26 miles (42km)
Weight: 17.7lbs (8kg)
Additional Features: Integrated brake lights
The Deck and Trucks: Solid Foundation for a Smooth Ride
Similar to the Tynee Mini 3 Pro, the non-pro Mini 3 uses a Canadian Maple deck with a mild concave. This design is widely used on electric shortboards for a reason; it helps with board control, is quite comfortable, and helps to secure footing while riding.
As we complained in our Tynee Mini 3 Pro review, we had wished that Tynee went a little bit more aggressive with the concave, as we still find ourselves needing to look down and check our footing when riding fast. A steeper concave like the one on the Boosted Mini or the Meepo Mini would help us feel more secure here.
The Tynee PE reversed kingpin trucks are Tynee's proprietary trucks based on Paris V3 trucks. We have ridden them on other Tynee boards and know they are pretty good.
The Wheels: standard 90mm PU wheels.
The standard 90mm PU wheels the Tynee Mini 3 comes with serve well for smooth city roads. Unsurprisingly, riding this hub-driven shortboard on rough roads are terrible. The vibration killed our knees.
The $100 upgrade to 105mm Cloudwheels is a must for those who frequently ride on poor roads, but I doubt its going to help too much. Just get a belt-driven longboard instead if that describes your daily route.
ESC and Motors – Bottle-necked.
Under the hood, the Tynee Mini 3 was powered by a 13s Hobbywing ESC and dual 700W hub motors. Hobbywing ESC comes with the smart turn-on (board automatically powered on upon switching on the remote) and four-speed modes. Compared to the Mini 3 Pro, the non-Pro Mini 3 requires smartphone apps for advanced customization of control settings (Speed, acceleration, top speed, etc.); while for the Mini 3 Pro, you can change the settings straight from the remote.
As for the 2 x 700W hub motors, they obviously did not match the power of the Mini 3 Pro's 2x 2775W belt motors. A 13s system promised a lot of power, but the 700W motors obviously put caps on the power. Despite having an over-the-top 13s system, Tynee Mini 3 is merely 'strong.' But hey, there isn't any real need for a shortboard to have crazy power, and the Tynee Mini 3 is strong enough that it can bring a heavy rider up any steep hills.
The top speed clocks in at 32mph or 52 kph, although we've only had the nerve to hit 28mph(45 kph).
The Battery: Disappointed.
Powering the Tynee Mini 3 is the high-performing Molicel P42A battery, configured as 13S2P. This 393.12Wh, 54.6V battery offers an advertised range of up to 26 miles (42km). However, our range test with a heavier rider (220lbs, 100kg) going at top speed only yielded a range of about 12.5 miles (20km).
This goes to show that rider weight and riding style heavily impact the range you get. A lighter rider or a slower riding style should get a lot more range from this 393.12WH battery. (393.12WH is a pretty good size for a $699 board)
Additional Features: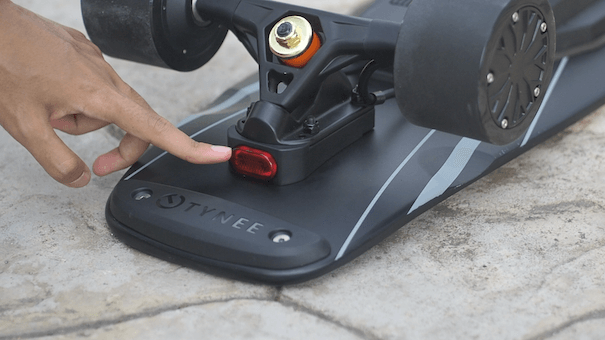 The Tynee Mini 3 comes with integrated brake lights that light up when the throttle is dialed back. They can also be manually switched on via the remote control.
Having integrated light is always nice. (Unlike aftermarket solutions, such as shredlights, you don't have to charge them separately.)
Riding Experience of the Tynee Mini 3: 
Tynee Mini 3 is an easy board to ride. 
It's doesn't have the exhilarating acceleration of the Mini 3 Pro, but it still took off fast, and it accelerated in perfect smoothness just like any Hobbywing ESC would. The brakes are strong and smooth, too, something that some 10s Hobbywing ESC may lack but 13s Hobbywing ESC wouldn't.
As a shortboard, the Tynee Mini 3 is considered as stable as the 7" trucks balance stability and ease of turning well. As I mentioned, the board only starts to feel sketchy for us at around 28mph(45kph), which, IMO is wayyy faster than one should go on a shortboard. The kicktail is user-friendly too. Some shortboards we reviewed were prone to accidental wheelies during acceleration, while others have a kicktail so short that it feels more decorative than useful. Tynee Mini 3 doesn't have that problem; its kicktail is easy to use and doesn't cause accidental wheelie.
The Verdict: Low-key, a great board.
To wrap it up, while the Tynee Mini 3 hasn't really broken new ground or wowed us with any groundbreaking features, it's a solid board. It's well-built, comes with good power, a decent range, and provides a pleasant ride.
It might live in the shadow of the much more exciting Mini 3 Pro, but it's still a fantastic option for anyone in the market for a competent, well-rounded electric shortboard for zipping around town.
If you are interested in buying the Tynee be sure to check out our affiliate discount link here and use code: "ESKATEHQ" to receive $5 off during checkout.
It will help you get a small monetary discount and help us out too. On top of that, you'll be tagged as an Electric Skateboard HQ customer and probably be treated better. Cheers!