1 July 2023 – Today, Wowgo launched the Wowgo 3E, a $499 belt-driven electric longboard. It's rare to see a belt-driven electric longboard launched at a price below $500. All the talks about inflation, yet quality electric skateboards just keep getting cheaper! Good for us!
The Wowgo 3E is the direct successor to the super-popular Wowgo 3X. It sticks to the same winning formula – a flexible deck, smooth Hobbywing ESC, and a dual belt-drive. I'm guessing the "E" in 3E stands for "Economic", seeing as the Wowgo 3X was launched at around $749 (before receiving a price cut every year after launch). The Wowgo 3E is also a budget-friendly alternative to the mid-range Wowgo Pioneer X4, currently priced at $699.
Specification for the Wowgo 3E:
Model: WowGo 3E
Price: $499 (90mm), $579 (105mm wheels), $599(2 in 1)
Top Speed: 28mph (45kph)
Range: 13miles (21km)
Battery: 12S2P 43.2V 5.0AH 216WH Li-ion
ESC: 12S Hobbywing ESC
Motor Power: 2*650W Belt motors (5055)
Deck: Canadian maple + bamboo + fiberglass
Remote: OLED remote
Trucks: WowGo Truck
Charging Time: 2.5h
Net Weight: 16.5lbs (7.5kg)
Size: 97cm x 22.5cm x 13.5cm
Wheels: 90mm / 105mm ($579)
Bushings: 90A
These are strong specifications for a sub-$500 entry-level electric skateboard featuring a 12s2p 216wh battery and 28mph top speed. (Typically, one might expect 10s2p, 26mph & hub motors for entry-level electric skateboards).
Flexible Deck & Return of the Handle Cut Out
The Wowgo 3E uses Canadian maple + bamboo + fiberglass with a nice concave. A flexible deck will maximize carving smoothness and make rough roads much more tolerable.
The Wowgo 3E also opted to include the handle cutout on the board. This is always a question of look vs utility. We always find having a handle cut out super useful when carrying the board, but it does make the board looks cheap. If you're a practical person, you'll love it. The board is very light at 16.5 lbs (7.5kg), and with the handle cutout, it's really easy to carry the Wowgo 3E when you need to.
12s Hobbywing – Perfect Speed Control
For those who don't know, the 12s Hobbywing ESC is basically the gold standard for speed control in the electric skateboard world. It delivers great power in acceleration and braking while keeping perfect smoothness. It's intuitive to control and loved by beginners and veterans alike. It also comes with a smart power-on feature, meaning the board powers up by itself when you switch on the remote.
Battery – Power, Probably Not Range
The 12s system is the new industry standard right now, and the Wowgo 3E keeps up with it. The 12s2p 5AH battery at 216WH is nothing special but is reasonable for a $499 board. The advertised range of 13mi (21km) is likely to be on the conservative side, it should be able to hit that considering the battery size.
Motors – 650W Dual-Belt Motors (5055)
The big selling point for the Wowgo 3E is certainly the belt motors. They're not super-duper-powerful or anything, but just the fact that it's using a belt system instead of running on hub motors is the key here.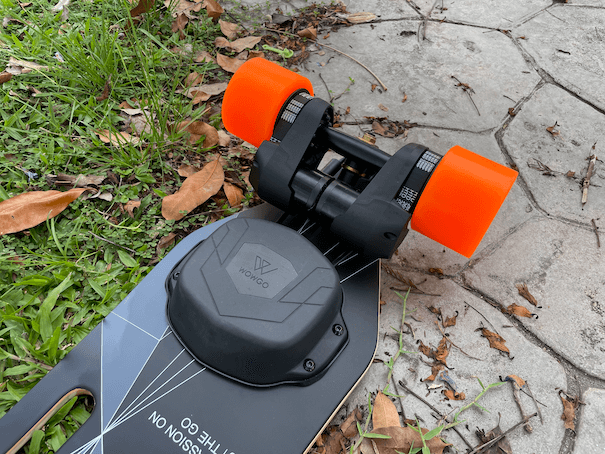 For those new to the scene, belt-driven electric skateboards are usually more expensive and hence typically pricier. Most of the belt-driven electric skateboards that are priced below $500 are either older models being phased out or they're poorly made or underpowered boards by lesser-known brands.
Belt-driven boards are a favorite for many since they usually have more torque than their hub counterparts, and they offer a smoother ride compared to hub motors. (The PU sleeves on the hub motors are thin, and the hub motors are stiff; both of these add to more road vibration and a rougher ride.)
Trucks – Wowgo's Proprietary Trucks
We'd be shocked if the $499 Wowgo 3E used branded Paris trucks like the Wowgo 3X did, but it didn't. The Wowgo 3E uses Wowgo's own trucks. Luckily, we know these trucks well, as we've tried them on several Wowgos before. They're pretty good trucks, stable, and easy to turn.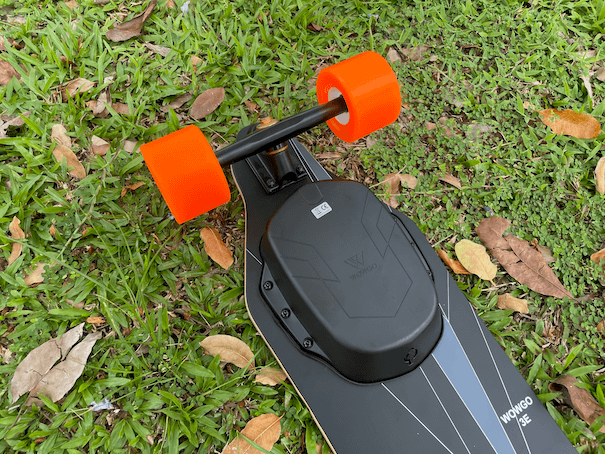 Wheels – 90mm and 105mm
The base version of the Wowgo 3E comes with 90mm wheels, but there's a 105mm wheels option selling for $579. These 105mm wheels aren't Cloudwheels, they're PU wheels.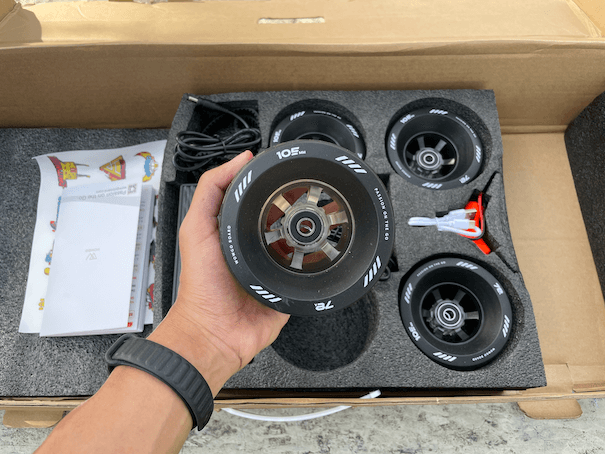 This is the first time we're getting our hands on these, and we'll be testing how well they perform in our full review. Considering a flexible deck and dual belt-drive are the best setups to handle road vibration, going for the 105mm option would make the Wowgo 3E one of the best street setups for minimizing road vibrations.
Summary of the Wowgo 3E
Just looking at it, the Wowgo 3E seems like the perfect board for anyone on a budget.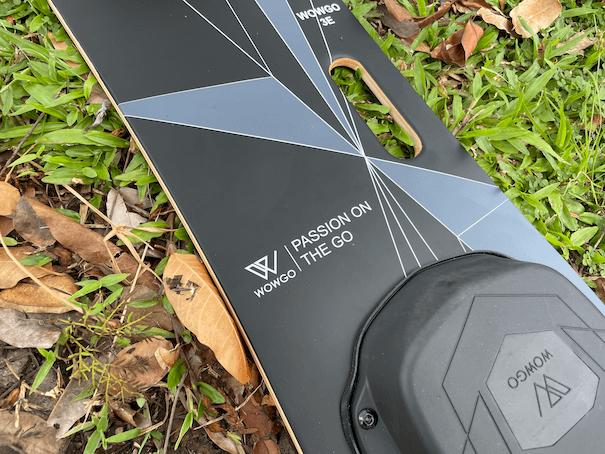 It's the most affordable belt-driven electric longboard you can find on the market right now, and it's well put together by a reputable brand. If you're after a belt-driven board for that silky smooth ride and don't need a board with extra range, the Wowgo 3E is looking like the best electric skateboard you can snag for under $500.
If you are interested in buying the Wowgo be sure to check out our affiliate discount link here and use code: "ESKATEHQ" to receive $5 off during checkout.
It will help you get a small monetary discount and help us out too. On top of that, you'll be tagged as an Electric Skateboard HQ customer and probably be treated better. Cheers!