Today, we're diving deep into the $699 Meepo NLS 3, AKA Meepo Envy. It's the successor to the popular Meepo NLS and NLS Pro, which were famous for being the strongest hub-driven electric longboards at their launch.
As a mid-range electric skateboard ($500-$900), the Meepo NLS 3 was designed for those who want something better than the entry-level boards (e.g., Meepo V3s) but are not quite ready to spend the big bucks on the flagship (e.g., the super powerful Meepo Voyager X $999). Meepo NLS and NLS Pro fit the bill quite nicely; their over-the-top power and fun & flexible deck make them quite popular back in their days. However, as you're about to see, the NLS 3 is very different from the previous NLS models. For starters, it is now using belt drive rather than hub motors!
Specifications of the Meepo NLS 3
Price: $699
Deck: Bamboo and fiberglass. Very flexible with a good concave.
Trucks: 8" 50° Reverse Kingpin (RKP)
Wheels: 90mm wheels with a 65mm contact patch, 78A durometer​
ESC: 12s Hobbywing ESC
Motors: Dual 2519W belt-drive motors​
Battery: 12S2P, Molicel P42A, 362.8 Wh, 8.4AH
Top Speed: 32mph (52kph​)
Range: 24 miles(38 km​)
Weight: 21.4 lbs/(9.7 kg)
Aesthetics and First Impressions of the Meepo NLS 3
And it was all yell… green. I don't know about you, but I'm not a big fan of the palm tree graphic on the grip tape, and neither am I a fan of the green color. The only part I am a fan of is the green color base plate, I think it makes the trucks look more interesting.
However, despite my ire about the color scheme, the built quality of the NLS 3 is nonetheless great. We also like that it includes built-in bash guards on the nose and tail of the deck, this is a nice touch.
The NLS deck – Flexible Bamboo Deck with nice concave.
The Meepo NLS 3 Electric Skateboard uses a similar deck to the NLS Pro, which is great news since its predecessor had a fantastic deck. The deck is a combination of bamboo and fiberglass and is really flexible. It also has a good amount of concave, which makes it easier to control the board and gauge where our feet are.
Trucks and Wheels
The Meepo NLS 3 rides on 8″ 50° Reverse Kingpin Trucks. The stock bushings are 96A double barrels, good for lighter riders. Most of us in Electric Skateboard HQ weigh around 155 lbs (65kg), and the stock bushing works just nicely for us. Heavier riders or those who prefer a more rigid setup can opt for the extra set of 100A bushings included in the box. The trucks are incredibly stable at high speeds and offer responsive carving.
The board features 90mm polyurethane wheels with a 65mm contact area and a soft 78A durometer.
ESC and Remote – Mum, look! It's Hobbywing!
What surprised us was Meepo's decision to use a 12S Hobbywing ESC on the NLS 3, departing from their controversial habit of sticking to LingYi ESC in their entire lineup.
This tells us that the NLS 3 is prioritizing a buttery smooth ride over aggressive power. For those who don't know, LingYi ESC is known to give a punchy and untamed acceleration at its highest speed mode; while Hobbywing ESC is known for its perfectly intuitively smooth speed control throughout all its speed modes. Both have their fans; most of us here prefer Hobbywing ESC (we are not adrenaline junkies :P).
This ESC comes with four-speed modes and a smart turn-on feature and pairs with Meepo's M5S remote. This remote houses an OLED display, providing essential stats such as battery levels, current speed, odometer, and trip length.
Motors and Performance
The Meepo NLS 3 is powered by dual 2519W belt-drive motors, promising a thrilling top speed of 32mph / 52kph. The motors also provide a pleasant whizzing sound during rides, which is far more appealing than the harsh screech often associated with lower-quality boards.
The hill-climbing ability is specified at 26%, making it suitable for heavier riders or those living in hilly areas.
Battery – 12s2p Molicel P42A
The NLS 3 is powered by a Molicel P42A in a 12s2p setup, providing 362.8 Wh of energy. The company advertises a range of 24 miles (38 km), but we get a slightly lower range of 16.5 miles (26.5 km) with a 155lbs (70 kg) rider riding fast.
Obviously, we are slightly disappointed, but this result is not unexpected. Boards with big belt motors tend to drain batteries fast, for instance, we get the same range on our Tynee Mini 3 Pro too, and that board has a higher 393WH battery.
Read our review of the Tynee Mini 3 Pro here!
For context, the 12s2p setup with 21700 cells is quite standard for mid-range electric skateboards at present. If you're looking for more range, Meepo essentially nudges you towards their $999 Voyager X with its 12s3p 544Wh battery.
While the battery size of NLS 3 didn't particularly exceed our expectations, the inclusion of a 4.5A fast charger right out of the box is great news. It allows you to charge your board fully in just two hours, which is a significant convenience. Most other brands would charge extra for such a fast charger, often over $80.
Furthermore, the ESC and battery are well-protected. Both are housed in their own sealed enclosures, making the NLS 3 fairly water-resistant, although there is no official waterproof rating.
The Motor – From Hubs to Belts
The most substantial shift from the previous NLS models is the motor type. The NLS 3 uses a belt motor system as opposed to the hub motors used in its predecessors.
These are a pair of powerful motors, each with a power rating of 2519 Watts.
Meepo loves to pack over the top top speed for their boards, and as expected, the NLS 3 can reach an impressive top speed of 32 mph (or 52 kph). We manage to hit that in our testing.
For those who don't know the difference between hub and belt: the belt-drive system gives the board more torque [thanks to gear reduction] and also a smoother ride [thanks to having four real PU wheels as opposed to 2 stiff hub backwheels]. However, belt drives are also less energy efficient, are noisier, cost more, and have more maintenance needed, such as belt change. If you care about the ride feels, you'd want a belt-driven board.
Truck and Wheels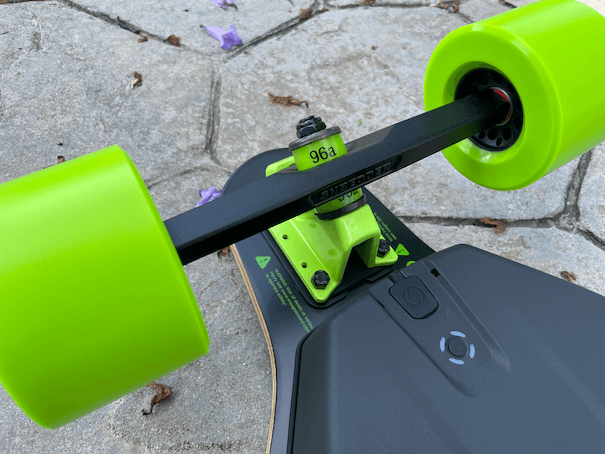 Meepo uses their trusted Shredder truck, which are 8" 50° RKP trucks with 96A double barrel bushings and includes an additional set of 100A bushings for heavier riders. 
The wheels are 90mm and 78A with a 65mm contact patch.
Meepo NLS 3 Ride Experience – Smooth and Powerful
The shift to Hobbywing ESC signals that Meepo wants the NLS 3 to be as smooth of a ride as it could be. After all, smooth speed control + flexible deck + responsive truck + belt drives are all ingredients for a butter smooth ride and also maximum carving fun.
And the result does not disappoint! 12s Hobbywing ESC gives the NLS 3 a perfectly intuitive and smooth acceleration and braking. It is quite powerful too! Not to the level of power specialists such as Voyager X or Backfire Zealot X, but certainly on par with pricier boards such as the Zealot S2, and certainly more powerful than the board of the same price tier such as the Wowgo Pioneer X4 and the Exway Flex ER Riot.
Read our review of the Meepo Voyager X here!
Or read our review of the Backfire Zealot X here!
The deck of the NLS 3 especially stands out, it is quite flexible, and the more pronounced concave makes the board more responsive to control. The concave also makes it easy for us to gauge where our feet are.
The trucks are responsive and easy to turn; they feel a little bit tighter than genuine Paris Trucks. It's stable enough for us to ride up to 30mph before it becomes scary.
To no one surprise, the NLS 3 does well in reducing road vibration, too, thanks to having a flexible deck and going with a belt system.
Verdict on the Meepo NLS 3
The Meepo NLS 3 is a well-rounded and reliable electric skateboard that is well-constructed, offers excellent speed control thanks to Hobbywing ESC, and a smooth ride, thanks to its super nice deck. It also has more power and speed than its similarly priced competitors.
I think Meepo NLS 3 biggest weakness is lacking any "wow" factors such as ride profile customizations, integrated lights, or mobile apps. It also didn't overdeliver on battery size and range as some smaller budget brands might do. Also, I'm not a fan of the palm tree theme and the color green.
With all that said, if you're looking for a well-rounded board with great power and a super comfortable ride, the Meepo NLS 3 is a perfectly good choice. Plus, you know you're not paying for extra features that you won't use.
If you are interested in buying the Meepo be sure to check out our affiliate discount link here and use code: "ESKATEHQ" to receive $5 off during checkout.
It will help you get a small monetary discount and help us out too. On top of that, you'll be tagged as an Electric Skateboard HQ customer and probably be treated better. Cheers!