Acedeck is a brand new electric skateboard founded in 2022, and they're not playing around. It entered the market with an all-terrain beast with top-tier specs and looks ready to go head-to-head with the likes of Meepo Hurricane, Exway Atlas, and Ownboard Zeus. It's pretty funny to us that Acedeck even went along with the Greek God naming trend and named its board after the Greek God of War (not Kratos) – Ares X1.
In this review, we're going to take a look at the $2049 Acedeck Ares X1 4WD version. Before we challenge the board with real-world scenarios, let's run through the build and specs real quick!
Acedeck Ares X1 Build and Specs
Deck: Carbon fiber, wide concave
Electronic Speed Controller: 12s customized Hobbywing ESC
Batteries: 14s4p 870wh 16.8 AH Molicel
Marketed Range: 22 miles (35 km) in 4WD; 40 miles (65km) in 2WD
Motors: 6348 3500w Belt
Marketed Top Speed: 37 mph (60 km/h)
Trucks: 11-inch traditional kingpin
Wheels: 8-inch pneumatic
First thing first, let's talk about the deck. Ares X1 uses a wide concave carbon fiber deck with a beautiful marble finish at the bottom. Carbon fiber decks don't flex and Acedeck worked this out by installing huge 8-inch pneumatic wheels.
These all-terrain-friendly wheels make sure the board can handle rough terrains. The rims of the wheels are CNC aluminum which should help the board remain stable at speeds.
There are two 12s customized Hobbywing ESC for this board, each of them supporting the powerful belt drive motors. The ESCs have a smart turn-on feature with 4-speed modes.
Powering the board is a huge pack of Molicel 14s4p 870wh 16.8 AH battery pack that gives the board a marketed range of 22 miles (35 km) when using 4WD or 40 miles (65 km) when using 2WD.
Another eskate board that uses Molicel batteries is the Tynee Board Explorer. Read its full review here.
Great range, especially for a 4WD
During our test, our 155 lbs rider managed to get 24 miles or 38 km riding the board aggressively. Kudos to Acedeck for keeping it real with the range.
Although the range wasn't mindblowing, we're still pretty satisfied with its stamina considering that it's a powerful 4WD board with power-hungry motors.
Insane Top Speed
Speaking of motors, the Ares X1 is using big 6348 3500w belt-driven motors so that's a total of 14,000w of power which is insane. The board is marketed to go up to 37 mph or 60 km/h but we only have the guts to push it to 31 mph or 50km/h.
Ares X1 reaches 31 mph with ease, so we think the board could probably hit the 37 mph it promised, but to be honest, 31 mph is enough for most of us. On a side note, the board also handles that speed with good stability.
Another board with a 35 mph top speed is the Meepo Hurricane. Check out our review here!
Great Stability with Traditional Kingpin Trucks
The secret to that stability comes from the 11-inch wide CNC'd traditional kingpin trucks. Most all-terrain boards copied the Evolve formula and used double kingpin trucks for their all-terrain board. Double Kingpin trucks allow easier turning for the board and serve fun carving.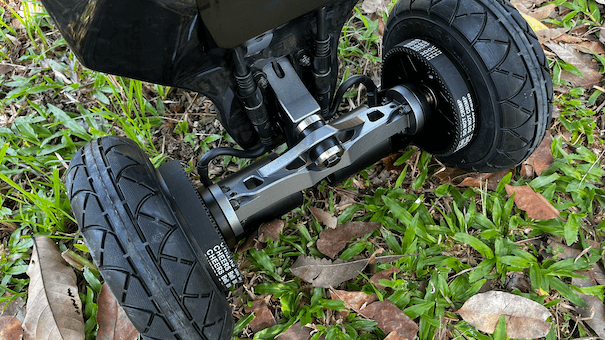 While this is great when you are riding slowly, riding above 30 mph on double kingpin trucks can be dangerous if you don't have the necessary skills. With that said, we totally agree with Acedeck's choice of sacrificing a little bit of carve-y-ness for a lot more stability here.
Acedeck Ares X1 Ride Experience
Now that we have an overview of the specs, let's ride this monster!
As expected, this board has insane power with super punchy and smooth acceleration. You will still need to be careful not to be thrown off the board when you hit that acceleration.
The same goes for braking, the braking is smooth but because it's 4WD, it's insanely strong. So, keep in mind to lean back when you brake hard.
Looking for an AT board that's cheaper than Acedeck Ares, Exway Atlas, and Meepo Hurricane? Check out our Wowgo AT2 Plus Review here.
Power Made for Conquering Mountain Trails
At first, we feel that this kind of power is a waste because it's simply too much for most people to handle. But, we completely changed our mind when we took the Acedeck Ares X1 up on a super steep mountain trail. While boards like Meepo Hurricane struggle with overcoming hills, we managed to just blast through the same steep inclines without breaking a sweat on Ares X1.
And, comparing Ares X1 to the non-pro version of Atlas 4WD, we feel the Ares X1 has double the Atlas power. It makes a lot of sense since the God of War should be more powerful than the Titan that holds up the sky.
4WD also means you have a better grip. This will come in handy when carving or when riding through wet roads as you have less chance of skidding. So, if you don't ride aggressively, you can consider the 2WD version instead and get a much better range with it.
Riding experience on the Ares X1
The wide carbon fiber deck felt pretty comfortable to stand on and does a good job of securing our feet on the board. The traditional kingpin trucks, on the other hand, keep the board's profile more stable rather than carve-y. When we compare the carving experience to the double kingpin trucks on Exway Atlas, we feel that the Ares X1 is less fun to carve. But, when comparing the stability, Ares X1 wins—hands down.
We tried to change into 115 mm rubber wheels just to check if this will boost Ares X1's carving ability. Lo and behold, the Ares X1 instantly became a carving machine. The traditional kingpin trucks carve nicely with a good return to the center.
The combination of 4WD, lower center of gravity, and rubber wheels allows reckless carving without worrying about skidding. We recommend the 115 mm rubber wheels if you don't usually venture off-road and want maximum carving experience with the board.
Off the road, the 8-inch wheels are comfortable enough. It also absorbs most of the road vibrations well. But, when riding on rough rocks, you can still feel the bumpiness of the ride as the board lacks any kind of suspension. Obviously, a bamboo deck would be better in this case but hey, you can't have it all.
Acedeck Ares X1 VERDICT – Best AT Specs for the Price
Now, to summarize:
The Ares X1 4WD is a powerful all-terrain electric skateboard that focuses on having the best specs you can have with your money. However, since Acedeck is a new brand, we do have reservations about the durability and post-sales service.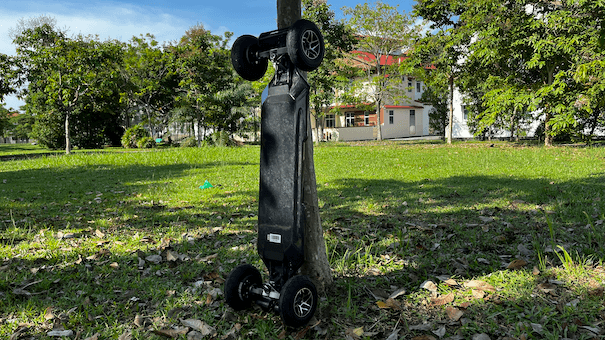 Our review unit, like some prototype boards, did come in with battery and remote issues. Nevertheless, Acedeck was proactive in helping us troubleshoot and fix these issues. So far, words on the street are that the company seems to be doing rather well in after-sales care, but only time can tell if they can keep that up.
With that said, if you don't mind taking the risk to go with a new brand and want a carbon fiber board with insane power, good range, and stability, the Ares X1 should be on your list to consider. After all, it has the performance and the ride quality to justify the price.
If you are interested in buying the Acedeck, be sure to check out our affiliate discount link here and use code: "ESKATEHQ" to receive $40 off during checkout.
It will help you get a small monetary discount and help us out too. On top of that, you'll be tagged as an Electric Skateboard HQ customer and probably be treated better. Cheers!