When Wowgo launched the old AT2 in 2020, we knew right away that it was going to be popular. At $1099, the board wears the Evolve formula very well (Evolve formula: flexible drop deck + 7-inch pneumatic wheels that could be converted into street wheels + Double Kingpin Trucks—a recipe for a really smooth ride).
This year, Wowgo is giving us the AT2 Plus. It's a sequel to the AT2 that came just at the right time. The competition shouts "stiff" with boards like Exway Atlas and Meepo Hurricane. The Wowgo AT2 Plus is definitely meant to challenge Meepo and Exway.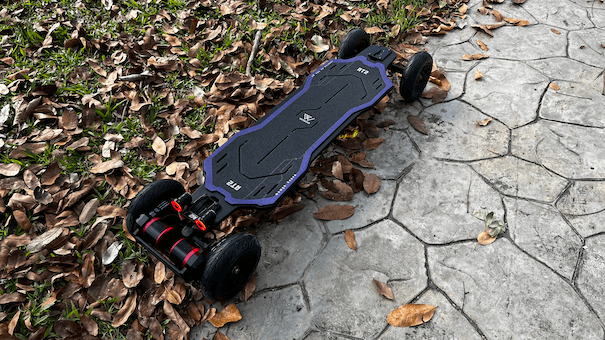 Compared to the Meepo Hurricane and Exway Atlas which are priced at around $1599, Wowgo AT2 Plus is selling at just $1229 for the all-terrain version and $1349 for the 2-in-1 package which includes 120mm Cloudwheels. Pretty cheap in comparison, eh?
So, is being one of the most affordable 2-in-1 boards the only thing the Wowgo AT2 Plus is good for? Or will the board outperform the pricier duo? Let's find out in this Wowgo AT2 Plus review!
Wowgo AT2 Plus Build and Specs
Deck: double drop with subtle wide concave; fiberglass, bamboo, and Canadian maple
Electronic Speed Controller: 12s Hobbywing ESC
Motors: 2100W belt motors
Marketed top speed: 31 mph / 50 kp/h
Batteries: 43.2 V, 14 Ah, 604 Wh, 12S4P configuration
Marketed range: 18 miles or 30 km
Trucks: 12-inch Front and Rear Double Kingpin Truck
Wheels: 2 in 1 (175 mm Pneumatic Wheels + 120 mm CloudWheels)
Wowgo AT2 Plus uses a double drop deck made of fiberglass, bamboo, and Canadian maple. It has a subtle wide concave that doesn't feel significant but has a nice flex to it.
This time around, Wowgo gave the board a fresh grip tape design which we really like. It looks pretty futuristic!
Beneath the deck, we have a flexible enclosure that contains a 12s4p 604 Wh battery pack made out of Panasonic cells. Although it's an upgrade from the previous 10s4p 504Wh pack on the AT2, this battery configuration offers the same modest marketed range of 18 miles or 30 km when using the AT wheels and 27 miles or 45 km on the Cloudwheels configuration.
Our 155 lbs or 70kg test rider put the numbers to the test and got 14 miles or 23 km out of the AT setup. The test ride is pretty aggressive and pushes for top speed multiple times. We believe that with Cloudwheels, you can get up to 25 miles or 40 km of range without a problem.
To read our Wowgo AT2 review, click here.
Upgrades on ESC, motors, wheels, and rear lights?!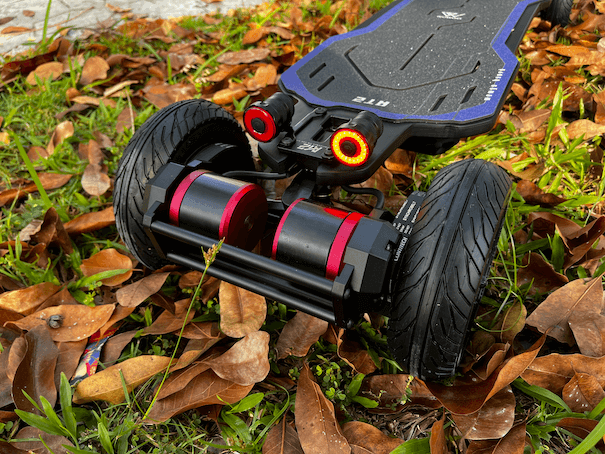 Wowgo didn't stop the upgrades there and improved the electronic speed controller as well. The Wowgo AT2 Plus uses a 12s Hobbywing ESC coming from the 10s Hobbywing ESC on the AT2. The remote remains the same with a smart turn-on feature, and acceleration and braking are still super smooth.
The trucks on Wowgo AT2 Plus use 12-inch Double Kingpin Trucks for easier turning and maneuverability. It comes in 175mm pneumatic wheels by default but you can purchase the 2-in-1 version to get the 120 mm Cloudwheels.
Powering these wheels is a set of 2100W belt motors which are again, an upgrade to the previous 1500W motors on the AT2.
These new motors increase the top speed of the Wowgo AT2 Plus to 31mph or 50km/h after doing some tweaking to the board… We'll share this tweak with you in a bit!
The board weighs around 30 lbs or 13.6 kg and it comes with rear lights which are pretty nice. The automatic on and off feature is an awesome bonus that night riders will surely enjoy.
As you can see, the Wowgo AT2 Plus specs got a little bit of boost, not to mention a nice design update. The board looks well built and polished but how does everything perform on the streets? Well, it's time to ride!
Want to learn more about Cloudwheels for your electric skateboard? Click here.
Wowgo AT2 Plus Ride Experience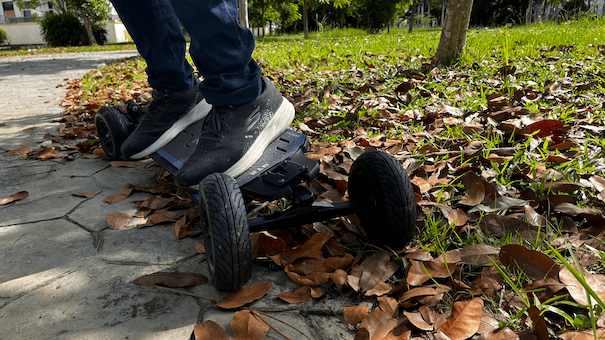 Hopping onto the board, we can instantly tell that Wowgo is going for a buttery smooth setup. The acceleration is the smoothest that we've tried on any eskate. You can fully hit the throttle without getting thrown off the board.
Braking is also very smooth and safe for beginners. You can engage full braking without falling out of balance. Advanced riders will wish it had more punch to it, though. The braking on Meepo Hurricane and Atlas 4WD is still stronger at stopping very quickly.
When it comes to power, the board is deceptively powerful. It is much stronger than the old Wowgo AT2 and can handle any incline with ease. The acceleration ramps up so smoothly, that you can ride fast with comfort. Make no mistake though, the AT2 Plus still can't compete with the likes of Meepo Hurricane in a drag race but the power is more than enough for riding in the meanest streets.
Interested in Meepo Hurricane, click here to learn more.
Secret tweak for stability at top speed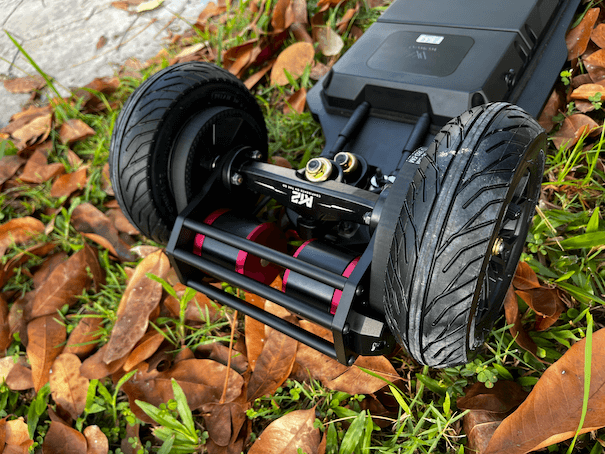 Next, let's talk about maneuvering and as it turns out, it's quite difficult to explain.
You see, the prototype of the AT2 Plus came out to have very loose trucks and soft 90a bushing. This initial setting felt nice to carve around but you really need to be mindful of the limitations. You can unintentionally slide if you aren't careful.
It's easy to turn and carve in this configuration, especially for beginners. This stock setting, after all, makes the Wowgo AT2 one of the smoothest boards amongst all AT boards. However, the trade-off comes in the form of speed wobbles, which will be there even at moderate speed.
Alas, after some deliberation, Wowgo decided to replace the soft 90a bushings with something much harder and ended up with 95a bushings on the front and 97a bushings on the back.
When we tried this new configuration, the strengths and weaknesses flipped. The board is super stable now with no problem pushing up to 31 mph but the board is no longer easy to turn for us.
With all that said, we are 150 lbs Asians. So, if you weigh 180 lbs, this new set-up might just be right for you. Otherwise, you might need to take matters into your own hands and experiment with more bushing yourself. Luckily, changing the bushings is neither difficult nor pricey.
Choose your preferred wheels for a different feel
Now, let's talk about ride comfort. The flexible deck and 175 mm wheels ride smoothly even in harsh road conditions. To put some context, going off-road on the Wowgo AT2 Plus is more comfortable than with the Atlas and Hurricane. The flexible deck acts like a suspension that eases bumpiness from off-road rides.
Swapping to the 120 mm Cloudwheels provides a much different ride feel. Since the board is really low, it almost feels like riding right above the ground thanks to the double-drop deck. This is akin to the feeling of driving a race car, not that we have been in one.
The lower center of gravity helps the board to be insanely stable at high speed. However, be careful when you pass speed bumps as the board will often bottom out and get scratches. Or, you can just get used to it like we do… like our poor Meepo Hurricane…
It's worth noting that you will have to pay an extra $120 for the Cloudwheels, and you should probably go with that option. This is not what we normally recommend, as our personal experience suggested that street wheels don't usually end up getting too much play time in 2-in-1 boards. In the Wowgo AT2 Plus case, however, you might need the street set-up for the range. As our range test shows, the AT2 Plus has a very average range (14 miles, 23 km), and going with a Cloudwheels setup would be the easiest way to extend the range(25 miles or 40 km).
Well, that's about everything, so let's tie it all up.
The VERDICT – one of the best affordable 2-in-1 boards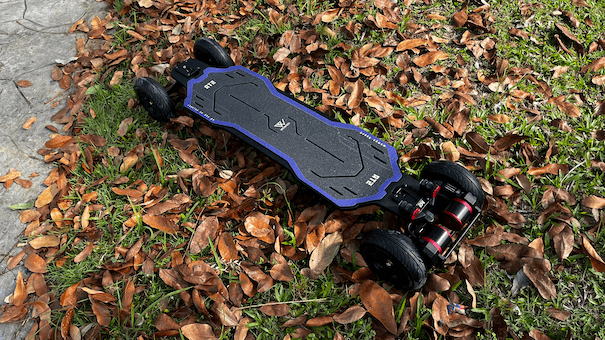 Wowgo AT2 Plus is a pretty board with all the right ingredients. While the balance between stability and easy turning might require some extra tinkering on your part, and the range is merely average, Wowgo AT2 Plus is built well with good power and great ride comfort.
Is it a better performing board over Meepo Hurricane and Exway Atlas?
Of course not, the other two clearly out-specced the Wowgo AT2 Plus.
However, being $300 cheaper is not nothing either, and there's no reason to pay for extra range or power that you won't need. With all things considered, we think Wowgo AT2 Plus is, at the end of the day, one of the best affordable 2-in-1 boards available right now.
If you are interested in buying the Wowgo, be sure to check out our affiliate discount link here and use code: "ESKATEHQ" to receive a small discount during check out.
It will help you get a small monetary discount and help us out too. On top of that, you'll be tagged as an Electric Skateboard HQ customer and probably be treated better. Cheers!