If you've been keeping up with Meepo Board, you're probably aware that they've been dominating the budget electric skateboard market since 2017. Among their boards, the Meepo Mini 2 has been one of the most popular electric shortboards since 2019.
In 2023, Meepo finally unveiled the Meepo Mini 5 – the newest addition to their electric shortboard lineup.
Priced at $469 for the standard version and $599 for the Extended Range version, we're eager to delve into this review and discover what upgrades the 2023 Meepo Mini 5 brings to the table.
Will Meepo still be the top pick for an affordable electric shortboard? Let's find out!
Meepo Mini 5 Build and Specs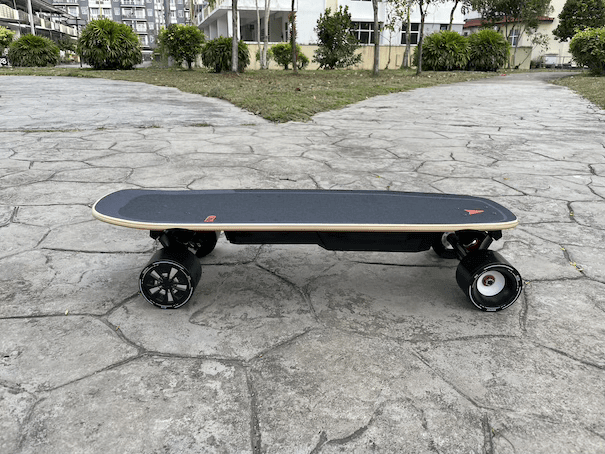 Deck: 8-ply Canadian maple
Electronic Speed Controller: LingYi ESC; 4-speed modes, push-to-start
Batteries: Standard version – 144Wh battery; ER version – 288Wh battery
Marketed Range: Standard version – 11 miles (18 km); ER version – 19.8 miles (32 km)
Motors: 500×2 Hub
Marketed Top Speed: 28 mph (45 kp/h)
Trucks: 5th Gen Shredder 45° Truck
Wheels: 90x60mm, 78A
The specs of the Meepo Mini 5 might be a little familiar to the fans of the brand. Meepo Mini 5 shares the same electronic components as the recent Meepo V5. Both models have the same ESC, battery, motors, and trucks – the only distinction is the deck.
The Meepo Mini 5 deck is crafted from 8-ply Canadian maple and is completely rigid, with no flex. At 30 inches long, it boasts a functional kicktail and a fairly deep concave. This aggressive deep dish-shaped concave popularized by the late Boosted Mini has become the standard for all-electric shortboards. An aggressive concave makes the shortboard even more responsive and fun to ride.
In the design category, the 2023 Meepo boards stick to the same color theme – black and gray. This look creates a simple, tasteful, and polished vibe that we appreciate.
The board weighs 17.9 lbs (8.12 kg), so carrying it around is not too difficult.
Speed control – Punchy 4th Speed Mode
Like the Meepo V5, the Mini 5 is equipped with a LingYi Electronic Speed Controller (ESC). It comes with a push-to-start feature, so the board powers up automatically when you push it forward. The ESC has 4-speed modes and 4 braking modes that can be adjusted independently. Known for its gentle, smooth acceleration in the first three speed modes and punchy 4th mode, the LingYi ESC can cater to its control profile for any rider.
Want to learn more about Meepo V5? Read our verdict here.
Honestly, I think Meepo could have removed the fourth mode from the Mini 5. Only a small percentage of e-skaters would want their shortboard to have such a punch.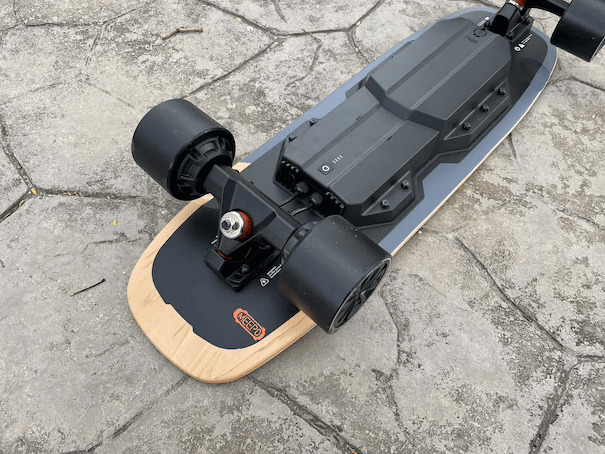 Beginners are advised to stick to the first three speed modes, which offer smoother acceleration.
We have to say that Hobbywing ESC still does provide slightly better smoothness in control compared to this latest version of LingYi ESC. It's a small difference, though. Only eskate reviewers will probably notice it.
Strong Brake
Many, however, prefer the braking profile provided by the LingYi ESC. The brake can be adjusted to the very strong 4th mode that some eskaters refuse to ride without.
As we mentioned in our Meepo V5 review, we're a bit puzzled by the choice of the remote controller. Meepo designed its remote to resemble the generic Hobbywing ESC remote rather than sticking with the default LingYi remote with a screen.
Unfortunately, this remote lacks a screen to display speed and range. If you really want a screen on the remote, you'll have to purchase the Meepo 5s remote ($69) or pair your Mini 5 with another LingYi ESC-compatible remote.
Interested in a longboard instead? Check out our Meepo Voyager X review here.
The Meepo Mini 5 offers two battery options: a standard 4AH 144Wh battery with a claimed range of 11 miles (18km) and an extended range version with a 288Wh battery boasting a range of 19.8 miles (32km).
We received the ER version and yielded 13.5 miles or 22km with our 188 lbs (85 kg) test rider while riding at high speeds. This result meets our expectations. You can expect 10 miles or 16 km of range from the 4AH base version of the Meepo Mini 5 and V5. Obviously, it's possible to get a lot more mileage out of a single charge if you ride slow or go on a diet.
The board is powered by 500W dual hub motors, which are pretty generous for an entry-level electric shortboard. These motors are undoubtedly more powerful than necessary for a shortboard, and they should be capable of tackling steep inclines even for heavier riders.
Fastest Top Speed for a Shortboard
Meepo claims that the motors can reach a maximum speed of 28 mph (45 km/h). During our test, we indeed hit a top speed of 27 mph (44 km/h). This is definitely faster than anyone should go on an electric shortboard.
As for the trucks, Meepo has updated its signature Shredder trucks. These 7-inch trucks, angled at 45 degrees and made by Meepo, are very responsive with a good return to center.
In our Meepo V5 review, we mentioned these trucks come out of the box fairly loose and carve-y. This made the board nimble and easy to navigate through tight spaces – perfect for maneuvering around pedestrians or executing sharp turns.
Of course, there's the kicktail for tight turns, but we understand that not everyone knows how to use a kicktail. That's okay, we won't be judging.
This also means that if you want to ride at high speeds, you should take the extra step of tightening the trucks. The default configuration is too wobbly for that.
Another mini-board champion on our list would be the Tynee Mini 2. Check out our review here.
Meepo Mini 5 utilizes 90mm wheels. The front wheels are of pretty good quality. We heard that they were made by the same wheel manufacturer as the late Boosted.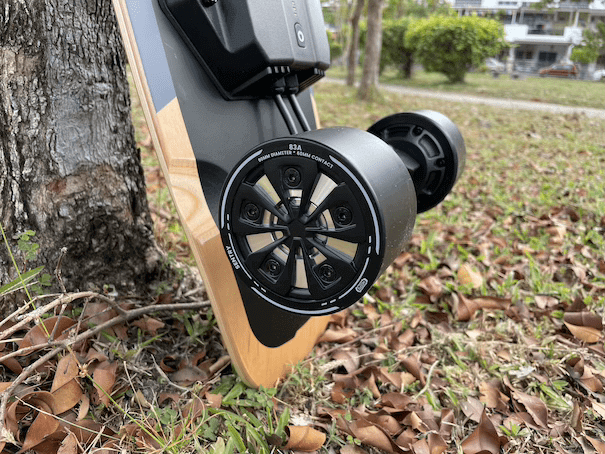 However, the urethane on the hub motors is still quite thin. Road vibrations can be harsh. Keep in mind that the board also lacks flex, so that doesn't help.
This can be torture when riding on rough pavements for an extended period, especially on an electric shortboard with hub motors. So, If that describes your typical route, consider getting the 105mm donut wheels either from Meepo at $89 or Cloudwheels. This upgrade will save you from needing knee replacement surgery in the long run.
Alternatively, you might want to opt out of getting a shortboard with hub motors; anything with flexible deck and belt motors might be a good place to start.
Farewell, Meepo Mini 2
Initially, we thought the Meepo Mini 5 would be the same board as the Mini 2, with a fresh paint job, updated design, higher quality parts, better polish, and waterproofing. After reviewing the board, we realized that they are, in fact, very different shortboards.
I like to say that the Meepo Mini 2 rides like an electric longboard that is short. It is stupidly powerful yet stable, as the truck configuration prioritizes stability over ease of turning. It doesn't make much sense for a shortboard to focus on power and stability, but it was pretty unique compared to other electric shortboards. I was fond of the Meepo Mini 2 for that uniqueness.
Meepo Mini 5 VERDICT – Best Choice for Power and Portability
I'm sad to see the Meepo Mini 2 go, but let's not dwell on the past – here's our verdict on the Mini 5.
For $469, the Meepo Mini 5 checks all the boxes for a solid electric skateboard. It is agile and nimble. It has a decent range, speed control that's easy to get used to, impressive power, and high top speed. All of these combined make the Meepo Mini 5 an easy pick-up for anyone seeking a portable electric skateboard to ride in style.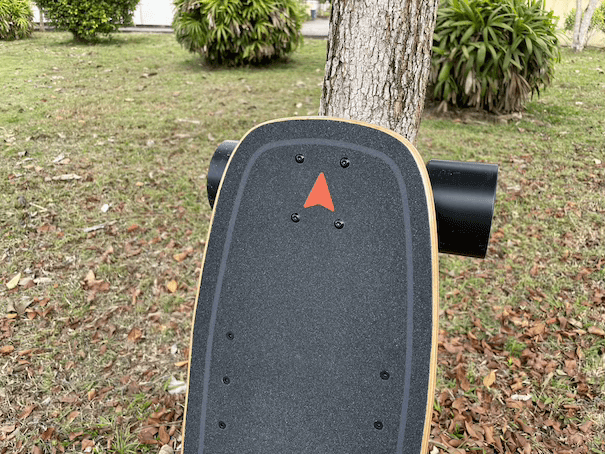 However, don't buy this board if you primarily ride on rough roads or are looking for the fastest shortboard – that's not what the Mini 5 was designed for.
If you are interested in buying the Meepo, be sure to use our affiliate discount link here.
It will help you get a small monetary discount and help us out too. On top of that, you'll be tagged as an Electric Skateboard HQ customer and probably be treated better. Cheers!