Today, we will be reviewing the Propel Pivot S.
On July 2023, Propel, a brand that's gained quite a following for its powerful off-terrain suspension boards and its top-tier post-sales service, is now stepping into the 2-in-1 arena with the Pivot S and the Pivot GT.
There are many boards out there that have adopted the Evolve formula (Double drop deck + DKP trucks + 2 in 1 wheel), but we haven't seen any brand make one at the price that Propel is selling Pivot S for.
Pivot S starts at $799 for the base version and $999 for the 2-in-1 package.
(The 2-in-1 package comes with both the 97mm street wheels and the 155mm wheels.)
Now, a lower price means nothing if Propel skimmed on the specs, but this doesn't seem to be the case here.
Propel Pivot S – Specifications
Price
$799 (Street)
$999 (2 in 1)
Battery
518Wh, 12S3P, Lishen LR2170SA
Controller
55A LingYi ESC
Top Speed
36mph(60kph)
Range
97mm: 26.5miles (44km)
155mm: 54 miles (87km)
Deck
Carbon hybrid BVR Unibody
Motor
2×6374 Motors/ Belt Drive
Net Weight
25.3lbs (11.5KG)
Deck – "BVR Deck"
At first glance, the Pivot S's double-drop deck immediately grabs your attention with its carbon fiber and fiberglass build. It has that sleek, unibody design with no unsightly enclosure sticking out. Propel called this deck BVR "Bad Vibe Reduction" deck and said that by including fiberglass in the deck material, it would dampen road vibrations. Will it work? We shall see.
On the deck, there is the foam tape padding which gives a helping hand in cushioning those road vibrations on this stiff deck.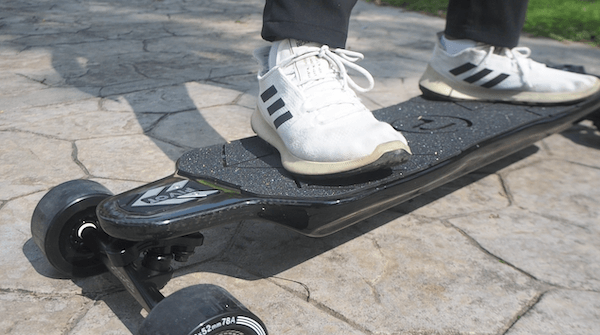 It's around 43 inches long and 10.7 inches wide, broader than most longboard decks. And while it does have a sweet concave, the center of the deck stays pretty flat.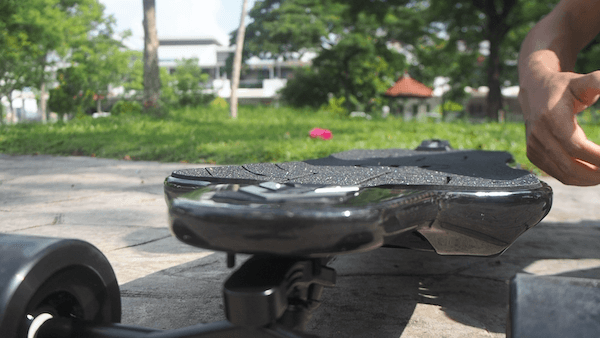 ESC (Electronic Speed Controller) – LingYi ESC:
Flipping the board over, you're met with easy access to the ESC compartment, which can be popped open with five screws. Propel went for the LingYi ESC in this model, and currently, it's paired with the standard LingYi ESC remote.
It's rather jarring that a premium carbon fiber board ended with the most generic and cheap looking remote, but luckily a new remote is on its way to replace this one soon. We've seen the prototype, and it's better. Anyways, this is just a cosmetic issue, as the generic LingYi ESC was functionally perfect, no connectivity issues, durable, good battery life.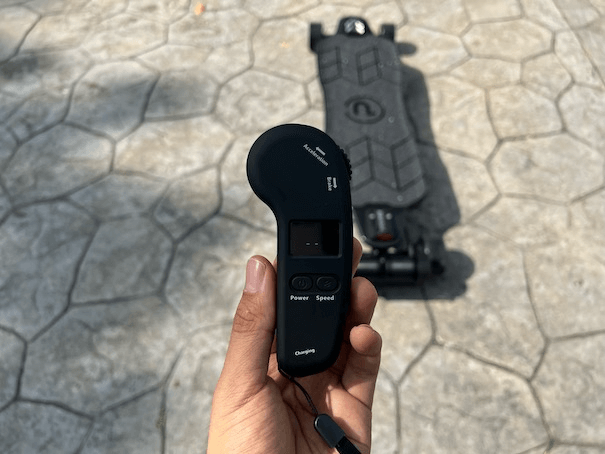 As always, the LingYi ESC comes with 'push to start' features meaning the board fires up as soon as those back wheels start rolling. Like other boards with LingYi ESC, you get to choose amongst 4 acceleration modes and 4 braking modes separately, and we will talk about how they felt later.
Battery – Lishen LR2170SA
The Pivot S draws its power from a 12S3P pack with Lishen LR2170SA, 21700 cells. These cells, like those found in other premium boards such as the Exway Atlas Pro and Evolve Hadean.
This gives the board a healthy 518Wh battery, similar to Exway Atlas, and bigger than Evolve GTR's 504Wh battery.
Propel also went further by adopting a Printed Circuit Board Assembly design with its battery, which eliminates wires. The benefit of the PCBA design is that the battery pack will be more durable, as wire could get dislodged from vibrations.
Range – A healthy 27 miles
The marketing range is 27.3 miles (44km) with 97mm wheels;
and 15.5 miles (25km) with 155mm wheels.
As usual, Propel did not exaggerate the range; our range test with 145lb (65 kg) riders yielded an impressive 14 miles (22km) on the 155mm wheels.
Double-Kingpin Truck – We've seen them around.
The Pivot S, like all 2-in-1 electric skateboards, has a double-kingpin truck. It appears to be one of those off-the-shelf double kingpin trucks that work well and are widely used.
Motors – Definitely Powerful!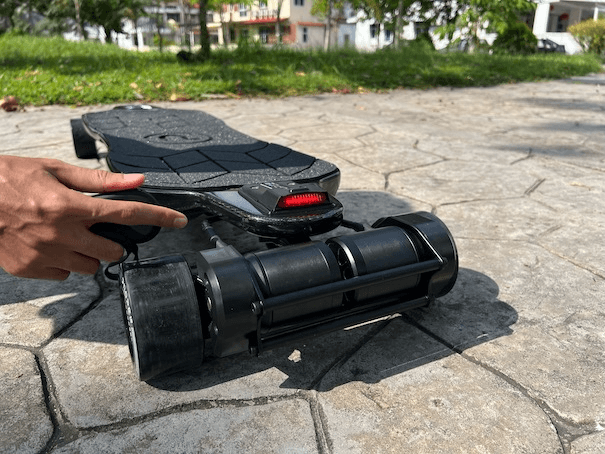 The Propel Pivot S is powered by two 1375W belt motors. These are huge 6374 motors, and they are incredibly powerful. The board's top speed is an impressive 37 mph (60 km/h), though we only got up to 28 mph (45 kph) before it got too scary for us. Keep in mind, at high speeds, double kingpin trucks can get wobbly.
Wheels – 97mm or 155mm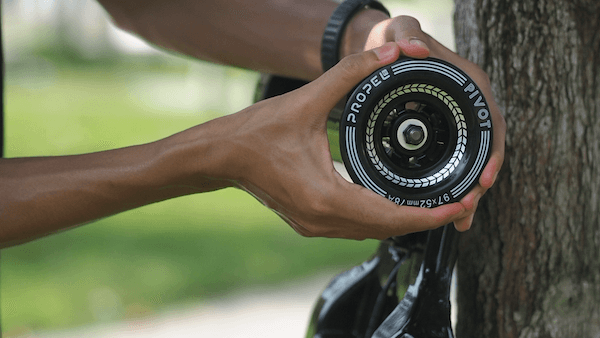 The base version features 97mm PU wheels, while the optional $200 upgrade offers 155mm wheels with a Bravura alloy hub.
Accessories – Lights & Pull bars
Pivot S, like many of Propel's boards, came with integrated brake light, which lights up during brakes. The $999 two-in-one option also comes with a pull bar which you can install.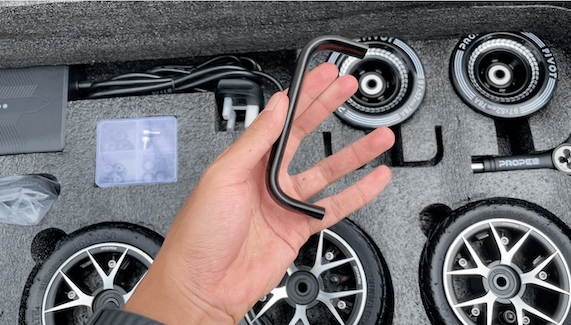 It should be noted that the board may only be pulled when it is in the AT configuration; pulling it in the street configuration will cause the motor to scrape the ground.
You can also buy a headlight kit, which can be integrated into the board, but it's an additional $150 investment.

Spec Summary:
Propel Pivot S (Street) – $799:
A 12s3p carbon fiber board built with high-quality materials from a brand recognized for excellent customer service feels like a value at $799. In reality, there isn't another product that compares. A better match would be the $849 14s2p Backfire Zealot S2 or the $999 12s3p Meepo Voyager X. Both boards are more expensive and, as you will see, provide different riding experiences. They also are not carbon fiber electric skateboards.
Read our review of the Backfire Zealot S2 here.
Read our review of the Meepo Voyager X here.
Propel Pivot S (2-in-1) – $999:
Pivot S as a carbon fiber two-in-one all-terrain electric skateboard, on the other hand, competes directly with the similarly priced Exway Atlas at $999. Both have a 518wh battery, and the devil is in the details when it comes to choosing between the two. So let's next talk about how the board rides.
Riding Experience of the Propel Pivot S:
The Pivot S, like many other electric skateboards debuted this year, is focused on power. When you equip a skateboard built for propelling AT wheels upwards with 97mm urethane wheels, you get a skateboard with plenty of power.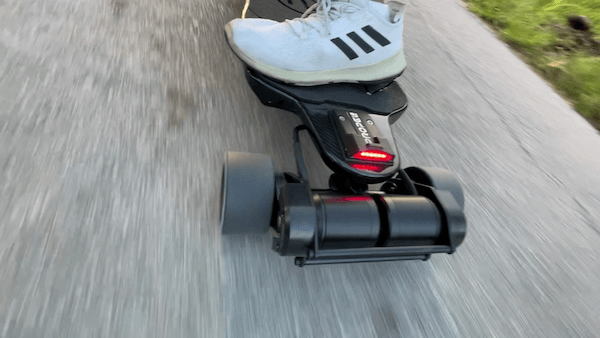 Fortunately, the latest version of LingYi ESC has pretty smooth controls. The first three acceleration modes are, as always, pleasant and easy to use, while the fourth 'PRO mode' feels too powerful for the average street rider.
When the throttle is pushed, it punches strongly. Adrenaline junkies will enjoy it, but most riders won't need to switch to PRO mode unless they're riding in an all-terrain setup.
The stronger brakes are another advantage of the LingYi ESC. On an incline, LingYi ESC can better stop the wheels, whereas Hobbywing ESC usually can't hold the board in place and will roll down the slope. This function will be useful if you plan on doing some uphill longboarding, and the Pivot S certainly offers plenty of power for uphill runs!
Besides the nuances of LingYi ESC, the board rides pretty much as well as one would expect from what we've seen on paper. The double-drop carbon fiber deck reduces ride height, and we always enjoy riding near the ground.
Some reviewers mentioned that the deck may be too wide and too flat in the middle, and it was uncomfortable for them as they couldn't feel the deck concave when riding. We don't share that opinion. The deck is comfortable for us, so I guess this is pretty subjective.
Pivot S's large, stiff deck helps with the board's stability, which is important because the dual kingpin trucks can feel wobbly at high speed.
You might feel more comfortable at high speeds if you're a better rider than us or tighten the trucks further, but I'd recommend against having twin kingpin trucks if your primary goal is to ride quickly. These trucks are undoubtedly great for carving.
BVR "Bad Vibe Reduction" – Still lots of Bad Vibe
Let's talk about the vibration now. Even with Propel's best efforts, even going as far as branding the deck THE "Bad Vibe Reduction" deck, foam grip tape, and those massive 97mm wheels, stiff decks feel terrible on uneven roads. We can hear rattling noises and feel road vibrations in our knees. This is just part of the bargain when getting a carbon fiber street setup, so be prepared.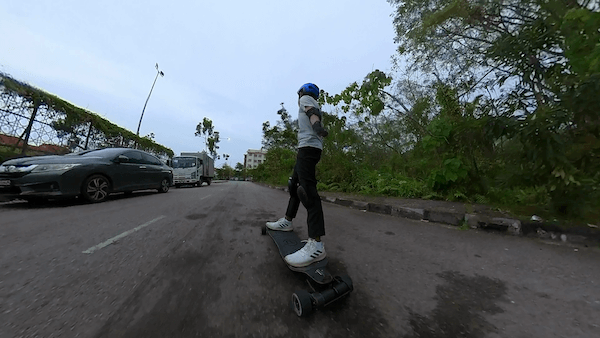 However, switching to the 155mm all-terrain wheels makes a huge difference. They absorb a lot of road vibrations while maintaining a low-to-the-ground ride experience. It's quite nice. We'd go so far as to suggest that the AT setup is a must-have for anyone who rides on unpaved roads regularly.
Propel Pivot S versus Exway Atlas:
As previously said, the Propel Pivot S with 155mm wheels will almost certainly be compared to the Exway Atlas. In their all-terrain configuration, both boards will set you back $999.
In comparison, the Exway Atlas has a smoother ride thanks to its Hobbywing ESC and precision CNC-forged axles. It also appears more sophisticated, thanks to its style and abundance of add-on accessories. However, the Propel Pivot S has greater power, while the Exway Atlas has a reputation for being an underpowered all-terrain board. Propel also appears to offer stronger post-sale service at the moment.
Propel Pivot S Verdict:
Once again, Propel didn't disappoint with the Propel Pivot S. It is a powerful board built well by a reliable brand. For $999, the 2-in-1 package is a pretty good deal for anyone looking for something similar (and better) to the Evolve Carbon GTR.
When it comes to value proposition, the 97mm street set-up of the Pivot S is even better.
Unlike the 2 in 1 setup, which has competition, the street setup Pivot S is virtually unparalleled at $799. There is no other board that comes close to matching the value offered by the Pivot S. If you want a carbon fiber board with double kingpin trucks, Propel Pivot S should be the first choice for anyone shopping in this price range.
If you are interested in buying a Propel, be sure to check out our affiliate discount link here and use code: "ESKATEHQ" to receive 3% off during checkout.
It will help you get a small monetary discount and help us out too. On top of that, you'll be tagged as an Electric Skateboard HQ customer and probably be treated better. Cheers!