8 August 2023 – Today, Wowgo has officially unveiled a new electric shortboard, the Wowgo Mini 2s. At first glance, the Wowgo Mini 2s appears to be an updated and improved version of the 2022 Wowgo Mini 2. However, given that Wowgo is still selling the Wowgo Mini 2 at $469, there must be significant improvements that justify the Wowgo Mini 2s's higher price point, right?
Click here to read our review of the 2022 Wowgo Mini 2
Wowgo Mini 2s – Specifications
Deck Material: Canadian maple, U-shaped concave with kick tail
Dimensions: 75cm x 28.1cm x 15.5cm
Wheel Size:

90 mm ($699)
105mm Cloudwheels ( $799)

Battery: Powered by a Samsung 30Q, 12S2P 260Wh
Charging Time: 3 Hours
Motors: 2 x 700W Belt-motors (2.7 drive ratio)
Top speeds: 28mph (45kph)
Range: 18.6 miles (30km)
Weight: 7.7kg (17lbs)
Motor – Going Belt-drive
The most significant upgrade from the Mini 2 to the Mini 2s is undoubtedly the belt-drive. The Wowgo Mini 2 uses two 680W hub motors, whereas the Mini 2s features two 700W belt motors. These are the same size as those in the Wowgo Pioneer X4!
Click here to read our review of the Wowgo Pioneer X4.
Opting for a belt drive positions the Wowgo Mini 2s among the most powerful electric shortboards on the market. The thrill of pushing the throttle and rocketing off the starting line is always exciting, and we sure do look forward to testing that out.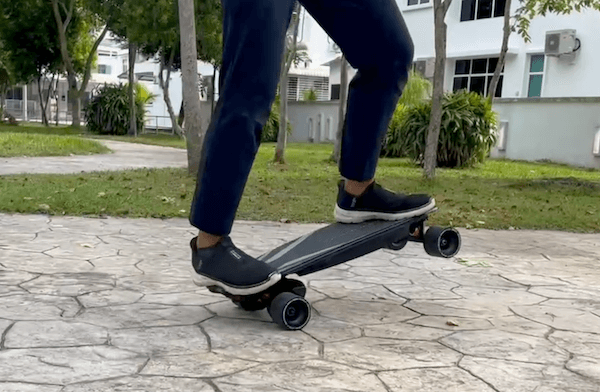 With the more powerful motor, the Wowgo Mini 2s has joined the ranks of "shortboards with ridiculous top speeds". 28mph (45kph) is faster than most riders needs, but there are plenty of daredevils who love the adrenaline rush (not us).
Power is fun, but the main advantage of the belt drive is the improved ride feel. The original Wowgo Mini 2 was already top-tier in power. Large hub motors are effective, but they tend to transfer road vibrations too 'efficiently'.
For those unfamiliar: Belt motors enable the board to sport four actual PU wheels (or Cloudwheels) rather than two stiff hub motors with a thin PU sleeve. As a result, belt-driven electric skateboards provide a smoother ride with fewer road vibrations.
Battery – 12s2p with Samsung 30Q cells
While 12s2p at 260wh is standard for boards in this price range, it's slightly larger than the 187wh pack in the Mini 2. Also, Samsung 30Q cells are great cells for electric skateboards.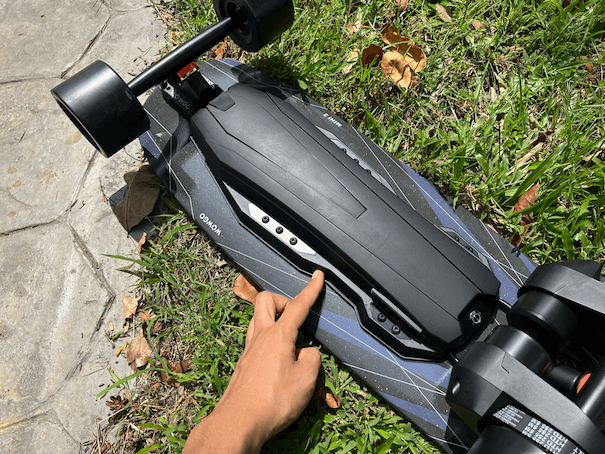 The advertised range is 18.6 miles (30km), that's an alright range, and as always, we'll verify this in our full review.
Electronic Speed Control – 12s Hobbywing ESC with Tuya apps
Unsurprisingly, the Wowgo Mini 2s uses a 12s Hobbywing ESC.
For those who are new here: Hobbywing ESC provides smooth and intuitive speed control. Braking and acceleration are straightforward and easy to adapt to. Hobbywing ESC also features a smart turn-on function, meaning the board turns on automatically when the remote is activated.
A recent update for the 12s Hobbywing ESC includes support for a smartphone app. Users can download the Tuya app and adjust the speed profile or choose from the four default speed modes.
Deck and Trucks – Similar to the Wowgo Mini 2
The Wowgo Mini 2s uses the same deck and trucks as the Wowgo Mini 2. We already know they ride well:
The deck has a U-shaped concave for responsive control. The kicktail is easy to use, and we like that it came with a tail guard installed.
The trucks are Wowgo's 45-degree trucks with double barrel bushings. They strike a balance between turning ease and stability.
Tl;dr – Wowgo Mini 2s First Impressions
The $699 Wowgo Mini 2s is an upgraded version of the $469 Wowgo Mini 2.
The new Mini 2s is an electric shortboard with powerful 700W dual belt motors and a 12s2p 260wh battery featuring Samsung 30Q cells. Given the refined ride of the Wowgo Mini 2 (non-S), the motor upgrade means the new Wowgo Mini 2s offers even more power and torque. Plus, leaving behind stiff hubs for a belt drive means a much smoother ride.
If you are interested in buying the Wowgo, be sure to check out our affiliate discount link here and use code: "ESKATEHQ" to receive $15 off during checkout.
It will help you get a small monetary discount and help us out too. On top of that, you'll be tagged as an Electric Skateboard HQ customer and probably be treated better. Cheers!