Backfire, one of the most reputable electric skateboard brands, had been struggling to stand out in the entry-level eskate market for a few years now. The Backfire G2 Black, though competent, was overshadowed by the likes of Wowgo 2s Max and Meepo V4s in both ride experience and performance.
So, at the end of 2022, Backfire tried again and released the Backfire Era 2—a $399 entry-level eskate that plays a different game. Instead of trying to compete in power and range, Era 2 was designed to focus on portability, making it a better fit for the urban commute or as a last-mile option.
Backfire Era 2 Build and Specs
Deck: Premium Canadian Maple and Fiberglass
Electronic Speed Controller: 10s Hobbywing ESC
Battery: 42V 180Wh Li-Polymer Battery
Marketed Range: 9 miles / 15 km
Motors: Dual 400W In-Hub Motors
Marketed Top Speed: 23 mph / 38 km/h
Trucks: 50° 8-inch Backfire Proprietary Trucks
Wheels: 90 mm Urethane Wheels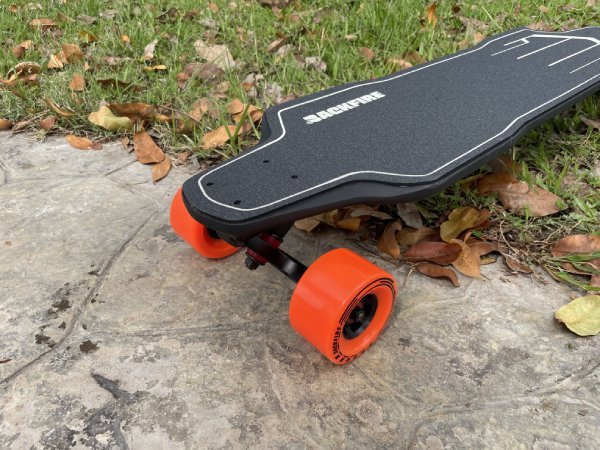 As usual, let's start with the build and specs. The highlight of the board is undoubtedly the slim and thin build. The deck looks high quality with a stealthy design. It really looks good and going without an electronic enclosure at the bottom of the deck allows maximum ground clearance.
However, this design also comes with a tradeoff which is a very stiff deck. In fact, the 38" maple and fiberglass deck has zero flex in it which impacts the ride experience. Let's talk about that later!
Lighter Than a Shortboard
On another note, the Backfire Era 2 deck does have a mild concave which secures your feet in place. We also noticed that instead of the usual 9.5-inch width, Backfire slimmed down the deck to make it 8.85 inches wide, further reducing its footprint.
Thanks partly to that, the board is very lightweight at 16 lbs or 7.25kg. This is even lighter compared to some shortboards like the Tynee Mini 2.
Interested to learn more about Tynee Mini 2? Check out our review here.
Inside the deck is a 5.0ah, 180 wh LiPo battery pack that's hidden underneath the grip tape. This provides the board with a moderate range claim of 9 miles or 15km. During our test, our 150 lbs rider managed to get 7 miles or 12 km when riding fast. This is nowhere impressive and is considered low range on today's standard but hey, let's not forget that this is a $399 board with a sleek design.
Better With 10s Hobbywing ESC
As for the ESC, Backfire Era 2 uses a 10s Hobbywing ESC with a smart turn-on feature which we really appreciate. Perhaps, Backfire decided to go for 10s ESC and battery to save some cost since the motor they went with wasn't going to be able to capitalize on the 12s system anyways. The remote offers only 2-speed modes which are ECO and SPEED. It also comes with one turbo mode.
Speaking of motors, Backfire ERA 2 uses dual 400w hub motors which are good enough for daily rides but don't scream power. Even the 'turbo mode', is honestly just a fancy name for 4th and highest-speed mode. Overall, the power is just modest.
Want to explore other eskates under $500? We got you! Check out our list here.
During our top speed test, we managed to hit exactly what Backfire advertised, which is 23 mph and 38 km/h. As we all know, that's about the standard top speed for entry-level eskates.
The board also comes with standard 90MM Urethane wheels which aren't particularly interesting. Although, they're still a decent pair of wheels made of good quality and high rebound Urethane.
Last but not the least, Backfire ERA 2 went with the brand's proprietary 50-degree trucks which are 8 inches in length.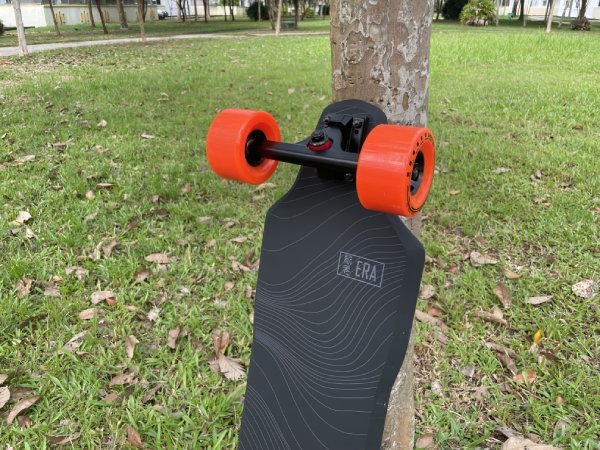 So, that pretty much wraps up the specs of the board.
As you can see, the Backfire ERA 2 did not try to outperform any board in specs. Does this also mean the board rides poorly? Let's get on the road and put Era 2 to the test!
Backfire Era 2 Riding Experience
As is the case with all Backfire boards, the acceleration of the Backfire ERA 2 is very smooth. Going with 10s instead of 12s Hobbywing ESC also goes to show that power is not a priority here. The acceleration and braking are equally gentle and smooth.
For context, most really strong hub boards use 500w motors. So, while wattage alone doesn't tell a full story, the ERA 2 felt a little bit underwhelming in terms of power when compared to other boards that we tested like Meepo V4s and Wowgo 2s Max.
Great for Beginners and Urban Commuters
With that said, I can imagine beginners and casual riders preferring Backfire Era 2 exactly for its tameness and reduced risk of hurting themselves on a board that's too strong for them.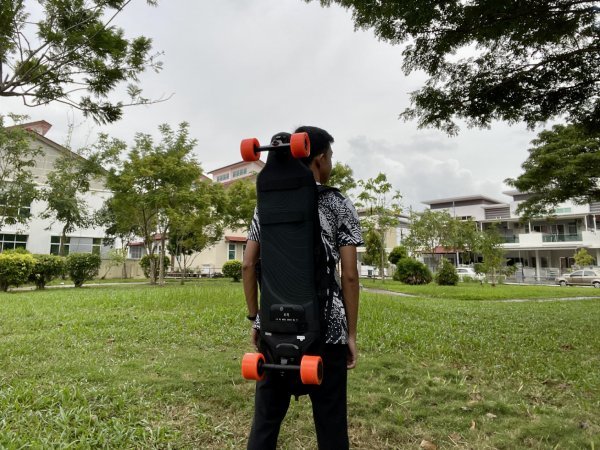 The next important thing to consider is the ride feel, which brings us back to the deck. The concave is nice and it secures our feet in place. But as expected, the stiff deck suffers when we ride through rough road conditions. Since the deck is thinner in width than normal eskates, we felt very strong vibrations when cruising through poorly paved roads.
Cloudwheel Donuts for Extra Cushion
As we have guessed, this is the kind of board made for a sidewalk. So, if you have to ride on a poorly paved road, we highly recommend upgrading the wheels to 105MM Cloudwheel Donuts. It's the only way the ride can be bearable.
To check if Cloudwheel Donuts are more your style, read our review here.
On smooth roads, however, Backfire ERA 2 not only rides smoothly but is also pretty fun to carve. Personally, if you're not upgrading to Cloudwheels, we won't recommend riding the board any more than 5 miles (8km) as your feet will probably be burning by that time.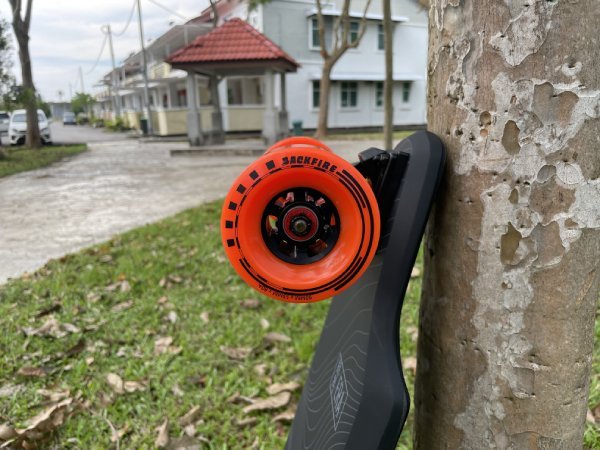 The trucks are stable enough to support 23 mph of top speed and are pretty responsive when it comes to doing turns. Obviously, swapping to branded trucks like the Paris or Caliber II will make the board both more responsive and fun to carve. At $399, we really have no complaints about the board's trucks.
Backfire Era 2 VERDICT – The Best for Urban Commute
To summarize, the Backfire Era 2 gave a decent riding experience on top of the sleek and polished look. Compared to other entry-level electric skateboards, the Era 2 is certainly not better in performance or even in ride feel.
It does have the advantage of being easier to carry around. Backfire will even give you a free carrying bag to emphasize portability. And, it's prettier, at least in our eyes.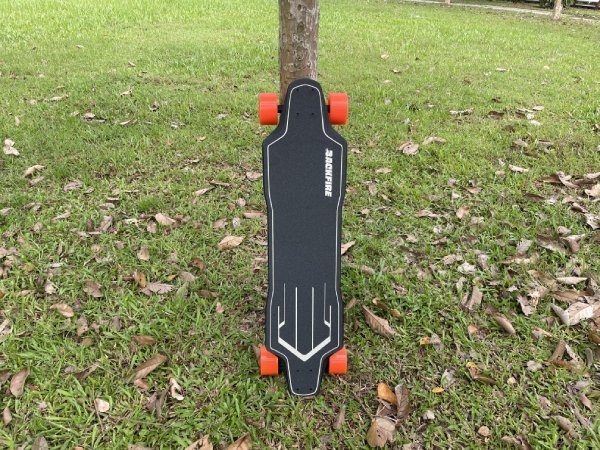 It's not often that we see Backfire sacrifice specs for looks but the tradeoff makes perfect sense to us. If you are looking for a last-mile commute to and from bus or train stations, portability and looks trump power and top speed.
Power and top speed are useless anyway when riding on city sidewalks or inside the campus. Why let yourself be burdened by the extra weight of a bigger battery when you don't need the range, right?
In short, if you are looking for a simple, portable, nice-looking board from a reputable brand at a very good price, Backfire Era 2 is a very very good deal. Just don't expect to win any drag race or keep up in group rides.
If you are interested in buying the Backfire, be sure to check out our affiliate discount link here and use code: "ESKATEHQ" to receive 5% off during checkout.
It will help you get a small monetary discount and help us out too. On top of that, you'll be tagged as an Electric Skateboard HQ customer and probably be treated better. Cheers!