Verreal has recently released a new electric shortboard, the Verreal ACE, priced at $599. This board is considered a mid-tier shortboard, with a price tag that is $200 more than your typical entry-level electric shortboard. So, what makes the Verreal ACE stand out and deserve that higher price? Let's dive into the specs and features to find out.
Verreal ACE – Key Specifications
Deck: 29″ (75 cm) deck – maple + fiberglass
Truck: Generic RKP trucks
Wheels: 90mm with 105mm Grey Cloudwheels option (+$100)
ESC: 12s Hobbywing ESC, 3-speed mode, with OLED remote
Motor: 1500W x2 Hobbywing 5255 motors,
Top speed – 30 mph (50 km/h)
Battery: 12S2P 8Ah 345.6Wh with Samsung 40T 21700,
Range: 15.5 miles -18.5 miles (25km – 30km)
Weight: 17.6 lbs (8 kg)
Verreal ACE has No IP rating, but it has water-resistant. The board's enclosure was sealed off with a silicone gasket, and there was a silicone O-ring pad for the charge port and power button.
However, I wouldn't ride it on wet roads anyways, as battery durability suffers when wet, and skateboard wheels don't grip well on wet roads. (Don't ask me how I found out about that).
Motor and Battery
After examining the specs, it's clear that a significant portion of the budget has gone into the large, powerful motors and the high-quality Samsung 40T battery. Verreal always prioritizes specs over styles and did the same with the Verreal ACE. This board has a look of an entry-level electric shortboard but has a lot of battery and an outrageously powerful motor for the $599 price tag.
Speed Control and Performance
The Verreal ACE uses the familiar 12s Hobbywing ESC, which provides smooth and intuitive speed controls. However, the powerful acceleration can be tricky to handle on a shortboard. The board tends to do a wheelie when the throttle is pulled. We have to really brace ourselves and make sure we didn't put weights on the kicktail, or else the strong acceleration will put weight on the back foot, engaging the kicktail, raising the nose of the deck, and throw us off the board.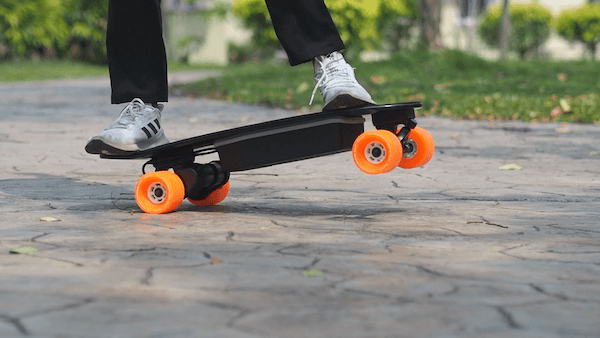 This may scare inexperienced riders, but experienced riders who love power and are comfortable with shortboards will likely appreciate this feature.
The kicktail is easy to use (when intended to), and the board turns easily, as most shortboards do. The trucks are relatively stable, which we are comfortable pushing to around 20mph(30km/h). Once passed that speed, it became quite scary. That said, we did not and are not planning to verify the marketed top speed of 30 mph (50 km/h). The board is faster than it needs to be, really.
We do know, however, that Verreal did not overstate the range. Our 220 lbs (100 kg) test rider achieved the promised 15 miles (24 km) in a single charge.
Deck and Ride Comfort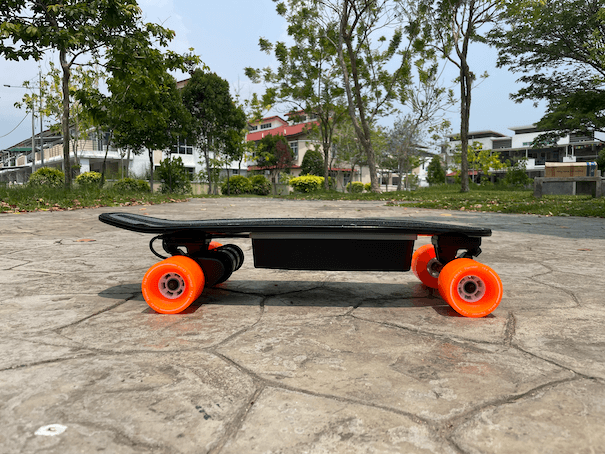 The deck is 11.8 inches (30 cm) wide, providing enough room for even new riders to feel comfortable. As with most shortboards, the stiff deck can make for a less comfortable ride on rough roads due to road vibrations.
However, the belt-driven Verreal ACE performs better in this regard than hub-driven shortboards. Switching to cloud wheels can improve ride comfort on rough roads without sacrificing torque, as the Verreal ACE has plenty of power to spare.
Comparison with Competitors
When compared to competitors like the Tynee Mini 2 and the Exway Wave, the Verreal ACE excels in stability, has a more useful kicktail, and offers superior power. The Tynee Mini 2 is more stable at high speeds but is heavier to kick the tail. The Exway Wave is more maneuverable, fun to carve, and easy to kick-turn but less stable.
Click here to read our review on the Tynee Mini 2 and Exway Wave!
Verdict – Verreal ACE
The Verreal ACE is a mini powerhouse with incredible torque and power. For beginners looking for a fun electric shortboard to ride around, the power may be overkill and make the board less relaxing to ride.
However, seasoned skateboarders who want a shortboard with ridiculous power, or heavier riders who need every bit of power for uphill rides, will find that the Verreal ACE is tailor-made for them.
If you are interested in buying the Vokboard be sure to check out our affiliate discount link here and use code: "ESKATEHQ23" to receive $5 off during checkout.
It will help you get a small monetary discount and help us out too. On top of that, you'll be tagged as an Electric Skateboard HQ customer and probably be treated better. Cheers!