Today, we're taking a closer look at the Wowgo Pioneer X4. This board was released in November 2022 and is the successor to the popular Wowgo 3X. 
Previously, the Wowgo 3X was known for its silky smooth riding experience thanks to its flexible deck, genuine Paris V2 trucks, and smooth urethane wheels. It was even touted as the best spiritual successor of the Boosted board.
With this in mind, another thing we're excited about in this review is the comparison between Pioneer 4 and X4.
Pioneer X4 features a belt-driven motor unlike the hub-driven Wowgo Pioneer 4. Other than that, the two boards are identical in every other aspect. It's only natural for e-skaters with $400 entry-level boards to consider upgrading to the Pioneer X4 at $699.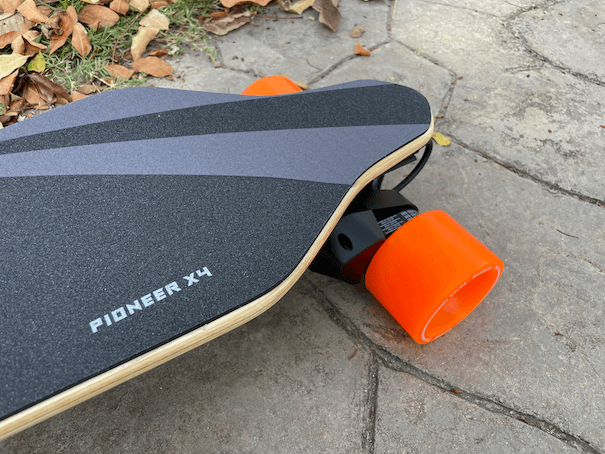 So, enough of the context. Let's see if the Wowgo Pioneer X4 provides a similar riding feel.
Wowgo Pioneer X4 Build and Specs
Deck: Canadian maple, bamboo, fiberglass; mild concave
Electronic Speed Controller: Hobbywing V5.0 ESC; 4-speed modes, remote w/ display screen
Battery: 12S2P Samsung 40T battery
Marketed Range: 20.5 miles or 33 km
Motors: 4230 2*700W Belt
Marketed Top Speed: 28 mph or 45 kp/h
Trucks: Wowgo Trucks
Wheels: 90mm Polyurethane Wheels (can upgrade to 105mm Cloudwheels)
Let's start with the deck. The Wowgo Pioneer X4 uses the same deck as the Wowgo Pioneer 4. The deck is a combination of Canadian Maple, bamboo, and fiberglass. Unlike the very flexible deck of the Exway Flex ER, the Pioneer X4 has a mild flex that still provides a comfortable ride without sacrificing stability.
The deck has a mild concave and is flat without any camber or rocker. This Pioneer X4 deck is less flexible than the Wowgo 3x, but it provides more stability at high speeds. The board still rocks the Boosted look, featuring an orange and black color scheme.
As for the electronics, the Pioneer X4 uses a Hobbywing ESC with four riding modes with a top speed of up to 28 mph (45 km/h). The remote control is easy to use and has a clear screen that displays speed, battery life, and riding mode.
About the battery, the Wowgo Pioneer X4 is equipped with a 12S2P Samsung 40T battery that provides a capacity of 345Wh. This battery configuration is similar to the Exway Flex ER which also features a 345Wh battery.
More Range From Pioneer X4
The Pioneer X4 has a marketed range of 20.5 miles (33 km). Riding the Pioneer X4 aggressively in the highest speed mode, our 165 lbs (75 kg) test rider managed to get 17 miles (28km) on a single charge. This is surprisingly more than what we get from the hub version Wowgo Pioneer 4.
This goes to show that your mileage may vary depending on how hard you ride the board, the road condition, and how much you just ate. If you ride conservatively, you probably can achieve the 20.5 miles (33 km) as advertised.
Effortless 28 mph Top Speed
Now, let's talk about the motors and top speed of the Pioneer X4. The board uses 4230 700W dual belt-driven motors, which are powerful enough to take on steep hills and handle rough terrains.
The Pioneer X4 has a healthy marketed top speed of 28 mph (46 kp/h). During our top-speed test, we managed to hit exactly 28 mph (46 km/h). Nice!
For context, this is the top speed that most mid-tier electric skateboards can reach but Pioneer X4 got there without a sweat (more on that later).
Lastly, let's talk about the wheels. The board comes with 78A soft 90mm polyurethane wheels which are pretty good and provide a smooth ride on the tarmac.
For those who plan to ride on less perfect terrain, there is an option to switch to 105mm Cloudwheels.
The Wowgo Pioneer X4 weighs in at 18 lbs (8.4kg) which is pretty standard for an electric skateboard of this size.
As you can see, the board was put together very well, as to be expected from a veteran brand.
Wowgo Pioneer X4 Ride Experience
Now that we know the build and specs, it's time to ride!
When it comes to speed control, the Wowgo Pioneer X4 has a smooth and intuitive acceleration and braking system. The 12s Hobbywing ESC provides really smooth acceleration and braking on all four-speed modes. Nothing is surprising here as it is expected from the Hobbywing ESC.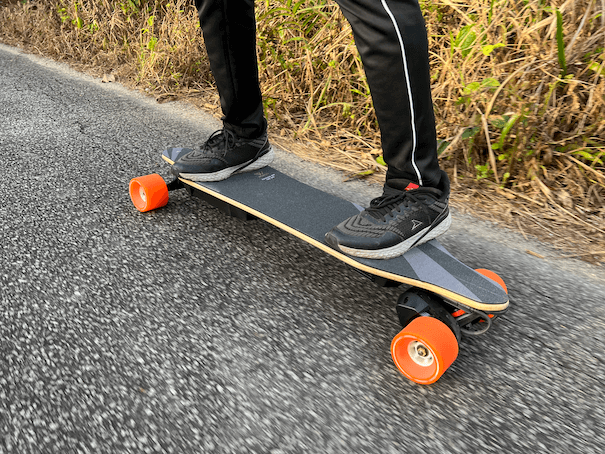 The 12s ESC combined with a strong belt motor system should make the board feel powerful and torquey, yet it is all smooth sailing with the Wowgo Pioneer X4. It's strong, and powerful, but not jerky even in turbo mode.
During our test, we can accelerate to 25 mph (40 km/h) in just a few seconds without sacrificing comfort. The speed ramped up so smoothly.
To put this into context, the Pioneer X4 felt a bit stronger than the higher-priced Exway Flex ER-Riot. Although, it is not as strong as the power-specialist Meepo Voyager.
Also, voltage sag was not an issue for the Pioneer X4. The board can still reach its top speed at 25% battery.
Compare the Exway Flex ER in this review.
Wowgo Trucks Work Just As Well As Paris Trucks
The Pioneer X4 is a great board for carving, too. The trucks are pretty responsive and have a good return to center. Carving on the board is a lot of fun.
However, we did notice that the trucks came out of the box on the tighter side. This made sharp turns a bit difficult. It's possible that Wowgo designed the trucks for heavier riders, or maybe they just wanted to prioritize stability.
Nonetheless, after loosening up the trucks a bit, we were able to find the perfect balance between stability and ease of turning. The trucks rode just as well as Paris trucks.
In terms of road vibration and ride-smoothness, the Wowgo Pioneer X4 also performed well. The belt drive system provides a comfortable ride even on poorly paved roads. Plus, the mild flex of the deck helps ease out the road vibrations. However, we did wish that the deck had a bit more flex (it's personal preference) but it will also make the board even more comfortable when riding on rougher roads.
We think that most riders won't need to upgrade to Cloudwheels. The stock wheels perform pretty well, as long as you're not going off-road.
Learn more about Meepo Voyager X here.
Wowgo Pioneer X4 VS Exway Flex ER – Riot
There is no doubt that the Wowgo Pioneer X4 is an excellent electric skateboard and the best value-for-money choice for those who are looking for a premium ride feel on a belt-driven board.
However, is it the best board in the mid-range ($400-$800) market?
Just as the Exway Flex ER looms over the Wowgo Pioneer 4, Exway Flex ER – Riot ($799) casts its long shadow over Wowgo Pioneer X4 ($699). Exway Flex ER – Riot is approximately $150 pricier than the Wowgo Pioneer X4 after factoring shipping fee, but comes with a smartphone app, a waterproof rating, and a fast charger out of the box.
Otherwise, both boards have similar specs, the same battery size, the same 12s Hobbywing ESC, similar ride profile, similar built quality, and post-sale service.
Exway Flex ER has the more flexible deck out of the two, and Wowgo Pioneer X4 has stronger power right out of the box.
Well, it is a close call, and both are really great boards that nobody ever regrets buying. All the improvements of the Exway Flex ER are nice to have, but not really enough to sway a decision one way or the other. In the end, I guess the optimal choice comes down to things like ongoing promotion, waiting time, and stock availability.
Wowgo Pioneer X4 VERDICT
Overall, Wowgo Pioneer X4 is an excellent electric skateboard and the best value-for-money choice for those who are looking for a premium ride feel on a belt-driven board. For $699, the specs are right and the built quality is great. Whether you're going fast or riding casually, the board delivers great power while maintaining perfect smoothness and stability.
It is easy to see the Wowgo Pioneer X4 be a board that's universally loved, by beginners and veterans alike, just like Wowgo 3X was. Good job on this one, Wowgo.
If you are interested in buying the Wowgo, be sure to check out our affiliate discount link here and use code: "ESKATEHQ" to receive $5 off during checkout.
It will help you get a small monetary discount and help us out too. On top of that, you'll be tagged as an Electric Skateboard HQ customer and probably be treated better. Cheers!